This team is not currently accepting donations
Make a donation
Our story…
Year #3 of the 5K at the Toronto Waterfront Marathon for Carissa and Jason, and this year Heather is joining the team! Due to the current situation with the pandemic, the race will be run virtually this year. Austim Ontario is a charity near and dear to all our hearts. Please consider supporting any one of us in our efforts to raise money for this worthwhile cause.
Description
Autism Ontario has participated in the Toronto Scotiabank Charity Challenge since 2013, to raise funds for our work supporting over 135,000 Ontarians - of all ages - on the autism spectrum.
Autism Ontario, now in its 47th year, is a community-based advocacy organization with 25 Chapters throughout Ontario. Our mission is creating a supportive and inclusive Ontario for autism, and our vision is, "Best Life, Better World, Making Autism Matter."
The work we do helps all autistic individuals and families in their communities have access to meaningful supports, information, and connections so they are equitably and seamlessly supported across their life course. You are helping us make these a reality.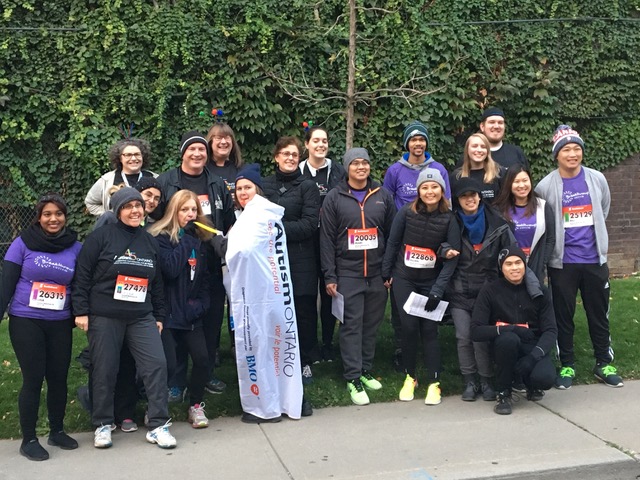 Team members
Click on one of our team members below to make a donation.
e.g., John, Smith, or jsmith@example.com
Recent donors
Donation date
Donor name
Donation amount

Sep

14

Bob and Debbie Racine

$100.00

Sep

03

Jessica Melnick

$25.00

Aug

24

Mike and Mary Racine

$50.00

Aug

19

Brad

$50.00

Aug

19

Brad

$50.00

Aug

18

Anonymous

Undisclosed amount

Aug

18

Ralph & Carmel D'Alessandro

$100.00

Aug

18

Lauren & Dale Hucker

$50.00

Aug

18

Anonymous

Undisclosed amount

Aug

18

Mike and Lynne Johnson

$50.00