Due to the ongoing coronavirus situation, there will NOT be a 2020 Boston Sharkfest Swim.
We will start looking ahead to plan for 2022. Stay tuned!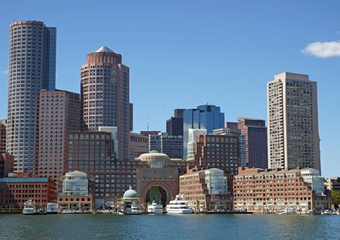 Sharks in Boston Harbor? Bostonians call them "Shaaahks"! Imagine swimming down Boston Harbor from Sargent's Wharf in the North End to the swim finish at the ICA at Fan Pier in South Boston. You can do this! The 1500 meter competitive swim will have downtown Boston for a backdrop as athletes navigate down Boston Harbor. The Coast Guard will help control all boat traffic in the channel during this event. The event is limited to 800 participants - so don't wait too long to register! This will be the talk of the New England swim circuit.

We are still working out a few details for this event as it is a new course from year's past. As soon as we are confirmed, we will post the entry fees and open the event for online registration.

Check out a video from the 2nd Annual event!

PLEASE NOTE: This swim is not for novices. This event is for experienced open-water swimmers only. You should be able to swim one mile comfortably in a pool in under 40 minutes. Also the water quality in Boston's inner harbor is safe for swimming. The City of Boston and other agencies test the water on a regular basis. We take water quality issues very seriously and we will ensure the water is safe for swimming and the event.
Course Map
DISTANCE: 1500 Meters
Event Details
WATER TEMP: ~64° F
COURSE CUT-OFF TIME: 50 minutes
INCENTIVES: T-Shirts for all participants. Sharkfest Swim Medals for top three finishers in each age group. Personalized award plaques will also be mailed to the first place finishers in each age group.
AGE GROUP BREAKDOWN: Male and Female: 5-6, 7-8, 9-10, 11-12, 13-14, 15-17, 18-24, 25-29, 30-34, 35-39, 40-44, 45-49, 50-54, 55-59, 60-64, 65-69, 70-74, 75-79, 80-84, 85-89, 90-94, 95-100!
RACE DAY DETAILS: An email with all the race day details will be sent to all registered participants and posted online here 1-2 weeks prior to event day. Please check back for any updates and the full race day itinerary.
PARKING: Coming soon!
CANCELLATIONS: Registrations are non-refundable. If you can no longer participate in this event, you may receive a rollover credit (minus a $20 processing fee) toward a future event as long as you let us know by August 13 2020. After that date, a doctor's note is required to receive a credit.
Travel & Accommodations
Courtyard by Marriott Boston/Woburn North (11 miles from race finish/check-in) 781-938-9001, 700 Unicorn Park Drive, Woburn, MA 01801
Reservations can be made online here OR by calling 781-938-9001 by Wednesday 8/19/20 for discount rates (valid 9/9/20-9/13/20): $145/night
Event schedule
Sun, September 13, 2020 8:00 AM - Race Starts
Contact information
Event contact

Enviro-Sports

Email

Phone

+1 415-868-1829

Website