Coronavirus (COVID-19) Update
We have just received notice that, effective immediately until the end of April, the City of Tempe is cancelling all city permitted events due to health concerns regarding the coronavirus. So our 2020 event has been cancelled.
Please know that this was not our decision and we have no choice but to follow City policy. For those of you who know our company and know us, this is not easy for us to write. We do not enjoy cancelling events nor do we enjoy giving our participants bad news.
Options for our Registered Participants
1. Run Virtually. We will be mailing all participants their race packets plus their finisher medal in approximately 1 week. NO ACTION REQUIRED.
2. Transfer your entry to any StartLine Racing event between now and December 20, 2020. You can view our events calendar at startlineracing.com/events. You have until March 18, 2020 at 12pm to send us your request in writing to info@startlineracing.com.
3. Defer your entry to Shamrock 2021. Event will be held on March 14, 2021. You have until March 18, 2020 at 12pm to send us your request in writing to info@startlineracing.com.
If you have already responded to our previous email (dated March 11, 2020) you can change your response or if we don't hear from you, we will honor your original request.
If we do not hear from you, you will automatically be switched to virtual.
Join StartLine Racing as we continue a March tradition in the valley!
The 4th Annual Shamrock 10K / 5K event will be taking place on March 15th at Kiwanis Park in Tempe.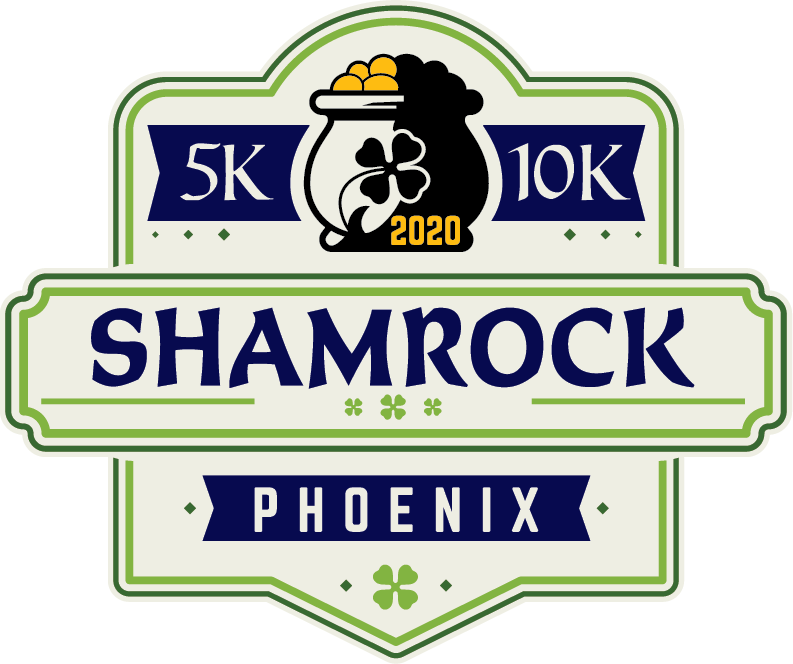 This event is limited to 700 participants.
Thank you to our Sponsors!
Interested in being a sponsor? Please view our sponsorship opportunities here.
Mail-in and Virtual Registration
To register by mail please complete and return our Mail-in Registration Form! Please make checks payable to StartLine Racing.
Virtual Run Details
Of course we want you to participate in the Shamrock 10K, 5K event locally but we know things come up. So, if you can't join us on race day and still want to run, get the medal and the shirt then you still can. Here is your way to take part in this event no matter where you are. And of course, all prices include shipping! Please note that items will not be mailed out until after the event on March 15, 2020.
Virtual Registrations are restricted to US addresses only. If you reside outside of the US and wish to participate please contact StartLine Racing at info@startlineracing.com
All Participants Receive:
Custom Event Medal for all participants


Choice of Custom Event Dri-Fit Racerback Tank or Tech Shirt for all participants. New for 2020 - Option to select 'No Shirt' for $5 off your registration


Age Group Awards for Top Three in all Age Groups for the 10K and 5K distances (Race Day Participants only). Our age groups are the following:

8 & Under, 9 & 10, 11-13, 14-17, 18-24, 25-29, 30-34, 35-39, 40-44, 45-49, 50-54, 55-59, 60-64, 65-69, 70-74, 75 & Over

Pre- and Post-Race "Runner's Brunch" (granola bars, fruit, water, Gatorade, etc)


Owned and operated by StartLine Racing!
Race Day Information
Race Day Registration will be available beginning at 7:00am at Kiwanis Park.

Event is sold out

We accept cash, check, and credit cards on race day

Race day registration fees will be:

We welcome wheelchairs, strollers & wagons.

No roller blades, skateboards or motorized devices are allowed on the run or walk courses.

Leashed pet friendly

This event is limited to 700 participants.

This event will take place rain or shine. There are no refunds for due to weather.
Packet Pick-up Opportunities
Saturday, March 14, 2020 from 2:00 - 5:00pm at Road Runner Sports in Tempe (map)

Road Runner Sports is located at 43 S McClintock Drive, Tempe, AZ 85281

Sunday, March 15, 2020 at Kiwanis Park (race location) beginning at 7:00am.
Event schedule
March 14 2:00 PM - Packet Pickup at Road Runner Sports Tempe from 2-5pm
March 15 7:00 AM - Race Day Packet Pick-up Opens
March 15 8:00 AM - 10K Run/Walk Begins
March 15 8:15 AM - 5K Run/Walk Begins
March 15 9:15 AM - Award Ceremony Begins (approx)
Contact information
Event contact

StartLine Racing

Email

Phone

+1 480-912-7878

Website