Join Wainwright Runners, Sunday morning, Sept 13 at 1000hrs for the annual Bison Dash thru the heart of the town of Wainwright. The 5K route is a single loop of road and paved running trails. This course is flat and fast, with a blend of fall views including wetlands and a forested park, the Bevan's Park and Nature Area. This is a perfect route for your 5K personal best with an elevation difference of only 11m. New this year is a kids 2K sub-event.
You have the option of making the Bison Dash your 3rd race in the Battle River Series. You can register for all three races by clicking here or on the button "Register for Series" on the right panel.
Please click here if you would like to volunteer. Remember volunteers are included in the Series awards.
Registration fees
5K Run
Closed
Online registration closed
---
5K Walk
Closed
Online registration closed
---
---
TIMING AND RESULTS
All participants will receive a time. Results will be printed on-site and available HERE.
Manual timing will be done by Ellis Timing.
PACKAGE PICK UP
Pick up your package at Armstongs Clothing and Sport 919 2 Ave, Wainwright, AB visit http://armstrongsclothing.com/
Date: Saturday Sept 12, 2020
Time: 10:00 AM to NOON
For those travelling you can pickup your package the morning of the event on site from 09:00 am-10:15 am.
NOTE: An Adult must accompany kids 12 and under to the race site and must remain on site during the race. Thank You!
Bison Dash Update
Here is an update for the Bison Dash. We got approval from the Town of Wainwright to run the Bison Dash on September 13th. Due to COVID 19 we have changed things slightly from our last update.
We have capped the race to 75 runners and we are asking to keep the spectators to a minimum, and we have changed the times of the race slightly. We will also require everyone to sign in at the race for contact tracing purposes.
Kids 2K race starts at 10:00 am
5 K Walk start at 10:30 am
5 K race start at 10:45 am
**Please be ONLY 15 minutes early for your race, unless you have kids in the 2K race.
There will be no water on course so you MUST bring your own water.
Due to COVID 19 there will be no snacks or awards after the race. The race results will be posted on Ellis Timing and the winners will be contacted to make arrangements to pick up their prize.
We are asking all runners to wear masks at the start of the race and SOCIAL DISTANCE and seed yourself at the start line (Faster runners to the front). We are providing a special "Wainwright Runners Mask" to all participants and volunteers.
We will not be using the inside of the Elks building, everything will be outside so please dress accordingly to the weather. There will be two port a potties in the Elks parking lot.
Runners please check your emails one week prior to the race for updated COVID 19 protocols. This is all subject to change and there could be sudden changes and/or a cancelation of the race if AHS updates their regulations and restrictions.
We are very optimistic that we are going to be able to hold one of very few races in the province this year and look forward to seeing everyone on September 13th. Good Luck training.
If you have any concerns about running the race due to COVID 19, please contact either Mackenzie at 780-806-8728 or Darcy at 780-806-8121.
PROCESSING FEE
A processing fee of 6.5%+$1.25 will be added to the base fee of the Race. So here is the breakdown. You will pay.
| | | | | |
| --- | --- | --- | --- | --- |
| Distance | Base fee | Transaction Fee | Site Fee | You pay |
| 2km kids (fixed pricing) | $15.00 | $0.98 | $1.25 | $17.23 |
| 5km Run/Walk (early bird) | $30.00 | $1.95 | $1.25 | $33.20 |
| 5km Run/Walk (regular) | $35.00 | $2.27 | $1.25 | $38.53 |
| 5km Run/Walk (Late) | $40.00 | $2.60 | $1.25 | $43.85 |
*Late sign up on-line is between Aug 25-Sept 12. We will not accept registrations on Sept 13 the day of the event.
*This race has been capped at 75.
Special $15 Discount for U18yrs in 5K Race
We would like to invite all our local 17yrs and younger runners to the Wainwright Runners 5K Bison Dash. We are offering a 15$ discount for all U18yrs runners who register for the 5K Run. The discount will be applied at end of registration process.
BATTLE RIVER SERIES
Run and/or volunteer in all three events and you earn the Series Medal.
Wainwright Runners are excited and proud to partner with Lougheed Race for the 2020 Battle River Series. The Series embraces three races, Bison Run April 26th (5K walk/run and 10K run and 2K kids), Lougheed Race Aug 9th (5k walk/run, 10K and half marathon) and Bison Dash Sept 13th (5K walk/run and 2K kids). All a runner needs to do is complete a race or volunteer at each event and you will win a series medal!
Due to COVID the 2nd race in our Series " the Lougheed Race on Aug 9" was cancelled. If you registered for the Lougheed Race your registration counts as a completed race in the 2020 Series.
Also remember to join Wainwright Runners club and get 5$ off each Wainwright Runners events.
MAP and RACE PARAMETERS
The Bison Dash 5K Run/Walk and Kids 2K run will take place on pavement with a mixture of road and walking trails. The start/finish will be on 1st Ave and that section of the road will be closed for the race. The walking trails will not be closed to the public so please be aware there may be other users . All road crossings will have volunteers but please ensure it is safe to cross before doing so. There will be various turns along the route so please look at the map and follow all race markings.
Strollers will be allowed on the course.
CATEGORIES
For the 5K Run we have 8 categories
Junior 17yrs and under (Male and Female)

Open 18yrs - 34yrs (Male and Female)

Masters 35yr - 49yrs (Male and Female)

Seniors 50+yrs (Male and Female)
For the 5K Walk we have 1 category
For the 2K kids Run we will have 2 categories (Male and Female)
AWARDS / SERIES MEDALS
Awards will be presented to the top 3 runners in each category. The race awards and the series awards will be presented after all participants have crossed the finish line. Winners of the awards and Series Medals will be contacted to make arrangements to pick up their prize or have them mailed.
SWAG
Check out your Swag Bag! Swag will include a COVID Mask........
And Wainwright Runners' Buff for those cool fall runs ........
A WAINWRIGHT RUNNERS EVENT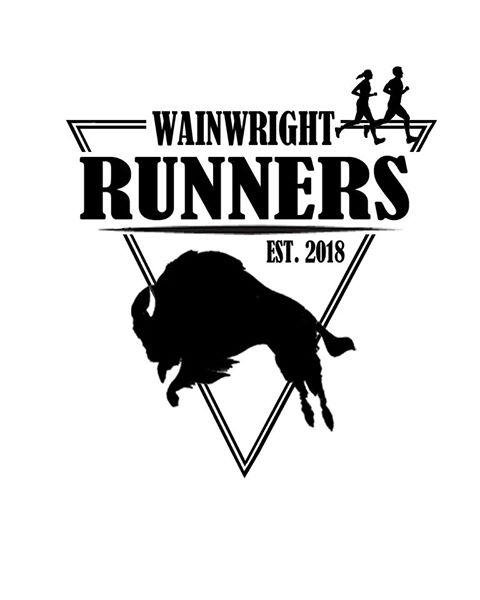 A COUCH TO 5K PROGRAM can be purchased when you register for the Bison Dash
Deadline for PURCHASE is JUNE 21.
NEW! COUCH TO 5K PROGRAM. Available for purchase for $20.00 when you register for the Bison Dash.
When you register for the Bison Dash you have the opportunity to purchase a 12 week Couch to 5K Program, instructed by Clinical Exercise Physiologist Natalie (assisted by other members of Wainwright Runners Club), that will prepare you for the 5K Bison Dash. This package includes a finishers shirt and a comprehensive running manual. There will be a weekly meeting once a week on Zoom or if restrictions allow a group run once a week (because of COVID 19 and restrictions, details have not been finalized). You will be responsible for the other scheduled weekly runs in the program. Once you have registered you will receive an email from Natalie.
THANK YOU TO
Thank you to the Town of Wainwright for supporting this race.

Thank you to Armstrong's for providing a venue for pre-race bib pick-up!

Thank You to Beyond the Beaton Path Corp. for the great job done on the Series awards.
RACE CANCELLATION
Run cancellation: Wainwright Runners reserves the right to cancel the run based on: (1) Extreme weather during the event. (2) Unforeseen circumstances that make directing the race impossible. In the case of cancellation, race entries will not be refunded.
Event schedule
September 13 10:00 AM MDT - 2 Km Kids Run
September 13 10:30 AM MDT - 5 Km Walk
September 13 10:45 AM MDT - 5 Km Run
Contact information
Event contact

Darcy or Mackenzie Golden

Email

Phone

780-806-8121 or 780-806-8728