This is a LIVE running event!
This event was approved by the City of Tempe on October 15th.
Join us for your first run following Thanksgiving as we work to
burn off the leftovers!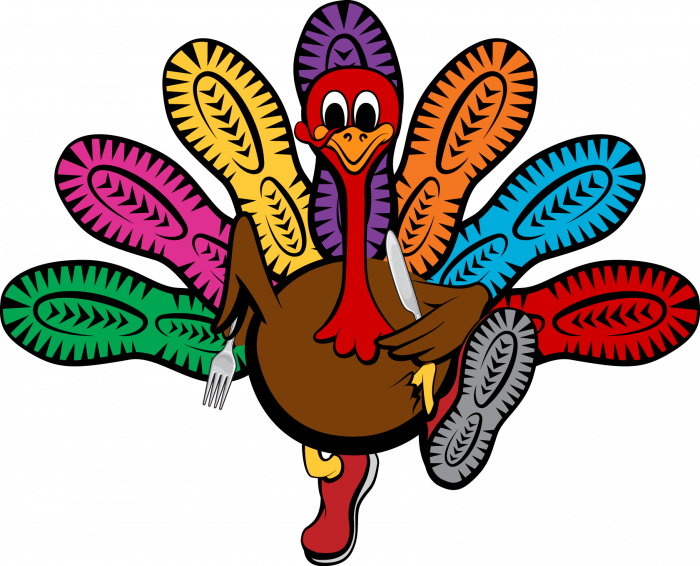 Our lowest priced run of the year, it is all about having fun and celebrating.
All participants will receive an event shirt and finisher's medal from a
previous StartLine event. Already have that one?
Half the fun is trading!
Our ENTIRE inventory of race shirts will also be on clearance for $5!!
We have long sleeve, short sleeve and a variety of styles of tanks all for only $5 each!
Registration fees
10K
Closed
Online registration closed
---
5K
Closed
Online registration closed
---
---
COVID-19 Policies
Due to COVID-19 there will be changes in place to keep everyone safe.
There will be staggered starts with assigned start times. Participants will not be allowed in the event area until their assigned start time. Time slots will start at 7:30am and go every 10 minutes until 9am. There will be a max of 40 people allowed to sign up for each time slot.

There will be no water or Gatorade coolers out on the course or in the event area. We will only supply bottled water on the course. The event area will have bottled water and pre-packaged food.

All StartLine staff will have masks and gloves

Participants will be required to wear a mask in the event area but not out on the course.

There will be no awards ceremony. Age group awards will be mailed out following the race.

Every effort will be made to spread out the inventory at the Trading Post. Shirt bins will be limited to one size per table to allow for social distancing. Medals will be spread out as well with only a limited number of participants allowed to trade at one time. Masks will be required at the trading table and gloves will be provided if needed.
If, for some reason, we are forced to cancel this event, all registered participants will be given the following options:
Transfer to 2021 event

Transfer to virtual event

Transfer to another StartLine Racing owned event.

Full Refund
If you have any questions in regards to this policy please email us at info@startlineracing.com
Charitable Partner
Proceeds from this event benefit St. Mary's Food Bank.
With your support, we offer an array of programs designed to relieve hunger. Here are some of the many ways we assist the communities of Arizona.
Food Distribution
St. Mary's distributes food to nearly 500 nonprofits partners in 13 Arizona counties. These agencies include food pantries, dining halls, homeless shelters, and more.
Children's Feeding Programs
One in three children in Arizona lives in poverty and is at risk of going to bed hungry tonight. Arizona ranks 47th out of 50 states in the number of children who may not know where their next meal is coming from. Our vision is to see that no child goes to bed hungry, so they can live healthy and productive lives. In response to these needs, St. Mary's Food Bank operates programs that fight child hunger, including Kids Cafe® and the Backpack Program.
Community Kitchen
The Community Kitchen is a life skills and food service training program for those with barriers to employment. Students gain the skills to get jobs offering livable wages, benefits, and opportunities for advancement through hands-on food service training as well as classroom studies.
Mail-in Registration Form and Virtual Run Information
To register by mail please complete and return our Mail-in Registration Form! Please make checks payable to StartLine Racing.
Can't make the race but would love a grab bag of a random shirt and medal? Then register for our Leftovers Virtual option! After the completion of the race we will mail you a shirt and a medal from one of our previous events. Please keep in mind that there will be no returns or trading. You get what you get! All items will be mailed following the completion of the event on November 28, 2020. Prior to the event all virtual participants will receive an email with instructions on how to submit your time.
Virtual Registrations are restricted to US addresses only. If you reside outside of the US and wish to participate please contact StartLine Racing at info@startlineracing.com
What You Get!
- Previous Event Medal for all participants.
- Previous Event Dri-Fit Tech T-Shirt or Tank for all participants.

- Age Group Awards for Top Three in all Age Groups (Race day participants only). Our age groups are the following:

8 & Under, 9 & 10, 11-13, 14-17, 18-24, 25-29, 30-34, 35-39, 40-44, 45-49, 50-54, 55-59, 60-64, 65-69, 70-74, 75 & Over
- Pre- and Post-Race "Runner's Brunch" (granola bars, fruit, water, Gatorade, etc)
- Chip Timed with Real Time Results and Photos on our Website or Mobile App (on Apple and Google)
- Owned and operated by StartLine Racing!
- Club SLR discounts do not apply to this event.
Course Maps
Race Day Information
Don't forget to bring a nonperishable food item with you to the race. Every participant will receive a $5 off coupon towards a future StartLine Racing event! Items will be donated to the local St. Mary's Food Bank.
Stroller and leashed pet friendly!
This event is limited to 400 participants.
This event will take place rain or shine. There are no refunds for due to weather.
Race Day Registration will be available beginning at 7:00am. There will be no race day registration available.
We accept cash, check, and credit cards on race day
Cost to register at packet pick-up and on race day is $35
Packet Pick-Up Opportunities
Friday, November 27, 2020 from 3:00 - 6:00pm - Road Runner Sports - Tempe (map)

Road Runner Sports is located at 43 S McClintock Drive, Tempe, AZ 85281

You can also pickup your packet during your assigned time on race day.
Event schedule
November 27 3:00 PM - Packet Pick-Up at Road Runner Sports in Tempe 3-6pm
November 28 7:30 AM - Staggered Start Begins
Contact information
Event contact

StartLine Racing

Email

Phone

+1 480-912-7878

Website