Join the 2020 Gospel Run Virtual Experience!
This Year's Theme - Moving In Faith
The 2020 Gospel Run welcomes participants from around the country, and we're committed to providing the same level of excellence you've come to expect from Gospel Run!
With the virtual, we're not only bringing our Cities together, but we've added new distances, new swag, and a 6-week virtual training team fellowship opportunity like no other!
Given all that we are collectively facing right now, our 2020 theme is Moving in Faith.
We believe that is exactly what this moment is calling all of us to do!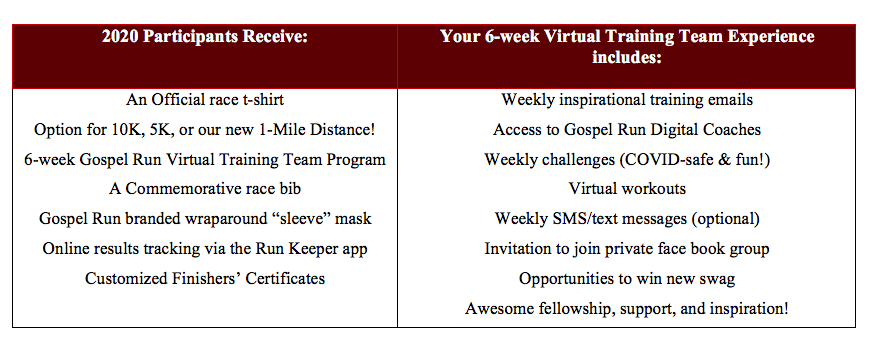 Connect to the Gospel Run Family!
The Gospel Run Family is a health community inspired by faith and powered by love.
Now more than ever, it is essential to stay active, stay healthy and safe, and stay connected.
In spite of all that's happening around us, our goal is to emerge from this pandemic stronger than before!
Join us in this journey. Let's Keep Moving!
Dates
The Virtual Training Team begins in August, culminating in the big event weekend - September 11 - 13th!
Participants will have up until September 20th to complete their event and upload results.
Race Packets will be mailed to registered participants the last week of August.
Your Gospel Run Digital Coaches
Our amazing expert Coaching team includes veteran runners, marathoners, public health experts, wellness practitioners, and certified trainers.
They are here to support, educate, challenge, and inspire you throughout the journey to race week!
Get Ready to Be Inspired!
Gospel Run Angel Awards
We're excited to launch the Gospel Run Angel Award category as a part of the 2020 Virtual Experience!
So many health lives have been changed through Gospel Run, and it often begins with one conversation and an invitation from a loved one or someone in their community.
We challenge everyone in the Gospel Run family to become an Angel to someone – especially in a time such as this! Invite a sedentary person in your family or community to step out and start Moving in Faith!
You just may win a Gospel Run Angel Award!
Be a Change Angel in someone's life!
Nomination submissions will be open during the Virtual Experience.
About Gospel Run
Gospel Run is a 501c3 community health organization committed to inspiring and supporting our community to change their health lives.
Eight years ago, we launched a small 5K race on the south side of Chicago, and a movement was born!
Since then, we've inspired thousands of men, women, and kids to get active and believe they can be disruptors in their own lives.
We are changing the health narrative and taking on health disparities in the US
– one step, one family, and one community at a time.
Key Dates
The Virtual Training Team begins in August, culminating in the big weekend - September 11 - 13th!
Participants will have up until September 20th to complete their event and upload results
Contact information
Event contact

Gospel Run

Email

Website