Important Announcement: The 4th Annual Missler-Rozanski Memorial 5K has become a virtual event. You can still register to participate. All times must by May 10. All finishers will receive a commemorative medal mailed after May 10. There are no shirts for the event.
Virtual Results Submission: Post Results HERE
Why still participate even though virtual event?
The Missler - Rozanski Memorial 5K has been established to recognize and remember Ryan P. Missler and Capt. Nicholas J. Rozanski for their service. Each had a life well lived, a life shared, a life that touched so many. Please join the Ryan P. Missler Foundation and the Nick Rozanski Memorial Foundation as they team up to organize the Missler-Rozanski Memorial 5K and Kid's Fun Run at Glacier Ridge Metro Park in Dublin, Ohio.
Ryan and Nick were both graduates of the Class of 1994 at Dublin Coffman High School. As a way to turn tragedy into something positive for their communities, both families established foundations. To remember Ryan and Nick and give back to the Dublin community which they loved, proceeds from this run will provide scholarships for local Dublin high school students.
Over the past 3 years, several thousand dollars in scholarships have been awarded to students graduating from Dublin High Schools.
Note: Entry fee does not include event shirt. There are no shirts for the event this year.
Awards & Finisher Medal
The top 3 Male & Female Overall Finishers will receive a commemorative award. All finishers receive a great-looking medal!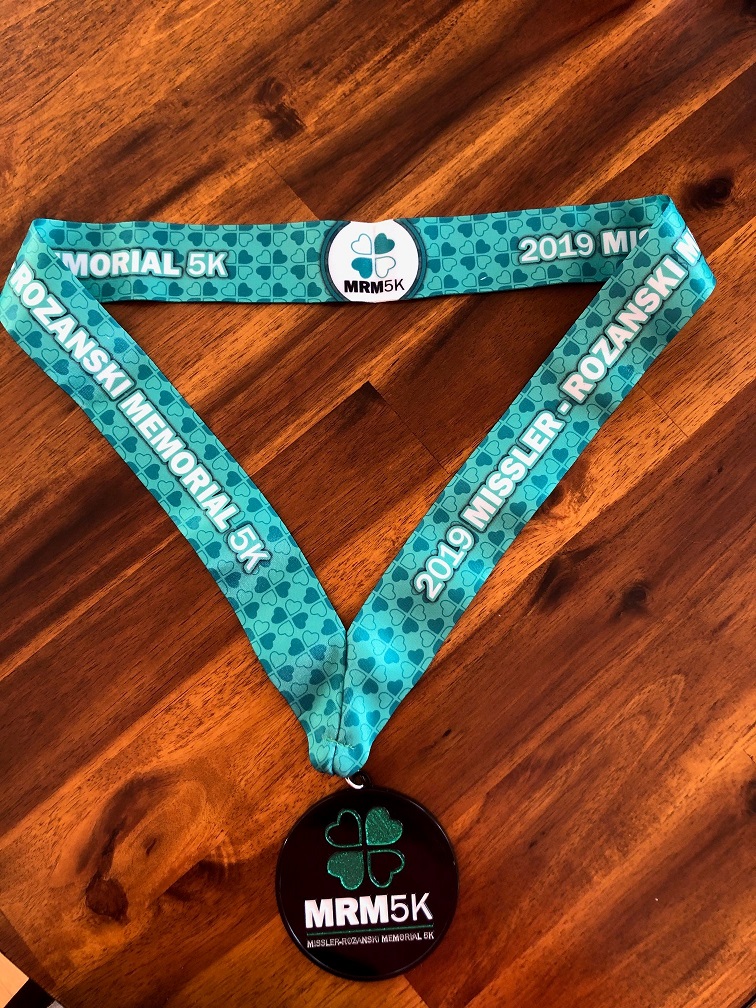 The Missler-Rozanski Memorial 5K is organized in partnership with Greenswell Events.
Course Map
Captain Nicholas Rozanski was a member of the Ohio Army National Guard's 1st Battalion, 148th Infantry Regiment of the 37th Infantry Brigade Combat Team when he was killed by a motorcycle suicide bomber in Afghanistan on April 4, 2012.
Nick served in the Ohio Army National Guard for eight and a half years. The military was a natural fit for Nick and he excelled at it. Nick was very modest about his military service and never wanted the public recognition for it. He simply felt that he was doing what was right for his country. Nick was awarded the Bronze Star, Purple Heart and Combat Action Badge for his bravery and valor in Afghanistan.
The Nick Rozanski Memorial Foundation was established shortly after Nick's death as way for his family and friends to continue Nick's legacy of service to his community. Through scholarships and other charitable donations, the Nick Rozanski Memorial Foundation hopes to give back to the communities that had given so much to Nick.
About the Nick Rozanski Memorial Foundation
The Ryan P. Missler Foundation was created in 2015 following the sudden loss of Ryan in 2014. Ryan was a beloved husband, father, son, brother and friend to many. Ryan had a zest for live. The motto "Live Every Moment" was something Ryan truly took to heart.
Ryan was a leader who always had a positive attitude, and he had a special ability to inspire others to be better. At his core, Ryan was a giver and he strongly believed in supporting causes and foundations that were meaningful to him.
The Ryan P. Missler Foundation helps to honor Ryan's memory and continue his legacy of giving back to others. The purpose of Ryan's foundation is to fund scholarships and provide charitable donations and other philanthropic endeavors in Ryan's honor.
About the Ryan P Missler Memorial Foundation
About Greenswell Events
About Greenswell Events
Greenswell Events is a professional organization that provides event management services, timing and equipment for triathlon, swimming, road running, trail running, and multi-sport events in Central Ohio and surrounding area. We specialize in being a turnkey event manager who can provide the services and equipment to organize your event. We pride ourselves in our consistency, and reliability, our personal touch, and our use of the latest timing technology to ensure accurate and quickly-posted results, both at the event, online and through our website.
For more information, visit us at www.greenswell.com
Contact information
Event contact

Craig E Thompson

Phone

+1 614-425-1156

Website