Thank you for supporting the
2020 Armed Forces Day 1-mile fun run, 5k,
We are canceling this event and will be refunding entry fees ASAP.
Donations to Honor Flight will remain open as the intent of race is and has always been to raise funds for Honor Flight
Thank you for supporting Athletics Race Management and Honor Flight

ARMED FORCES DAY 5K
Run for Restoration
"Our Servicemen and women are serving throughout the world as guardians of peace–many of them away from their homes, their friends and their families. They are visible evidence of our determination to meet any threat to the peace with measured strength and high resolve. They are also evidence of a harsh but inescapable truth–that the survival of freedom requires great cost and commitment, and great personal sacrifice". – President John F. Kennedy, 1963


So, please join us for the 2020 Armed Forces Day 5K
---
This is a benefit run - 100% of the donations collected will go to Honor Flight of Southern New Mexico and El Paso. The event will take place on Sunday, May 17th 2020 along the Rio Grande starting at Mary Frances Park in El Paso. Prior to the start of the race, there will be a presentation by the color guard and the playing of the National Anthem followed by a moment of silence.
An awards ceremony will follow the completion of runs. We strongly encourage all Veterans to attend, whether you run, walk, or not! This event was created to honor your military service while raising funds to support Honor Flight!
Honor Flight of Southern New Mexico & El Paso
Honoring our Nation's War Veterans
We are happy to once again be working with the Honor Flight Southern New Mexico & El Paso as the recipient of our fundraising drive.
Honor Flight of Southern New Mexico and El Paso transports America's World War II, Korean and Vietnam War Veterans to Washington DC to visit the memorials built to honor and remember those who served. This trip of a lifetime provides closure, healing and the welcome home these heroes deserve. Every Veteran is taken on the flight at no cost to themselves.
Please visit their site for more info https://www.honorflightnm.org/
How to Help Fund Raise
How can you help raise money for Honor Flight?
Our Goal is $12000.00. That is 12 veterans at $1000 each!!!
There are three ways you can help raise funds for Honor Flight through this event:
1. Register for one of the races and get a free event t-shirt as a thank you gift
Set up your personal pledge page. (how to set up pledge page
Determine the amount you wish to raise.
Share your pledge page with friends to donate on your behalf. (How to share pledge page)
Challenge your friends and family to participate as well as donate!
Raise at least $100 - There are prizes for the top 3 fundraisers!!!
2. Donate on behalf of a participant and help them earn and win prizes along the way!
Simple search your participant or team
Click the donate button next to their name
Choose amount you wish to donate
3. Donate directly to the fundraiser by clicking the DONATE button on right hand side.
100% of all donations go to Honor Flight of New Mexico & El Paso
Fundraising Competition
The goal of this event is to raise funds to help Honor Flight

of Southern New Mexico & El Paso to transport our heroes, at no cost to them, to Washington, D.C. to reflect and be honored at their memorials!

To transport just one veteran, Honor Flight must raise $1000.
We are asking you to help with the fundraising by asking your friends and family to donate to this amazing organization either on your behalf through your personal pledge page or directly by clicking the donation button to the right. Either way, Honor Flight needs your support and help to raise funds.
We will be recognizing the top 3 individuals that raise the most at the race and they will receive a prize.
Prizes for our TOP 3 Fundraising participants
1st - free pair of shoes up to $130
Provided by

Bluebird Running Company!!!
Giveaways
Free event T-shirt to all who sign up before April 30th
First 100 sign ups will receive a free TOTE BAG from FARMERS INSURANCE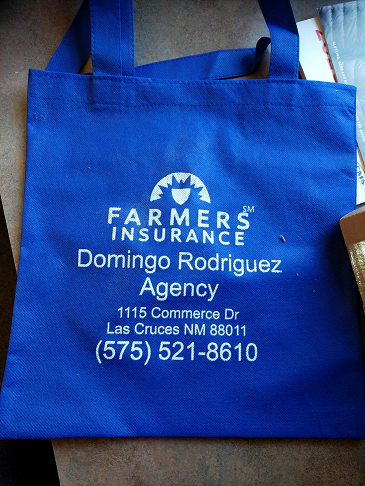 Other giveaways may be added as they become available!
Visit our Sponsors
We would like to thank our sponsors for their support of this event. Be sure to support them by clicking on their logo on the left hand bar to visit their website!
Bib Placement
We will be using a RFID chip timing system with camera backup (ask us how to purchase a photo of your finish) to capture your race time. All participants will be assigned a bib number with a RFID chip attached to the back. For us to properly time your race, our staff and video camera needs to be able to read your bib number as you cross the finish line. Race bibs must be worn on the outside of your clothing on the front of your jersey/shirt (as shown in the picture to the left). Please do not crumble or fold the bib as this will damage the RFID chip. If you do not wear the bib as requested, your chip may not be read properly and no time will be recorded in the results.
You may keep your bib following the race. It does not need to be returned.
DID YOU KNOW? Timing systems have a very difficult job. They must read hundreds, or perhaps thousands of timing chips as they cross a start, split, or finish line. This can be especially challenging in wet or harsh conditions. All our systems operate at an ultra-high frequency and therefore are less susceptible to interference, but not impossible. Each of our chips contains a tiny microprocessor and transmitter as well as two antennas. The antennas send the chip number to the receiving antennas connected to the timing system. The chips have no internal battery. So how do they transmit a signal? When the chip comes in range of an antenna, it receives a wakeup signal from the timing system. That signal is strong enough that the chip can harness the energy within the signal to power itself on for less than a tenth of a second. During that short time, the chip transmits its number to the antenna. In fact, the chip may do this several times. Proper placement of the chip is extremely important. For running events, the chip is placed horizontally on the back of the bib. For best results, the bib should be pinned on the chest with safety pins using the top two holes.
Finish Line Photos
Relive the moment you crossed the finish line by purchasing your digital copy!
Photos are $10.00 and can be either pre-ordered during registration or ordered at the Timing Tent after completion of your race by simply filling out a form or emailing us at info@athleticsracemanagement.com with your name, bib number, event, approximate finish time, and what you were wearing (to help us locate you if for some reason we are unable to find you by your bib number).
Packet Pick Up
Pre-race pick up TBA
Day of race packet pick up is scheduled to open at 7am the day of race at the race course.
Day of Registration
Day of Registration will Start at 7 am until 8:15 am.
Please bring cash or check.
Current Discounts
14 AND UNDER YOUTH DISCOUNT:
1mile - $15.00
5k - $20
* discounts only good through last day of regular online registration ...no discounts on day of registration
Refunds / Transfers / Disqualification
NO REFUND on race entry fees. Athletics Race Management does allow for race fees to be transferred to other race events if available.
---
Transfer Policy: $4.00 fee for any transfer (event to event or participant to participant)
---
Participants will be Disqualified for using someone else's bib. Any participant who runs under someone else's bib will be disqualified and will not be scored. For the safety of our runners, and in case of a medical emergency, it is imperative that the registration data associated with the race number belong to the person wearing the bib. If race organizers become aware that a runner has participated in one of our events with a bib that is not registered to that runner, both the runner and the person to whom the bib is registered will be prohibited from participating in subsequent Athletic Race Management events for a minimum of two years.
Registration fees
1 Mile Fun Run
Closed
Online registration closed
---
5K
Closed
Online registration closed
single loop race around course
---
Can't make the race?? Still want contribute to the cause? This event is for you! Run it anytime, anywhere before day of race on your own. You will receive your giveaway(s) by mail.
---
Event schedule
May 17 7:00 AM MDT - Day of registration
May 17 8:20 AM MDT - Opening Ceremony
May 17 8:30 AM MDT - 5k
May 17 8:40 AM MDT - 1 mile fun run
May 17 8:50 AM MDT - Athlete Celebration party
May 17 9:00 AM MDT - Awards presentation
Contact information
Event contact

Race Director

Website