We are so sorry . . .
Due to Covid restrictions and record high water levels at Three Oaks, we are being forced to cancel the 2020 Crystal Lake Aquathon. We are heartbroken about this decision and appreciate your understanding. All current registrations will be deferred to 2021 so save the date: August 1, 2021! Please email Denise Smith at denise.smith@smithptrun.com with any questions or concerns that you may have.
We are grateful to all of our racers and volunteers, the City of Crystal Lake, and our sponsors for their continued support. We are so very sad about this and apologize for any inconvenience this may have caused you. We can't wait for 2021 to be back together again!
If you are interested in a Half Marathon, please join us for the return of the Crystal Lake Half Marathon on Sunday, September 13, 2020. The race starts at Main Beach in Crystal Lake and finishes in downtown Crystal Lake. We are working hard to keep the race safe for all runners so click HERE for more information on the race and how we are keeping it within the Phase 4 safety mandates of the State of Illinois.
Thank you!!
Registration fees
Reserve your spot - no matter what race you'd like to race in. We'll save you a spot. $5 Off once we open up the registration site.
---
Race Routes
See the swim course . . . .
(2 mile course will swim the purple route 2 times)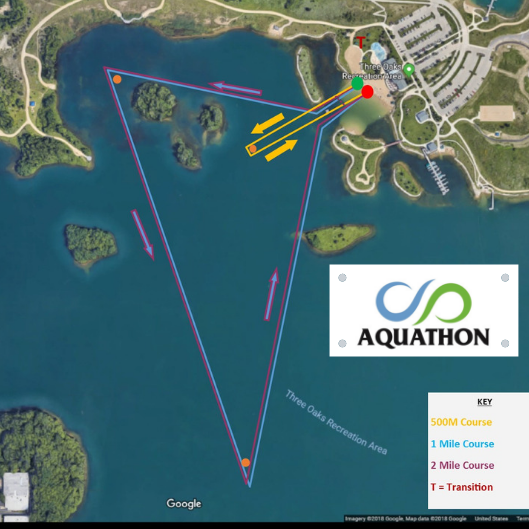 And the run course . . . .
(the 10k course will run the red route 2 times after making the first turn at the blue arrow)
Here is the Kids Race - Swim (4 laps for 250 meters). There will be lifeguards and Swim Angels from Dolphin Swim Club to assist and encourage!
The Kids Race Run portion is one mile:

Benefiting Girls on the Run
We are proud to partner with Girls on the Run. This amazing organization empowers girls by integrating running and an experienced-based curriculum to be joyful, healthy, and confident. For more information, please visit: https://www.gotrnwil.org/
Event schedule
August 2 7:30 AM CDT - Olympic Distance Aquathon Start
August 2 7:45 AM CDT - Sprint Distance Aquathon Start
August 2 8:00 AM CDT - Iron Distance Swim Only Start
August 2 9:45 AM CDT - Award Ceremony
Contact information
Event contact

Race Director

Phone

+1 815-893-9075

Website