Join us for the Fourth Annual Crystal Lake Aquathon
As of April 5, 202 - We are currently offering "Reserve your Spot" options for the race. NO Fees, No Money Down, Just Reserve your Spot! Once the COVID-19 atmosphere is safe - we will open the race up. But in the mean time - Reserve your Spot and keep training!
We are actively working with the City of Crystal Lake to keep the race going with some modifications to maintain any social distancing requirements. So this year may look different than it has in the past but we are trying to have a great and fun experience, with keeping all volunteers and racers safe!
Unfortunately, we will not be able to do the Kids Race this year or the Adaptive Race so look for those to come back in 2021. If you have registered for either, your entry will be rolled over to the 2021 race and you should have received an email. We apologize for this because we were so looking forward to these 2 parts of the race!
We currently are unsure of the status of the After Party and awards but will keep everyone informed as we get more information from the State of IL and the City of Crystal Lake. A final decision on the status of the race will be made by July 3rd.
Please email the race director, Denise at denise.smith@smithptrun.com with any other questions!
---
We are happy to bring back the Crystal Lake Aquathon for the 4rd year! This annual event will be returning to the ideal confines of Three Oaks Recreational Center in Crystal Lake, IL. As the only aquathon in the state of Illinois, this race will offer 3 timed options:
- Sprint Distance (500m swim, 5k run)
- Olympic Distance (1 mile swim, 10k run)
ONLY 200 Participants are allowed this year so save your spot!
Registration fees
149 spots remaining
Reserve Your Spot
Limited spots available
Reserve your spot - no matter what race you'd like to race in. We'll save you a spot. $5 Off once we open up the registration site.
Register
---
Race Routes
See the swim course . . . .
(2 mile course will swim the purple route 2 times)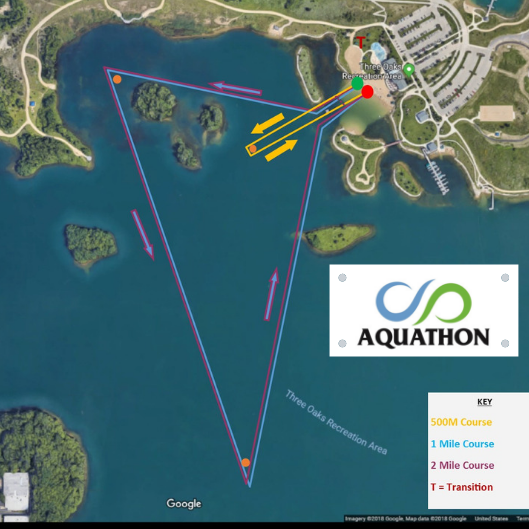 And the run course . . . .
(the 10k course will run the red route 2 times after making the first turn at the blue arrow)
Here is the Kids Race - Swim (4 laps for 250 meters). There will be lifeguards and Swim Angels from Dolphin Swim Club to assist and encourage!
The Kids Race Run portion is one mile:

Benefiting Girls on the Run
We are proud to partner with Girls on the Run. This amazing organization empowers girls by integrating running and an experienced-based curriculum to be joyful, healthy, and confident. For more information, please visit: https://www.gotrnwil.org/
Event schedule
August 2 7:30 AM CDT - Olympic Distance Aquathon Start
August 2 7:45 AM CDT - Sprint Distance Aquathon Start
August 2 8:00 AM CDT - Iron Distance Swim Only Start
August 2 9:45 AM CDT - Award Ceremony
Contact information
Name

Race Director

Phone

+1 815-893-9075

Website