Tuesday, April 21, 2020
Dear Trail Friends,
We hope that you and your families are safe and healthy during these extraordinary times.
We have been in touch with our partners at the various race venues and they are keeping us up to date on their status. At this point, they are unable to confirm whether or not the trails will be open to use on race day. We also have to keep in mind that there could be new restrictions or regulations from the government with regard to physical distancing/crowd gatherings.
To that end, we are going to pause race registration for our first event, the Rainbow Trail Run, scheduled for July 11. Our September events, Island Lake Classic and Chase the Coyote Trail Race, are still open for registration and we will continue to monitor any adjustments as necessary.
If we are required by the government to cancel any of our events, rest assured, we will be offering you a variety of options to use your registration. One of which will be a virtual run. If you haven't already signed up for one of our races, the virtual runs are available on our Race Roster event pages.
Once we have more concrete information from our partners, we will communicate these options to you via email, Facebook, our Race Roster race pages and our website www.gottarunracing.com
Staying active, while maintaining a social distance and obeying government regulations, is imperative. We all run for different reasons but can agree that the benefits to our mental health are immeasurable.
Best regards,
Norman & Jodi
Gotta Run Racing
Monday, September 7, 2020
8th annual Island Lake Classic 10K & 5K Race/Walk starts and ends in picturesque Island Lake Conservation Area, in the Town of Mono, next door to Orangeville. Groomed trails and bridges crossing the lake guarantee an enjoyable event. Fun for the whole family - The free kid's run takes place prior to the race.
Please note, admission to the park is free for participants and volunteers.
Dogs, strollers and wheelchairs are not allowed during the event but can enjoy the park after closing ceremony.
New Course Record 5K
Jackson Bull 18:13
New Course Record 10K
Roman Mironov 37:14
Registration fees
338 spots remaining
---
---
---
---
---
10k Race Course - 9:20am start
10k Course - Approximate 10 km route, one loop around Island Lake mostly flat, double track trail with bridges and beautiful vistas.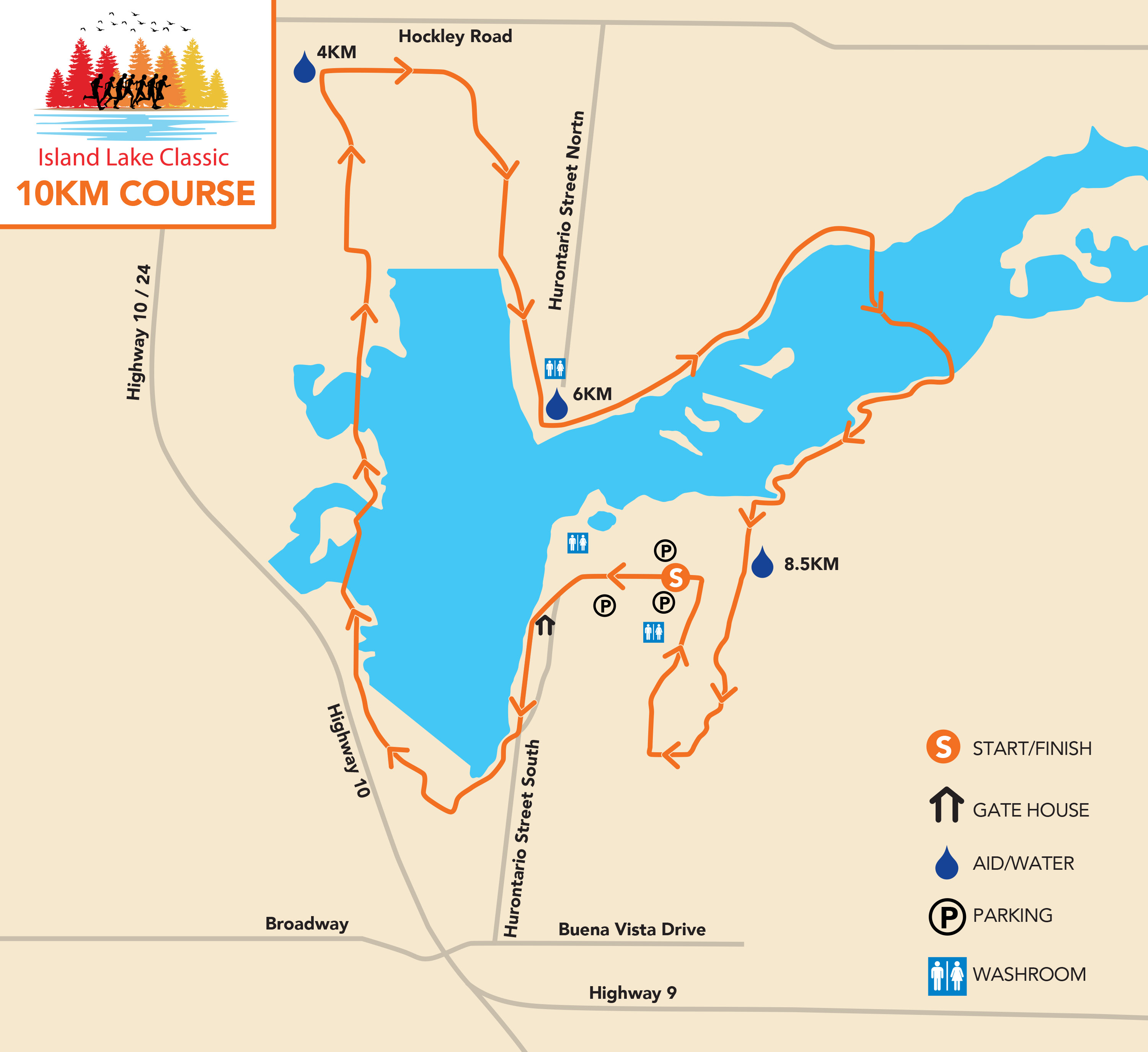 5k Course - 9:45am start
5k Course - Approximate 5 km route is more like a cross-country meet. A challenging course with roller coaster single track, fast and flat double track, cardio challenging slopes, and beautiful vistas.
Kids Fun Run - 9:00am start
Kids Run Course - Open to children 10 years of age and UNDER. Parent must register child on race morning at kit pick up. Approximate 500m route - fast and flat course around the park. Parent can take pictures or run with their child. Children must be at the start line by 8:45 am. FREE
Virtual Run
Live too far away? Schedule conflicts? FOMO? No problem! Sign up for our virtual event and we will send you a custom medal and logo'd running socks so you can participate any day, anytime, anywhere! Virtual Run Packages will be mailed in late summer via Canada Post.
Bib Pick-Up
Early bib pick-up will be available at the Running Free store at 88 First St. in Orangeville on Sunday, September 6 from 11am to 4pm.
On race day, bib pick-up will be available at 8:00 - 9:30 am at the race site at the pavilion at Island Lake Conservation Area.
There are NO refunds.
Swag and Awards
Every finisher will receive a unique medal featuring Island Lake Classic logo - ribbons will feature each distance.
2020 Swag - COMING SOON - you know it'll be good!!
10k and 5k run
Top 3 overall AND
Age Group Awards

19 – under

20 – 29




30 – 39




40 – 49




50 – 59



60

– 69




70 +









Timing and Results
Returning for 2020: chip timing by Enfield Timing
click here for Results of the 2019 event
click here for Results of the 2018 event
click here for Results of the 2017 event
click here for Results of the 2016 event
click here for Results of the 2015 event
click here for Results of the 2014 event
Event schedule
September 6 11:00 a.m. EDT - Early Race Kit P/U at Running Free Orangeville
September 6 4:00 p.m. EDT - Race Kit at Running Free Orangeville ends
September 7 8:00 a.m. EDT - Race Day Registration
September 7 9:00 a.m. EDT - Kids' Fun Run
September 7 9:20 a.m. EDT - 10K Run
September 7 9:45 a.m. EDT - 5K Run/Walk
September 7 11:00 a.m. EDT - Awards begin
Contact information
Name

Jodi McNeill

Email

Phone

15192177867
Event location
Island Lake Conservation Area, 673067 Hurontario Street, Orangeville L9W 2Y9
View map