A MESSAGE FROM THE PRESIDENT...
Hello Everyone,

We understand the excitement of participating in this race and believe me our desire is for you and all of our supporters of HBCUs to have that experience but safety is our first priority. With that said, based on our research and the current impact COVID 19 is having on our community, we decided the best choice was to convert our race to a virtual race for two reasons:

1) Safety - Even though we are seeing some large events move their races to later dates, we firmly believe that social distancing will be in place throughout the summer and as point of practice we do not hold fundraisers in the fall because it conflicts with our member chapters activities (football, homecoming, etc).

2) Funds are needed now - Do you know that some students are suffering greater burdens than normal due to COVID 19? Some do not have laptops to participate in the online learning that many Universities have switched to. Others have lost their jobs and cannot get out of their apartment leases nor have funds for foods and there are those who could not afford to make arrangements to travel home. All in the need our students face are immediate and unprecedented to say the least. On top of this, alumni fund raisers for our students have been strangled due to the self-isolation and social distancing practices that have become the common place in our communities. Thankfully, the Alliance has been able to create a virtual platform that will serve as the only fundraising option for many alumni associations before the beginning of the school year. With this event as the only funding source for several associations and the immediate need our students have, we knew we could not wait and that is why we decided to push forward as planned but in a virtual capacity.

We thank you for your support and hope what we shared provided some insight into our decision making process as we continue to work hard to help raise funds for our HBCU students during this challenging time.


Please stay safe and thank you for your support.

Dan Ford
President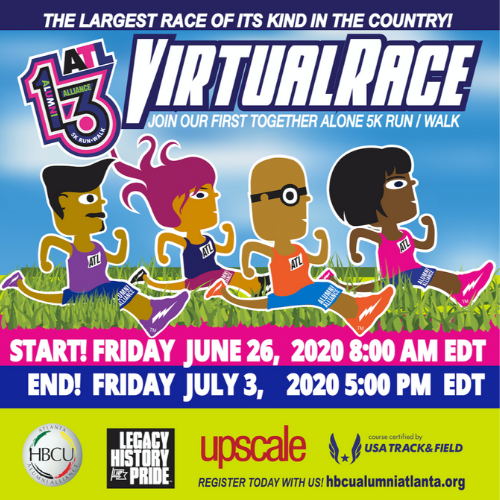 We are going VIRTUAL!!!
The Atlanta HBCU Alumni Alliance would like to announce the 13th ANNUAL Atlanta HBCU 5K Run/Walk is now VIRTUAL.
If you already registered, CLICK HERE for step by step instructions on how to convert your registration to either VIRTUAL OR make it a donation. If you haven't registered, you still can by clicking on the register button on this page starting today, May 1st.
Registration will remain open from May 1st – July 3rd at midnight to give each of you time to get out, run and record your time. Instructions on posting your time in on our results page are below.
ONCE YOU ARE REGISTERED YOU WILL RECEIVE AN EMAIL CONFIRMATION.
T-shirt and bib information will be forwarded in a separate email to all participants.
RACE DAYS- Friday, June 26, 2020 at 8am - Friday July 3, 2020 at 5pm
How to participate HBCU 5K Run/Walk VIRTUALLY-
Run or walk a 5k on the treadmill, around your neighborhood, your favorite walking trail or your own backyard anytime between Friday, June 26th and Friday, July 3rd. Registration will remain open during Race Week.
Once you have completed the race, you will be required to confirm your results by signing into the Race Roster account via email or entering your last name and confirmation number. Once your registration is confirmed, you will be prompted to enter in your results. You may be able to upload your results as soon as you have completed the race (Strava, Runkeeper, iWatch, Treadmill or any tracking app you use). Click here for result upload instructions.
We are excited the 13th Annual Atlanta HBCU 5K Run/Walk will continue the tradition of bringing all member HBCU Alumni Chapters together to raise funds to support our students.
Atlanta HBCU Alumni Alliance HBCU 5K Run/Walk- COVID-19 Update
For the past few weeks, the HBCU Alumni Alliance has monitored the Federal, State and local health officials regarding the impact of COVID-19 on our community and race. As we continue to strive to serve, support and advocate for our alumni and students, through scholarship, health and wellness initiatives, your safety is our top concern and priority.
In an effort to do our part and keep you informed, we would like to share the following preventative measures:
1. Wash your hands often with soap and water for at least 20 seconds. If soap and water are not available, use an alcohol-based hand sanitizer.
2. Avoid touching your eyes, nose, and mouth with unwashed hands.
3. Avoid close contact with people who are sick.
4. Stay home when you are sick.
5. Cover your cough or sneeze with a tissue, then throw the tissue in the trash.
6. Clean and disinfect frequently touched objects and surfaces.
7. If you have recently returned from a country with ongoing COVID-19 infections monitor your health and follow the instructions of public health officials
We can't thank you enough for the support of our alumni, students and race participants, especially during this time. Let's continue to protect our community through social distancing and find creative ways to combat isolation by supporting each other.
Your safety and the safety of our community is our primary concern so we are closely monitoring the impact COVID-19 daily to ensure we take the appropriate action that is in the best interest of everyone. Please do not hesitate to reach out if you have any questions or concerns.
Now in its 13th year, The HBCU Alumni Alliance 5K Run/Walk is proud to be back for another spectacular event. We're just virtual. Join us as we raise much needed scholarship dollars for students in Metro-Atlanta. Over the past twelve years, our participants and sponsors have helped raised over $1.5 Million! Please help us continue this movement and register today and also consider pledging your support as well. Together, we can do more to support our future generation.
Choose where you participate. We are now VIRTUAL!

This event is open to everyone... literally around the world!

You can donate to support your favorite HBCU

All registrations are final
Please note, this is a 100% volunteer fundraiser and 100% of the proceeds go towards Metro-Atlanta students attending or headed to an HBCU.
ALL ENTRIES ARE NON-REFUNDABLE. Thank you for your support.
For sponsorship or vendor opportunities, please contact danielwford@comcast.net.
Please visit our FAQs for more info on the race before registering. Don't forget to like us on Facebook and follow us on Instagram!
PLEASE SCROLL DOWN TO READ ALL INFORMATION REGARDING OUR VIRTUAL RUN/WALK BEFORE REGISTERING. THANK YOU!
Registration fees
5K Run/Walk- VIRTUAL
Closed
Online registration closed
2020 Atlanta HBCU Alumni Alliance VIRTUAL 5K Run/Walk

$40.00

Last Chance Online Registration!!!
---
Kids Run/Walk- VIRTUAL
Closed
Online registration closed
---
REMEMBER TO REMAIN SAFE AND VIGILANT
To Our Participants
It has come to our attention that some participants are planning group runs for the 13th Annual Atlanta HBCU 5K VIRTUAL Run/Walk. We created a VIRTUAL RUN to reduce the risk of COVID-19 exposure and help prevent the spread of the virus. The Atlanta HBCU Alumni Alliance and the Race Directors do not encourage or condone ANY LARGE GATHERINGS. We have included some suggestions on how to complete your virtual race SAFELY. Thank you for your continued support.
What's a virtual race? How can I participate?
The race in now VIRTUAL! Here are a few details about to help you prepare for an awesome VIRTUAL experience.
For your safety, the race is now an entire week.

RACE WEEK is Friday, June 26th - Friday, July 3rd
If you registered BEFORE May 1st, please head over to your Dashboard to update your status

HERE

.

REGISTRATION IS CURRENTLY OPEN FROM NOW UNTIL JULY 3RD

The final day to participate in the HBCU 5K Run/Walk is Friday, July 3rd

We are currently working on Packet Pick up in our new virtual space

As with every year, the proceeds from this fundraiser WILL CONTINUE TO provide much needed support to our Metro Atlanta students by way of our local HBCU Alumni Chapters
There is still time to form your Chapter's Team. To do so, please contact our Race Director's at blueroseconsultingllc@gmail.com.

Once approved, your team name will be listed on the site and you will receive a notification. All participants may register at ANY TIME and be added to the team once the TEAM has been approved. Please check to see if your team has been formed before sending a request.
Registering is EASY!
Pledge and Fundraising
Help us exceed donation goals this year!
You don't have to run to get involved! You can also DONATE to the cause or make a PLEDGE to a runner or a team and encourage your friends and family to run/walk.
You can even PROMOTE this event and get paid without registering or get referral fees after you register. There are so many ways to help out with this great cause. Pick the ones that work best for you. But most importantly, get involved!
Once you register, please pledge or donate. Contact your company or SEARCH HERE to see if your company has a matching gift program. For assistance in adding the Atlanta HBCU Alumni Alliance (AHBCUAA) Charity to your company's matching gift program, please contact blueroseconsultingllc@gmail.com or even better, post your question on our Facebook Fan page: HBCU Run Walk
The Greek Giveback Challenge
THERE IS MORE WE CAN DO TOGETHER THAN APART
ONLY DONATIONS THROUGH FRIDAY, JULY 3RD WILL BE CONSIDERED FOR
THE GREEK GIVEBACK CHALLENGE TEAMS
The Corporate Team Challenge
$10,000 IN SCHOLARSHIPS GIVEN TO METRO STUDENTS THROUGHOUT RACE DAY!
LEARN MORE BELOW...
Race Week- June 26th- July 3rd
RACE PACKET PICKUP... we currently determining the safest solution to insure ALL participants get their race packet by race week.
RACE WEEK REGISTRATION will be available throughout race week.
INCLUDE THE ENTIRE FAMILY, IT'S A VIRTUAL RACE.
BOOK SCHOLARSHIP GIVE-A-WAY
If you will be attending one of the participating HBCUs in the Fall, you qualify for the $250 Book Scholarship.
LET'S STAY ENGAGED AND SHOW EVERYONE WHAT UNBREAKABLE MEANS!!!! POST RACE ACTIVITIES
Please be sure to post all your hard work during Race Week
T-SHIRTS ON SALE NOW!!! Click here to purchase.
How To Post My Race Results?
Follow these 5 easy steps to post your race results.
Sponsors
13th Annual Atlanta HBCU Alumni Alliance VIRTUAL 5K Run/Walk
Remember we are UNBREAKABLE!
This is what we do.
Top donors
| No. | Name | Amount |
| --- | --- | --- |
| 1 | Marlon Lloyd | $2,000.00 |
| 2 | Kamala Rimmey | $1,065.85 |
| 3 | Anonymous | $1,000.00 |
| 4 | lois fisher | $880.00 |
| 5 | Valerie Randall | $852.85 |
| 6 | AKA - Upsilon Alpha Omega Chapter | $600.00 |
| 7 | Okera Hanshaw MD / Hypnos Anesthesia LLC | $533.35 |
| 8 | Reggie Hammond, Your Crescendo | $533.35 |
| 9 | Karl Lynn Gardner | $533.35 |
| 10 | Geri P Thomas | $533.35 |
Top teams
1

UAO Chapter of AKA

Raised:

$12,355.13

View page
2

WVSU Yellow Jackets

View page
3

Albany State Golden Ram Nation

View page
4

Xavier University Rockin Rim's

View page
5

Forever Pink Foundation of Lambda Epsilon Omega Chapter of Alpha Kappa Alpha Sorority, Inc

View page
6

LOAT

View page
7

Marietta-Roswell Alumnae Chapter, Delta Sigma Theta Sorority, Inc.

View page
8

Shaw University Bears

View page
9

ΩΨΦ - ΧΓΓ Chapter

View page
10

Dillard Bleu Devils

View page
Top fundraisers
1

View fundraiser page for Michele

Michele Davis

Raised: $3,942.05

View page

for Michele

2

View fundraiser page for Kamala

Kamala Rimmey

View page

for Kamala

3

View fundraiser page for Vonda

Vonda Randall

View page

for Vonda

4

View fundraiser page for Koi

Koi Fisher

Raised: $2,010.66

View page

for Koi

5

View fundraiser page for Janice

Janice Thomas

View page

for Janice

6

View fundraiser page for Kimberly

Kimberly Watson

View page

for Kimberly

7

View fundraiser page for Donna

Donna Ford

View page

for Donna

8

View fundraiser page for Marsha

Marsha Taylor

View page

for Marsha

9

View fundraiser page for Carmen

Carmen Sulton

View page

for Carmen

10

View fundraiser page for Eric

Eric McLean

Raised: $985.57

View page

for Eric
Contact information
Event contact

Joe & Erinn Rowell, Race Directors

Website
Sponsors
Home Depot Retool Your School
State Farm Insurance
Lexis Nexis
Medtronic
CERM