Calahan Foundation Virtual 5K Run/Walk For Scholarships
August 1 - August 22, 2020
Each year the Calahan Foundation raises money for scholarships by hosting their annual 5K. Due to COVID-19, this year's run/walk will be held virtually! This means you can participate on your own schedule while raising money for a great cause. For your participation you will received a medal and a T-Shirt!
Registration fees
Virtual 5K Run/Walk
Closed
---
Virtual Team Registration
Closed
Register 7 people or more (in one transaction) and save $5 per person
---
Virtual Participation
To participate in the virtual 5K, you can run the race in a variety of places, such as around your neighborhood, or even on your treadmill at home. Then, post screenshots of run times on the virtual event page and join in the conversation to encourage other participants. You can run your race any time between August 1 through August 22.
Run anytime between August 1, 2020 and August 22, 2020.

Be safe and enjoy being outside.

Choose your own course

Send a short article about how you are staying healthy – both physically and mentally!

Submit a photo of yourself or a screen shot of your run!

Most importantly….have fun and enjoy the time outside!
All virtual participants will receive an event T-shirt and Finisher's Medal via mail. Please enter the complete mailing address for each participant in order to receive your S.W.A.G. during the month of August. Note: Registered teams can have their S.W.A.G. mailed to one designated person.
There are 2 ways to log your time: use an app or log your time manually. See details below for both options.
Follow these easy steps to prepare for your tracking:
VIEWING AND POSTING MANUAL RESULTS
If you plan to record using another software or tracking device or post manually from what is recorded on your watch, simply head here and "Submit Virtual Result" between August 1 and August 22, 2020.
TRACKING STEPS
1. Download the ASICS Runkeeper™ app to your phone and create an account or scroll down to log into an existing account
2. Follow this link and click "Start Virtual Run" button to add the Calahan Annual House Music 5K to your in-app virtual events
3. To record your run between August 1 and August 22, simply click the flag icon in your app, select the Calahan Annual House Music 5K and follow prompts to start recording
Once you have completed your 5k distance in the app, save your workout and it will automatically post to Race Roster results.
(This step must be followed from your mobile device)
FAQS:
- To record with tracking on the ASICS Runkeeper™ app, you will need to run or walk with your phone or with a connected wearable (see instructions below)
- You do not have to track with these technologies, it is optional!
- More detailed end-to-end instructions (with images) for using the ASICS Runkeeper™ app to track your virtual event are linked here
- Instructions to link a recent activity recorded on a FitBit, Garmin, or Apple Watch linked here
- Steps to connect your FitBit, Garmin, or Apple Watch to the Runkeeper™ app are linked here
- Steps to manually post your results on Race Roster (not using the app) are linked here
If you have any technical questions, please reply to this email and the Race Roster team will support you. Take pictures out there! get creative with your finish line - share your images and stories with us in the Facebook group and tag us on social!
We look forward to seeing your name on the results board. Remember that you can run, walk, roll, or skip your distance.
Virtual Winner Circle Ceremony
Our Virtual Winner Circle Ceremony will air on our Facebook page live on Saturday, August 29, 2020 at 9:00 AM. Tune in to see the winners!
Team Information and Participation
Want to create a team? Join an existing team? Here is all the information you need!
On Race Roster you can easily CREATE a team for your friends and family to join.
Go to the Race Roster event page you are registering for

Review the event details page and click the '

register' button

on the right hand side

Next you will be asked to login - use your

email associated with your Race Roster account

,

select 'Yes, I have a Password'

and

enter your password

(Having trouble with signing in? see

forgot my password article

) *

If you do not have an existing Race Roster account please enter your email,

click

No, I want to create a password

and enter a

password

in the text box

Select your sub-event
Please fill out participant #1 information
Under "Add Participant 1 to a Team?" section select "Yes, create a new team and add this participant" Note: If you do not see the option to create a team, this functionality has not been enabled by the Race Director for this event or sub-event
Select team category/type if applicable
Enter your team name
Create a team Password (optional)
Fill out the remainder of Participant #1 information and where applicable select swag and/or enter a promo code
At the bottom of the page select ADD ANOTHER PARTICIPANT (this will bring you to a registration form for Participant #2) OR "CONTINUE TO WAIVER" and complete steps on the next pages to arrive at checkout
If you select ADD ANOTHER PARTICIPANT please repeat steps 4-5. If you would like to add this participant to your team select "Yes, add this participant to a team created by someone else" during their registration page and select the team you create on the previous page.
If you select CONTINUE TO WAIVER please complete steps on the next pages to arrive at checkout. Note: When selecting "continue to waiver" you may receive and error message requesting you to add additional participants to your team to complete registration. Some teams do require a minimum or maximum number of participants. Please follow the prompts accordingly.
After continuing on from the waiver, you may be prompted to give an optional donation, if you choose not to donate, scroll down and hit CONTINUE
Complete your Billing Information if not copied from your registration details and SUBMIT ORDER
You will receive a confirmation email, share it by forwarding the email to your fellow registrants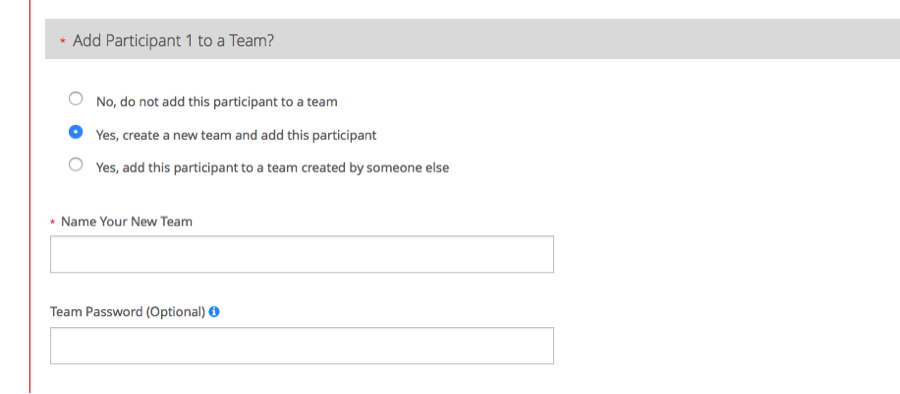 On Race Roster you can easily JOIN a team created by someone else.



Go to the Race Roster event page you are registering for
Review the event details page and click the 'register' button on the right hand side
Next you will be asked to login - use your email associated with your Race Roster account, select 'Yes, I have a Password' and enter your password (Having trouble with signing in? see forgot my password article) *If you do not have an existing Race Roster account please enter your email, click No, I want to create a password and enter a password in the text box
Select your sub-event
Please fill out participant #1 information
Under "Add Participant 1 to a Team?" section select "Yes, add this participant to a team created by someone else"
Select team category/type if applicable
Select your team name from the drop down options
Enter your Password (given to you by your team captain) if applicable
Fill out the remainder of information for Participant #1 and where applicable select swag and/or enter a promo code
At the bottom of your registration page click ADD ANOTHER PARTICIPANT if you are registering multiple people(this will bring you to a registration form for Participant #2) OR CONTINUE TO WAIVER if you are ready to check out
Repeat steps 4-5 for additional participants
After continuing through the waiver you may be prompted to give an optional donation, if you choose not to donate, scroll down and hit CONTINUE
Complete your Billing Information if not copied from your registration details and SUBMIT ORDER

You will receive a confirmation email, share it by forwarding the email to your fellow registrants
Event schedule
August 1 12:00 AM CDT - Calahan Foundation Virtual 5K Run/Walk Begins
August 22 11:59 PM CDT - Calahan Foundation Virtual 5K Run/Walk Ends
Contact information
Name

Erica Bell

Phone

+1 773-723-3079

Website