Dear Runners: The County Marathon has always taken great pride in how we manage our races. Over our 16 years of races we have had what we believe to have been an admirable safety record. After careful review of our options for 2020 we have decided we simply can not guarantee the same level safety for our participants and volunteers as all of us have come to expect. As a result there will be no actual events here on the October 4th 2020 weekend. For 2020, for those runners who have already booked (or would like to), we will be offering postponement and/or virtual options for our various events.
More details will follow shortly.
This Boston Qualifier is sanctioned by Athletics Canada ON-2011-085-BDC and is an ORRA, AAA classified race. Described as gently rolling but fast by National Level Coach Peter Pimm, this October 4th expect a warm welcome from the residents of Prince Edward County as you run our fully closed course down the roads connecting Wellington, Bloomfield, and Picton.
Registration fees
Virtual Full Marathon
Price changes in 1 month 23 days
42.2 km

Now registering May 29 – Jul 28

Register
---
Virtual Half Marathon
Price changes in 1 month 23 days
21.1 km

Now registering May 29 – Jul 28

Register
---
RACE WEEKEND
Race Kit Pick Up is Saturday October 5th from 10 AM - 6 PM
LOCATION: Prince Edward County Community Centre in Picton. You may have someone pick up your race kit for you, however it is then their responsibility to ensure you receive your tagged bib and race kit. Should you choose this option we are not responsible for you getting to the start line on time.
The County Marathon finishes at our original line in front of the Prince Edward County Fairgrounds located in Picton. Please see the maps on our website for details as we approach the event. The awards ceremony will take place at the Community Centre in Picton (located behind the parking lot where buses will pick you up race morning - 375 Main St. Picton, ON).
START LINES:
ALL buses on race day will depart from Picton at the Community Centre Parking lot as they have in previous years.
The Full Marathon & Hospital Team Challenge start line is located in Wellington at the Essroc Centre, a warm and newly completed facility complete with washrooms, an indoor running track, fresh coffee, gels and water, as well as bag drop off.
The Half Marathon start line is located in West Lake at the West Lake Community Church, complete with washrooms, a tent, fresh coffee, bananas, water, gel and fresh homemade muffins, as well as bag drop off.

FREE Shuttle service to your start line is provided for every participant and will depart from The Prince Edward County Community Centre parking lot area race morning..

HOSPITAL FOUNDATION TEAM CHALLENGE
The Hospital Foundation Team Challenge:
Relay Exchange Zones (approx. distances give or take 500m)
Relay Leg #1: "Out of the Gates" - 11.3 km (7 miles)
First exchange at Bloomfield Mac's Milk
Leg #2: "The Cottage Tour" - 9.8 km (6.1 miles)
Exchange just before West Lake Church of Christ (1/2 way point)
Leg #3: "The Weakest Link" - 6 km (3.7 miles)
Exchange at Sandbanks Park Exit
Leg #4: "The Drag Strip" - 8 km (5 miles)
Exchange at Vader's Veggie Stand -end of County Rd. #11
Leg #5: "Sprint to the Finish" - 7.1 km (4.4 miles)
OUR BEAUTIFUL LOCATION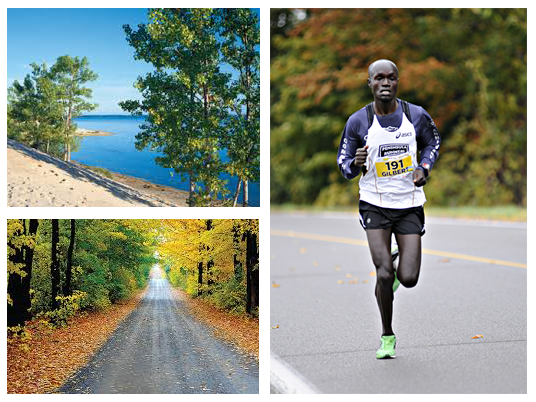 Top donors
| No. | Name | Amount |
| --- | --- | --- |
| 1 | James Swinnerton | CA$100.00 |
| 2 | Morgan Phillips | CA$50.00 |
| 3 | Caitlin Sheahan | CA$50.00 |
| 4 | Lianna Kallio | CA$25.00 |
| 5 | Zachary Gorry | CA$25.00 |
| 6 | Nathan Miller | CA$25.00 |
| 7 | Derek Hill | CA$25.00 |
| 8 | Kevin peacock | CA$25.00 |
| 9 | Anonymous | CA$5.00 |
Event schedule
September 29 8:00 AM EDT - Full Marathon & Hospital Foundation Team Challenge Start Time
September 29 10:00 AM EDT - Half Marathon Start Time
Contact information
Name

Race Director - Mark Henry

Phone

+1 613-813-5000

Website