Midwest States 100 Virtual Preview race is a competitive, informative preview run of of the 2021- Midwest States 100 "in person race".
Virtual Race Date: June 1st through June 30th
Upload your daily results and run data here: LINK
Upload your final results on Race Roster
Register for Coyote Summer 2020 Race which is July 1st through August 31st. For a fit & fabulous summer challenge!
You need a password to upload daily results. It is given to you when you register. If you forget email: dirtrunner100@yahoo.com
Race distance choices
100 miles in 10 consecutive days or less

100k in 10 consecutive days or less

Your time is based on the combined time of your runs
Behind the scenes video footage: We are taking our crew on to the Midwest States 100 race course. Virtual runners will have access to race day planning videos, interviews and drone shots from the actual race course. You will get to see the creation of this race behind the scenes.
Rough & rugged trails in bear country Wisconsin. Thick forest, lakes, and adventure!
We have reached our cap of people we can guarantee a spot to the 2021 in person race. Anyone that registers from 6/1 forward will be invited on the second round if spots are still available.
*We welcome out of the United States runners. We will cover shipping cost up to $15.00 to mail your race swag. If it is more than that we will ask you to cover the rest.
*We will mail out race bib to runners that register by May 31st ahead of time. All other runners will get them with race swag.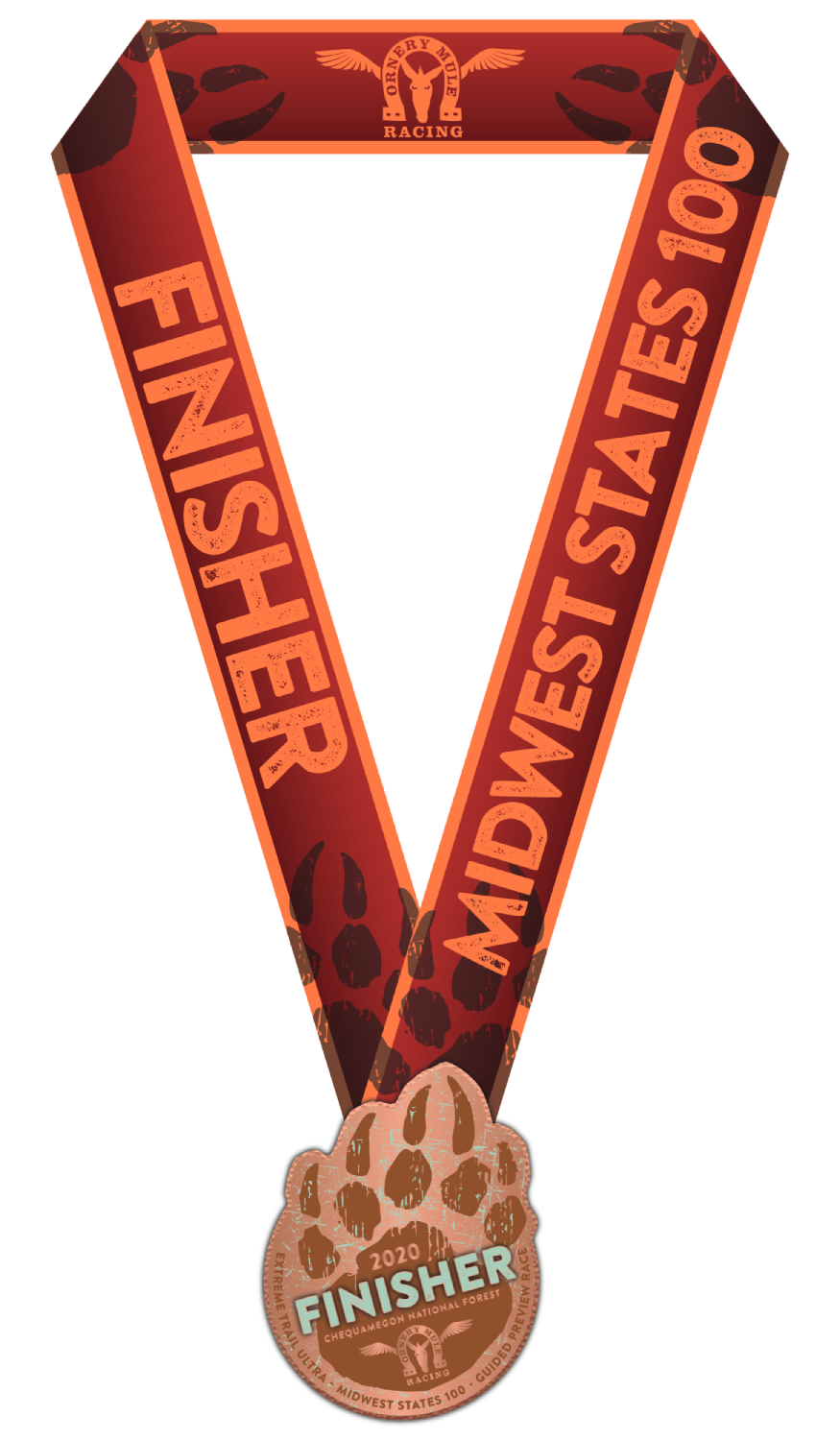 Registration fees
Midwest States 100 Virtual Preview race
Closed
You have 10 days to run 100 miles. That is 10 miles a day for 10 days or you can choose to knock it all in less! Race is between June 1st and June 30th
---
Midwest States 100k Virtual Preview Race
Closed
You have 10 days to run 100k! That is a 10k a day or you can knock it all out in less if you like! Race is between June 1st and June 30th
---
Midwest States 100 mile Virtual Course preview race
Virtual "Course Preview" Race 2020
Virtual experience of this race course to prepare for the 2021 in person race event. Special features on our website for Virtual runners.
Secret door website page "for virtual runners only" will include:
film and course descriptions
drone footage of course
updates often through the month of June
an inside look at the planning of the Midwest States 100
Bear paw finisher medal

Finisher race shirt

Cool ass sticker

sponsor gifts

all participants will be invited to register for the 2021 Midwest States 100 before registration opens to general public. Guaranteeing you a spot, and early bird pricing.
FAQ-
How do I submit results?
upload mileage daily on our website

when you have completed your total mileage take the final total and submit it on your Race Roster account page
When will I get my race shirt and swag?
If you register by May 31st, we will mail race swag out June 30th

If you register by June 20th, we will mail race swag out July 30th.
How do I prove my mileage?
Garmin, Strave, phone app, foot pod, we accept any way that shows you ran the mileage. We have a spot for link
Where can I run my miles?
We ask that you run close to your home, on trails, sidewalks or roads that are open, and practice CDC health recommendations.
Contact information
Event contact

Michele Hartwig

Email

Phone

8152612667

Website