This user is not currently accepting donations
My Story…
I have firsthand experience with pediatric cancer - I am a survivor.  In July 2011, I was diagnosed with Pre-cursor B Cell Acute Lymphoblastic Lymphoma.  I went through over 3 years of Leukemia protocol treatment, which included intense chemotherapy and ~20 spinal taps.
I missed out on a lot during those years and it took many months for my body to recover after I had finished treatment.  I am very thankful that I have been healthy since.  Eight years ago, running  just a few yards was challenging for me — now I'm able to run on the varsity cross country team for my high school.
When I returned to Lurie Children's Hospital last week for my annual exam and tests, I was reminded that pediatric cancer is not on hold during this pandemic.  In fact, the pandemic makes it even more difficult for the kids and families going through treatment.
Bear Necessities Pediatric Cancer Foundation supported me while I was going through treatment and provided me with some fun experiences (photos below), which really helped offset all of the negatives of being a kid with cancer.  I am raising money for them during their A Walk for the Bear 2020 virtual event, so other kids and families can also have the same support.  The money raised will also help fund promising research, that may ultimately lead to a cure.
I realize it may be a difficult time financially for many.  Even a small donation will help towards reaching my goal: to support kids with pediatric cancer during this especially difficult time.  Please consider donating to help me raise some money!
Thanks,
Cole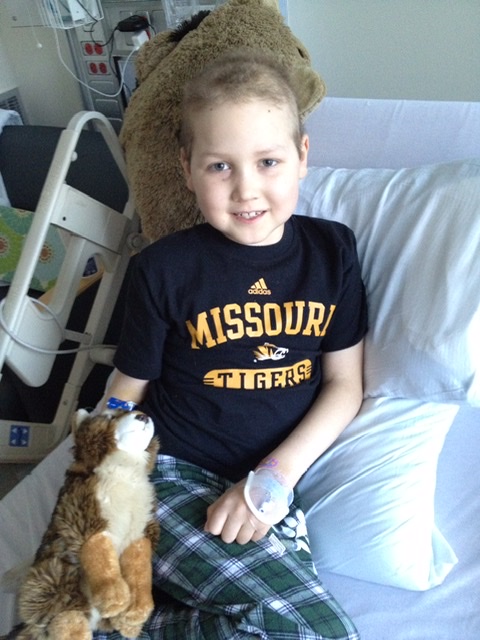 Description
Every two minutes a child is diagnosed with cancer.
That is why I have joined this year's A Walk for the Bear, in support of Bear Necessities mission to eliminate Pediatric Cancer & provide hope and support to those who are touched by it.
Your donation is more critical now than ever in helping to carry out this mission, and will allow Bear Necessities to:

- Provide unique and meaningful, albeit virtual or socially distant, Bear Hugs to kids with cancer;
- Support families who are undergoing financial stress through our Family Support Services Program; and
- Fund pediatric cancer research.
In this time of uncertainty, the ability to meet the needs of patients, their families, and their caregivers, is more important than ever.
Please donate to support these amazing kids and their families!
Recent donors
Donation date
Donor name
Donation amount

Nov

04

Kevin Mueller

Undisclosed amount

Nov

02

Anonymous

$6.18

Nov

02

Giuliana Maloberti

$27.48

Oct

30

Frank & Amy Schweda

$74.34

Oct

29

ms. mardoian's sister!

$27.48

Oct

29

Morgan Paoli

$11.50

Oct

28

Westgate Dental Care

$107.35

Oct

27

Anonymous

$54.10

Oct

27

Anthony and Lauren Jackel

$54.10

Oct

26

The Olson Family (Ashley, Elliott, Levi, and Everett)

$54.10