Just like each and every one of you, we (the Chiptime Results Team) are missing being at events all over Ontario, working with Extraordinary Race Directors and providing accurate Results to our friendly Running Community as they crush and celebrate their goals! SO ....
Let's TACO-bout Running!
Chiptime Results and Thirsty Cactus in Dundas would like to present you with a way to Physically Distance, get your TIMED Run or Walk in at your convenience and enjoy some delicious cantina.
Choose From:
5 km Run / Walk
COVID 19K
By Participating, you will be Mailed:
Your Bib(s) with Timing Chip
A Cool Participant T-Shirt
$10 Gift Certificate at Thirsty Cactus Cantina & Grill*
How it works:
Register & participate for these events between

Extended for the month of September

June 17 - August 17, 2020 August 31, 2020


1. First bib $25

(Bib, T-shirt & Gift Card)




2. Additional Bibs $10

(Bib & Gift Card)

Receive your race bib(s) and t-shirt by contact-less pick-up

The course will be open 7am to 7pm - Saturday & Sundays in September

Run or Walk your registered distance. Don't forget to bring your correct bib!

Have Fun, Practice Courteous Physical Distancing while out on course

Use that $10 Gift Card on your bib to grab your meal from The Thirsty Cactus and check out your Results online!

Use your Bib at Cookie

DOH!

(Located inside The Horn of Plenty, Dundas) to receive $2 off your purchase
*Offer extends to food purchases only and cannot be combined with any other offer. Your gift certificate will be on your bib, as a tear-off
** Due to the effects of COVID 19, Canada Post is experiencing shipping delays. Al shipments are likely to arrive after their estimated time. Thank you for your understanding and patience.

Thirsty Cactus Cantina & Grill
For almost 26 years we've been a proud part of this community and we want to continue being there for you.
Enjoy our take on the Southwest in the heart of Dundas. From fish tacos, to burrito bowls to eccentric mac and cheeses we've got something for everyone. In the mood for nachos and wings? We've got you covered there too. We smoke our pulled pork in house and we always will! 26 taps and friendly service round out the Cactus experience. From our kids menu to our vegetarian options, our kitchen is open late every night to give you what you're craving!
Weekly Specials being Added!
Sunday
#CaesarSunday any App + a Caesar $16, any App + 2 Caesars $20
Taco - Tuesday
Any of our amazing tacos and a Margarita $20
Cookie DOH!
Cookie DOH! is the Canadian Original edible cookie dough experience. Established in 2017, cookie DOH! was started in Dundas, Ontario, by Jason & Tania Gloster. Cookie DOH! Uses high quality, real ingredients to make a very tasty and safe to eat cookie DOH! The husband and wife team, along with their two kids, take pride in creating the different flavour combinations and strive to bring you the best edible cookie dough experience. So enjoy and remember the times when mom would let you lick the batter!
Our Race Partners
We know that many businesses, races and charities have been impacted by the effects of COVID 19, and we are all seeing a reduction in donations and business. We want to use this platform to showcase the races and organizations we work with in Hamilton that have been affected and give them a boost to be able to operate in the coming year.
If you are able, please consider a direct donation to one of our wonderful race partners for the work they do in our community. Or use the specific referral link provided by them. Our hope is that our running family will continue to show love and support, as if it were our regular race season.
Cancer is already isolating. No one should have to go through it alone.
In response to these anxious times, Wellwood is being reimagined through virtual programs, online resources and expanded peer mentoring.
Thousands of people in our community are still living with cancer right now. Most face serious illness and many are immune compromised, which makes the current crisis all the more difficult to cope with and navigate.
They need us more than ever. We need you more than ever, too.
Wellwood is not government funded, covered through OHIP or supported by user fees. It's no cost to everyone who needs it and that's only possible because of donations like yours.
For more information about our programs and services, please visit: wellwood.ca.
Thank you for your support.
Our passion: helping young girls become strong women
Our focus: reaching young girls in Hamilton's low-income communities
Our goal: to inspire young girls to dream big and live big
Our strategy: to build young girls' goal-setting skills and self-confidence
Our vehicles: FAB Girls 5K Challenge Program and FAB Girls Empowerment Program

FAB aims to eliminate barriers by providing youth girls in grades six through twelve with the goal-setting and
leadership skills necessary to lead an empowered life, ultimately returning as a FAB coach to positively influence future generations. For more information, please visit fitactivebeautiful.ca/. Thank you for your support.
CLIMB Hamilton is an annual stair climb at Tim Hortons Field to raise awareness of healthy lifestyles and funds that contribute to the total health of our community. Founded in 2007 as the Climb for Cancer, CLIMB has seen thousands of participants climb the stadium stairs once a year!
Now celebrating its 14th year, CLIMB Hamilton is expanding its vision and work to raise money for many partners and charitable agencies across Hamilton. CLIMB Hamilton supports total health in our community through funding causes, education and healthcare initiatives and building on a legacy that has collectively raised more than $1,000,000 and has inspired thousands to #StepInFront and #StepUp.
Please visit https://www.climbcovidcanada.com/ for more information. Thank you for your support.
5K Run/Walk
Physical Directions and Notes
Start and Finish is just off the Thirsty Cactus Patio, look for the Start/Finish Flag. This is an out and back course along the Spencer Creek Trail.
Once you have heard the beep, your race has started and you will head East along King St. E.
At the intersection for King St. and Dundas St. (Hwy 99) cross at the traffic lights and veer right to head for the Spencer Creek Trail. Enter the trail head at the sign. Follow the trail along until it meets up with Cootes Dr. Trail and continue right along Cootes Dr. You will see the turnaround point 'CTR' painted in Yellow on the right side of the path.
Turnaround and follow the same path back, turning Left onto Spencer Creek Trail at the bridge/ Creek. Follow the trail to the end and connect with Dundas St. (Hwy 99) and back onto King St. crossing at the traffic lights.
Continue on King St. E. and you will see the Finish back at the Thirsty Cactus!
Cookie DOH 10K
Physical Directions and Notes
Start and Finish is just off the Thirsty Cactus Patio, look for the Start/Finish Flag
Once you have heard the beep, your race has started and you will head West to the intersection of King/Main/Cross. Cross at the traffic light to head up Cross St and into Dundas Driving Park.
Complete one loop of the Driving Park and head back down Cross to the King/Main/Cross intersection and cross at the light again. When you pass the start/finish you should be about 2km into your run.
Continue along King St. and cross Dundas St. (Hwy 99) to veer right and head for the Spencer Creek Trail. Enter the trail head at the sign. Follow the trail along until it meets up with Cootes Dr. Trail at about 4km into your run and continue right towards McMaster University.
At the Pedestrian Cross walk into McMaster take the Right turn that will lead you onto Sanders Blvd. Follow Sanders Blvd. to the end where you will turn left onto W Park Ave and then Right onto Main St. W. You should be about 6km into your run when you make this turn.
Continue on Main St. W. that turns into Osler Dr. and leads you into Dundas again. Around the 8km mark you should see the intersection of King/Main/Cross and the Thirsty Cactus.
Cross at the traffic lights to head up Cross St and into Dundas Driving Park. Complete one loop of the Driving Park and head back down Cross to the King/Main/Cross intersection and cross at the traffic light again, turn left and the Finish is in sight!
COVID 19K
Physical Directions and Notes
This course will take you gradually up and then back down the Escarpment as well as along the Hamilton Rail Trail. There are two out and back sections for this run.
Start is 100 Beddoe Drive Unit 60. The start & finish is one common location marked by a Start/Finish Flag.
From the start at unit 60 head south (towards escarpment) to the end, turn left and turn left again this is Beddoe Drive. Continue towards Studholme Rd and turn right onto Studholme Rd.
Travel to just before the stop light and turn onto an asphalt path that goes through the golf course.
Note: The map shows the path through the Golf Course property, DO NOT use this path, continue towards Aberdeen Ave and just before the traffic lights is a small Bike Path on your right. Take THIS PATH through the outside perimeter of the Golf Course to Chedoke Ave.
At the end of the path turn right onto Chedoke Ave
At the stop sign turn left onto Hillcrest Ave and go to the end. Turn right onto Dundurn Ave South, then turn right again.
You are now on Chedoke Radial Trail. Stay on this trail for several kms – (you will come across the golf clubhouse parking lot - you will continue straight through the parking lot to the other side where you will pick up the trail again just past the Chedoke steps).
Near the top of the escarpment, just before you reach Scenic Drive, the trail will become the Bruce Trail (follow the BLUE markers/blazes for the Bruce trail)
When you get to Highway 403 (before the pedestrian overpass), there is a metal post in the middle of the trail that is the turnaround point. This is the 6.4 km point. Follow the route back the exact same way.
You are at 10 km, 50 metres past the tunnel. Continue back to Dundurn Ave South, Hillcrest Ave to Chedoke Ave. Turn left at the stop sign and follow the bike path closest to Aberdeen Ave. Turn left and head up Studholme Rd.
Stay on Studholme Rd traveling west until you get to The Rail Trail (Hamilton-Brantford Rail Trail).
Take the Rail Trail and stay on it (Roughly KM 13 to 16).
Note: at Fortinos Parking Lot / Outdoor Garden Centre, keep right to stay on the Rail Trail.
Turnaround: You will start to go down a hill and onto a wooden bridge (you are very close to University Plaza). At the bridge make a U Turn and head back until you get to Studholme Rd and Beddoe Drive.
Turn right onto Beddoe Drive and turn right onto the first road and right again.
The finish line is unit 60 located on your left.
Safety
I acknowledge and accept
I will obey traffic laws and will only cross intersections when it is safe to do so. I understand that there is no traffic control or volunteers on the course. I will also respect other walkers and cyclists on the courses at all times.

I acknowledge that the courses where Chiptime Results Event's take place, I will be on my own and that I should ensure all safety precautions for myself. In the event of an illness, injury or medical emergency arising during any of my run/walk(s) that the organizers are in no way liable and I agree that I will be fully responsible for payment of any and all medical services and treatment rendered to me including but not limited to medical transport, medications, treatment and hospitalization.
I also agree to follow the COVID-19 guidelines set by the City of Hamilton and my province/country and to practice physical/social distancing guidelines.
I understand there will be no refunds for bibs not used during the dates the event is open. If for whatever reason the event has to be cancelled, there will be no refunds given.

Parking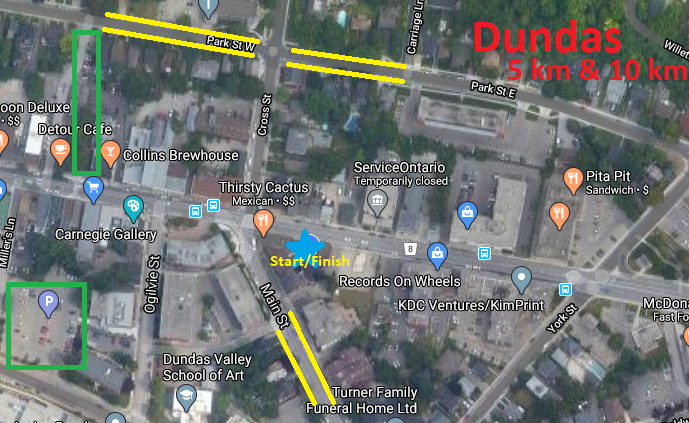 For Parking in Downtown Dundas - there is metered parking along King St. E/W. You can also Park in the Green P Parking Lots (as indicated in Green on the Map) or as indicated in Yellow, street parking along Main St or Park St. E.
*Please follow parking enforcement signs
Cost of all meters in the City of Hamilton is $1.50 per hour. Operational hours: in Dundas are Monday through Friday from 9 am to 6 pm
---
If you are running or walking the COVID 19k, please park along Studholme Rd. or along Beddoe Dr.
*Do not park in the private complex please
---
Don't Touch Me! T-Shirt
We chose a soft style T for you, because everyone needs to be comfy these days!
Preshrunk jersey knit
High stitch density for smoother printing surface
Seamless double-needle 3/4" collar
Taped neck and shoulders
Tear away label and double-satin label
Rolled forward shoulder
Double-needle sleeve and bottom hems
Quarter-turned to eliminate center crease
Size: S M L XL
Registration fees
CA$25.00

Includes Bib, Timing Chip, T-shirt and Shipping

Jun 17 - Sep 27
---
CA$25.00

Includes Bib, Timing Chip, T-shirt and Shipping

Jun 17 - Sep 27
---
CA$25.00

Includes Bib, Timing Chip, T-shirt and Shipping

Jun 17 - Sep 27
---
5km - Additional Bib
Closed
CA$10.00

You must purchase your first bib in order to receive this pricing.

Jun 17 - Sep 27
---
10km - Additional Bib
Closed
CA$10.00

You must purchase your first bib in order to receive this pricing.

Jun 17 - Sep 27
---
COVID 19k Additional Bib
Closed
CA$10.00

You must purchase your first bib in order to receive this pricing.

Jun 17 - Sep 27
---
Contact information
Event contact

Dana

Email