9th Annual Spoonbills & Sprockets Cycling Tour
2020
It's Virtual!
You know it. You love it. Guess what? This year you don't have to be here to ride it!
Of course we miss you. But, for 2020 we're taking America's coolest cycling tour virtual this year.
You can strap on your helmet and saddle up for 15, 36, 72 or 100 miles and cycle your way to the finish line from any where in the world! And yes, you'll still receive the fabulous, collectible finisher medal you've come to love from Spoonbills & Sprockets.
If you're feeling generous, you can go above and beyond to support the Friends of A1A's annual fundraiser by making the bigger commitment to be a real champion! Choose the triple pack and receive your 2020 registration with medal, t-shirt, signature jersey, 1-year membership to the Friends of A1A and the promo code for 10% off the 10th Annual Spoonbills & Sprockets Cycling Tour in 2021!
Pick up a custom design from our A1A "Art Along the Byway" campaign to support local artists with a $20 t-shirt or a signature 2020 Spoonbills & Sprockets cycling jersey for $50! This year's custom designs are presented by Carla Cline, owner of Flagler Surf Art & Stuff and lifestyle brand Florida Style.
Smile for the Camera!
Last year's "Show Us Your Selfie Crazy 8's" photo contest was a huge hit with cyclists. Since we can't be together this year, we're inviting you to send us your favorite photos from your virtual ride for a chance to win the 10th Anniversary Spoonbills & Sprockets Prize Pack that includes: Entry into next year's 10th Annual Spoonbills & Sprockets Cycling Tour for two participants on Saturday, November 6, 2021, two signature 10th anniversary Spoonbills & Sprockets cycling jerseys, a two-night stay at the Hammock Beach Resort, and a gift certificate treating you to dinner for two at the world famous Golden Lion Cafe in Flagler Beach.
*Contest open to paid registrants of this year's 9th Annual Spoonbills & Sprockets Cycling Tour 2020.
Send all photos to danielle_anderson@scenica1a.org. Subject Line: Spoonbills Selfies 2020
Why A1A?
No other stretch of highway reaches deeper into America's history than the A1A Scenic & Historical Coastal Byway.
An officially designated National Scenic Byway and Florida Scenic Highway, this iconic 72-mile stretch of A1A along the coastline of St. Johns and Flagler counties is filled with recreation, adventure, nature and scenic beauty. Florida's Historic Coast has been part of American history for 500 years, and we're excited to share a look at one of the nation's greatest destinations with you!
The Friends of A1A is a nonprofit organization dedicated to the protection, preservation, promotion and enhancement of the A1A National Scenic Byway. Based on core values of transportation and safety, responsible, managed development, beautification of the scenic highway and surrounding communities, education and community outreach, and economic development and tourism, we strive to make our communities better, safer and more beautiful for residents and visitors to the A1A Scenic Byway.
We appreciate your support!
Learn more about us at www.scenica1a.org.
Accomodations
Here are some suggestions for accommodations. Feel free to visit our website for more details!
Official Jersey
Custom limited edition 2020 Spoonbills & Sprockets Cycling Jersey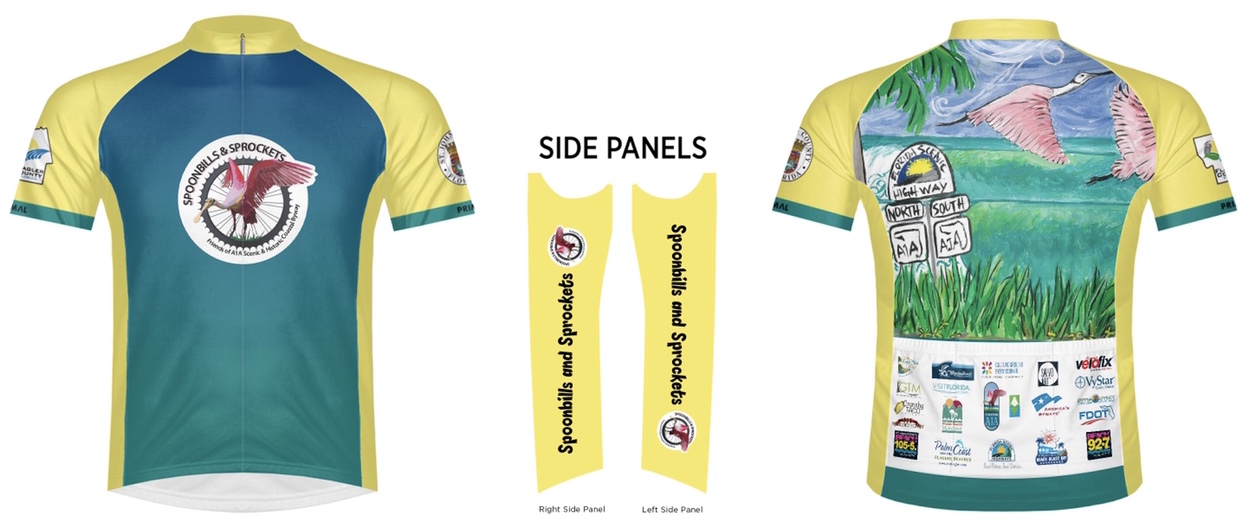 Presented by artist Carla Cline
Flagler Surf Art & Stuff
Route Options If You're In Florida Along A1A
| | | | | |
| --- | --- | --- | --- | --- |
| Suggested Routes Along the A1A Scenic Byway | Distances | Elev/ft | PDF | Maps |
| Century | 97 miles | 740 | Click Here | Map |
| Metric Century | 71 miles | 580 | Click Here | Map |
| Half-Metric Century & 15 Mile Riders | 36, 15 miles | 311 | Click Here | Map |
Weather Cancellation Policies
This is a Rain or Shine event. No refunds or transfers.
Safety is the most important thing and if any of the threatening weather conditions are present the day of the event (tornado warning, tornado watch, thunderstorm, heavy rain or a hurricane decides to visit), the event may be delayed or canceled. When weather conditions or other physical conditions present a danger to participants, such conditions fall under the label "acts of mother nature," it will not result in refunding of any event entry fees or future event credits, since funds were already spent in preparation for your event day.
Contact information
Event contact

Danielle Anderson

Phone

904-425-8055