Join us for our 10th Annual Book It Virtual 5K/10K
benefiting Books from Birth and The Emmanuel Center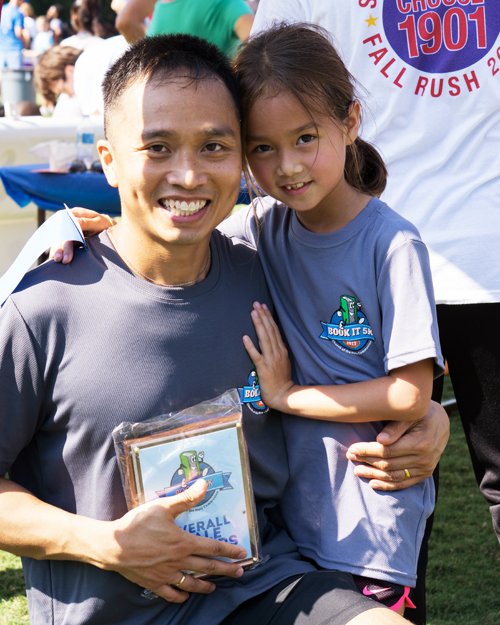 The 10th Annual Book It 5K will move forward this year with a virtual 5K/10K race! While we can't safely run together this year, we can race virtually in support of The Emmanuel Center and Books from Birth!
Race Date and Window of Time to Complete: The race day is set for September 19, 2020, but participants will have a one-week window (September 13-September 20) to complete your distance and submit a time.
What is a virtual race? Participants walk, jog or run any route of your chosen distance. It may be through a neighborhood, through the park, on a trail, on a treadmill, on a track, etc. Complete it at your leisure, any time of day or night. Time it with your own watch and then send in your time!
We would love to see pictures of you on your race day! Snap a selfie and post it to social media using the hashtag #BookitMemphis. Cheer on your fellow racers and help raise funds and awareness for Books from Birth and The Emmanuel Center.

Race Distance Options and Cost:
1 Mile Run/Walk $25.00

5K $25.00

10K $25.00

Ages 15 & Under (Any Distance) $15.00

Spirit Runner $25.00




Why? The best part is that the run raises funds and awareness for two local organizations that are changing children's lives for the better, The Emmanuel Center, in downtown Memphis, and Books from Birth. While many aspects of our daily lives have scaled back during the pandemic, the work of these two organizations does not stop, and the needs they fill are even greater at this time.
Awards and Prizes:
Overall Awards for 5K and 10K Male and Female Winners

Prizes for Hilliest Course, Most Creative Course and Course Furthest from Memphis.

Door prizes for randomly chosen 2020 participants.
Race T-Shirts: Choice of a short sleeve cotton t-shirt or a short sleeve performance t-shirt. Details below on when and where to pick up your race t-shirt.

Since the race can be run from anywhere, INVITE FRIENDS and FAMILY from out of town to sign up too! Sign up and enjoy the challenge of a great walk/run as we run together in spirit and support Books from Birth and The Emmanuel Center.
The Emmanuel Center, founded in 1989, serves the 38126 zip code, with after-school programs that include tutoring. While its after-school program has been put on hold during the pandemic, its service to its community continues. It has conducted a Family Needs Assessment in its area and, as a result, has been delivering food boxes, books, educational activities, and art supplies to its students. Also, during the time while students are not at the Center, its staff is volunteering with the 38126 COVID-19 Response Project which provides community residents with food and hygiene supplies. This summer they teamed up with Literacy Mid-South to deliver books, worksheets, and journal prompts to participating K-5th grade students along with providing incentives for completion.

Books from Birth (now part of Porter Leath) makes its mission to advance childhood literacy by delivering a book a month to every child in the area from birth to 5 years old. More than 46,000 children in Shelby County receive age-appropriate books in their homes at no charge to these families. Porter Leath's Books from Birth program, in partnership with the Dolly Parton Imagination Library and Governor's Books from Birth Foundation, ensure that the books are mailed to each child every month. Darren Thomas, Books from Birth development director said "during these times of working from home and home-schooling, the time to read with children is even more important." Porter Leath has also worked to provide additional literacy tips and tools to parents, and its staff has provided virtual online reading times.
Race Shirt Pick Up Information

Friday, September 18, 2020
4:30 pm - 6:00 pm

Church of the Holy Communion (outside of Wellness Center)
4645 Walnut Grove Road
Memphis, TN 38117
767-6987
The driveway to the Wellness Center is the second driveway off of South Perkins Road. We will be set up under the covered drive through. You can either park your car and walk up to get your shirt or you can drive through the covered driveway next to the Wellness Center. Please wear a facial covering.

We have enough race shirts for all that registered by September 14.
For anyone that registered after September 14, we cannot guarantee a race shirt in time for Saturday but we will place another t-shirt order after this weekend if we run out of your size.
We can mail race t-shirts to any race participants that live out of town.

Contact information
Event contact

Julie Fike

Phone

901-767-6987

Website