Gold Country Run and Sport
Beginner Running / 5K Program
September 15 – November 15
If you are new to running or are seeking to make a comeback after extended time off, this is the ideal training program for you. This professionally coached beginner runner program starts on Saturday, September 19th and is geared toward having trainees complete a 5K run by the end of the 9-week program.
Led by Certified Running Coach Kurt Jaehn, the group will meet twice weekly at 6:00PM on Tuesday evenings and 8:00AM on Saturday mornings at our Folsom Store location. Participants who prefer to do the program virtually will be able to follow the training plan provided and receive feedback on their runs from our coach.
The Kick-Off Meeting / Introduction to the Coach will be held on Tuesday, September 15TH at 6:00PM to hear more about this program from the coach and to meet other trainees.
Group enrollment cost is only $80 and includes:
9-week coached training program with weekly training plans provided

Optional in-person outdoor training sessions with virtual weekly check-ins

Unlimited access to the coach through private group page, e-mail, or phone

Running technique, injury prevention and nutrition tips

Free GCRS training technical T-shirt

Personalized appointment for an in-store shoe-fitting and one-time discount of 15% off all purchases (Garmin watch purchases will be limited to a discount of 10%). All participants should have a Garmin or other GPS enabled watch or be able to run safely with their phones and will need to sign up for a Strava account (which is free).

Virtual or in-person 5K organized run at the end of the program

Discounted entry into the 2021 Gold Country Half/5K in May 2021!
---
Meet Coach Kurt Jaehn:
RRCA Certified
Kurt started running in high school, competing in track and cross country. He was an avid cyclist for many years and competed in many races including Eppies Great Race and several 24-hour adventure races. Kurt became serious about running again in 2010. He sold his road bike and is now an avid runner! Since then he has completed the California International Marathon 7 times and dozens of other races including 50K's, half marathon's, 10k's, and 5k's. Kurt loves to share his passion for running. He is an RRCA certified runner coach and has helped coach prior training groups for Gold Country Run + Sport.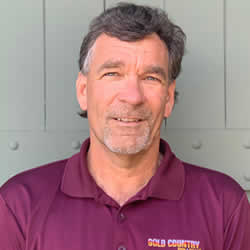 Registration fees
Beginner Running / 5K Program
Closed
---
Contact information
Event contact

Gold Country Run and Sport

Email

Phone

530-744-5504

Website