Robinson Preserve 2021
The 2021 Robinson Preserve 5K/10K will be a live in-person event on May 28, 2021. This is the second event in the inaugural Sunrise2Sunset series supporting the Big Bill Foundation. The first 300 runners to sign up for both the Emerson Point Preserve 5K and the Robinson Preserve 5K or 10K will receive a special pair of custom Goodr sunglasses!
All participants will receive a race shirt, bib, and medal, plus a coupon for a free beer at Motorworks Brewing! Packet mailing is available for all participants who opt for packet mailing during the checkout process. There will be no onsite race day packet pickup due to Covid-19 restrictions. Age group awards will be available for pickup at the Fit2Run UTC store location following the event.
THERE WILL BE NO RACE DAY REGISTRATION ON SITE SO PLEASE REGISTER BEFORE 5PM ON 5/27
Packet pickup will take place at the following locations:
5/26 - 11AM-2PM - Fit2Run UTC
5/27 - 3PM-6:30PM - Conley Subaru
Race Day Start Information:
The race will start/finish at the park entrance on 17th and 99th in Bradenton.
6:30PM - 10K Wave
6:35PM - 5K Wave 1
6:40PM - 5K Wave 2
---
The beneficiary of the 2021 Robinson Preserve 5K/10K will be the Big Bill Foundation. The mission of the Big Bill Foundation is to provide scholarships to participate in extracurricular activities for youth that have battled childhood cancer or other life-threatening conditions. Honoring the memory of Bill Robinson, the Big Bill Foundation is striving to bring the benefits of extracurricular activities, such as sport, music, and art to the lives of children that have fought the hardest battle.
Registration fees
5K
Closed
Online registration closed
---
10K
Closed
Online registration closed
---
Proceeds From The Race
Proceeds from the race benefit Manatee County's Robinson Preserve and The Big Bill Foundation.
Race Course
5K
10K
Race Day Parking
Parking is available throughout the area surrounding Robinson Preserve. Please note: NO parking is available inside of the main Preserve entrance, however there is limited parking at the expansion lot on the corner of 99th and 9th. Road parking at the Palma Sola Botanical Gardens is available for handicap visitors only. We ask that all visitors please keep this lot open for those participants. Mango Park, Fiddler's Green, Wisteria Park, Palma Sola Point, and Colonial Woods are all available for street parking.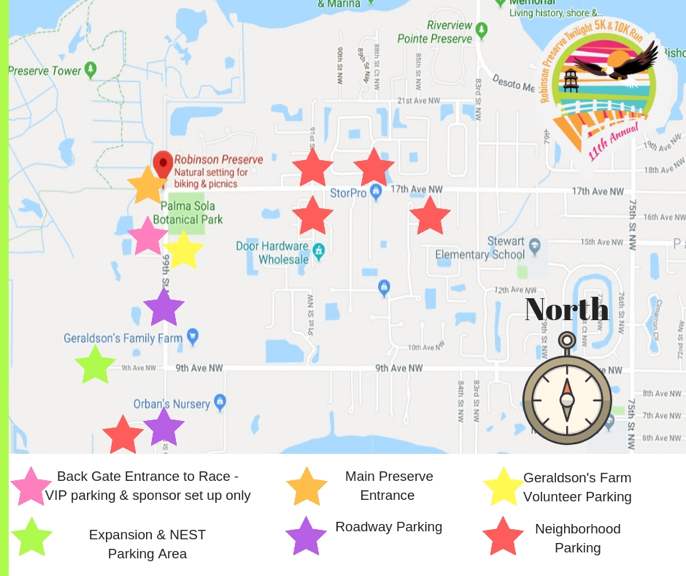 Cancellation Policy
We value runner safety. In the event of severe weather or other hazardous conditions, the director(s) reserve the right to cancel the race for the safety of its participants. Registrations cancelled due to public safety concerns will not be refunded, but instead used to cover event costs, with the balance being treated as a charitable donation to the event beneficiary.
Conditions that may result in event cancellation include (but are not limited to): lightning, high winds, flooding, fires, and other acts of God.
Contact information
Event contact

Fit2Run

Email