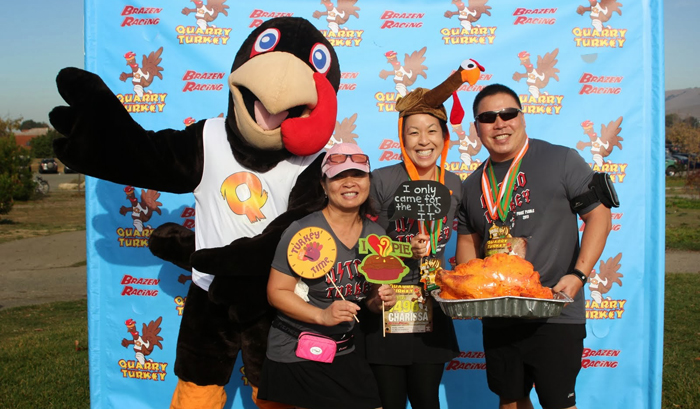 The rarely seen Quarry Turkey will make his appearance two days after the big feast, fueled-up and ready to take on all the little turkeys! Come start a new Thanksgiving weekend tradition with a fast, mostly-flat half marathon, 10K or 5K!
Little Turkeys Race (about 100 yards or so) is free to all children brought with race participants.
Once again, we are also holding a food drive benefiting Alameda County Food Bank and are encouraging all participants (including little turkeys) to bring at least one canned good on race morning.
Want to make your Thanksgiving Epic? Sign up for the Double Turkey Challenge!
Participate in both of Brazen Racing's Thanksgiving events (Nitro Turkey on Thanksgiving Day and Quarry Turkey on Saturday, the 27th) and you will be eligible to receive a special connector medal that unites the medals from both races to create a mega medal.
To be eligible, you have to participate in races on both days (in person or remotely). No special registration required.
Learn more about the challenge here.
Registration fees
Online registration closed
---
Online registration closed
---
Online registration closed
---
Remote Runner
Closed
Online registration closed
---
Event schedule
November 27 7:00 AM PST - Hiker start (for those walking the half marathon, planning to take longer than 3.5-4 hours)
November 27 8:00 AM PST - Half Marathon
November 27 8:20 AM PST - 10K
November 27 8:40 AM PST - 5K
Contact information
Event contact

Race Director

Website