Visit SalmonJam.org for weekend festival schedule and more race details!
The word "inspire" comes from the Latin root "inspiratus", which means "to blow" or "breathe into". This is what Irene Webber did when she ran the first (and her first) King Salmon Marathon, by herself, in 1986. With her perseverance and enthusiasm, she created an event in which all of us have been inspired to take part. Her motto "See you on the road!" means just that, as she encourages others to live a healthier life. Our Alaska Salmon Runs honor wild salmon, the keystone species of our daily lives in this commercial fishing village and the anchor of our surrounding ecosystem.
Additional Event Details
Entry fee includes adult or youth t-shirt and race bib with a timing chip.
Race headquarters are at Cordova Community Medical Center parking lot, which is also the finish area.
On-line registration closes on Friday, July 9, at 5 p.m.
Runners may register after that at Bidarki Recreation Center until Wednesday, July 14, 5 p.m., or on race day at CCMC, race HQ, starting at 8:30 a.m.

Runners will be driven by bus to race start locations for marathon, half-marathon, 10K and 5K -- these courses are all point to point (not a loop), and runners will run from the race start into town to the finish line at the CCMC parking lot.
Smolt One Mile Fun Run/walk race starts in front of hospital, and follows a loop around the neighborhood.
AK Salmon Runs salmon barbecue potluck and awards at Mt. Eyak Ski Hill on Saturday evening, July 17, 2020, 5:00 - 6:00 p.m.
The Alaska Salmon Runs are part of the Salmon Jam Festival -- a wild weekend of running, music and singing out salmon! See www.salmonjam.org for a weekend schedule of events, including the Taste of Cordova, Alaska Salmon Run road races, Salmon Jam Music Festival, Small Fry arts and education activities.
The Course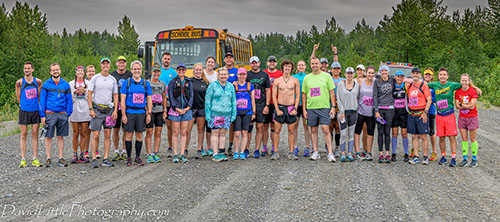 Cordova is surrounded by extraordinary ecosystems that combine to form one of the world's most spectacular natural environments and host to a thriving wild salmon migration. The race course traverses the Copper River delta where runners are treated to soaring views of mountains being carved by glaciers, wildflowers, and blue water rivers and lakes. The race course is mostly flat (we're at sea level), and follows the old Copper River railroad route which led to the Kennicott Copper mines. The marathon starts at 27 mile bridge – one of the many bridges that span the Copper River. The first half of the course is gravel road – with little to no traffic. Because the area is still wild, moose and bear are occasionally encountered. For safety and water support, marathoners will be followed by a vehicle. Runners pass the "Mudhole Smith" airport at mile 13. Paved road then spans the Copper River delta, lined with beautiful wildflowers, including lupine, nagoonberry, fireweed, and Alaska's State flower, the forget-me-not. The last 10km are run along the blue waters of Eyak Lake. July temperatures range from low 50s – 75 F.

The Race and FAQ's
We now host participants from all over the world, and in one of Alaska's most beautiful and friendliest communities. We have welcomed runners from Japan, Australia, Brazil, Norway, and from all across the continental U.S.A. Some people come back year after year, and we hope that you will do the same. Our salmon runs are dedicated to the five species of salmon native to our area.
Click HERE for Alaska Salmon Run FAQ's
Event schedule
July 17 6:20 AM AKDT - King Salmon Marathon Meet Time
July 17 7:00 AM AKDT - King Salmon Marathon Start Time
July 17 9:00 AM AKDT - Sockeye Half-marathon Meet Time
July 17 9:30 AM AKDT - Sockeye Half-marathon Start Time
July 17 10:00 AM AKDT - Coho 10K Meet Time
July 17 10:15 AM AKDT - Humpy 5K Meet Time
July 17 10:30 AM AKDT - Coho 10K Start Time
July 17 10:45 AM AKDT - Humpy 5K Start Time
July 17 11:00 AM AKDT - Smolt One Mile Fun Run/walk Meet Time
July 17 11:15 AM AKDT - Smolt One Mile Fun Run/walk Start Time
Contact information
Event contact

Kristin Carpenter

Phone

+1 907-424-5135

Website