The Frostbite Race Presented by Chick-Fil-A Starkville, which was started over 35 years ago, is a chilly annual event that draws runners from Starkville and surrounding areas. In cooperation with the Greater Starkville Development Partnership, this year's Frostbite may look slightly different due to social distancing requirements, but we plan to continue to be bigger and better than ever! Just like last year, this year's Frostbite will begin and end on Main Street and incorporate the Cotton District, Mississippi State University campus and Starkville's Historic District into the course. The traditional winter half-marathon will also include a 10K and 5K races to include more intermediate and novice runners and families. Chip timing, custom medals, and high quality swag will also help the Frostbite appeal to more runners and improve community involvement!
Registration fees
5K
Closed
Online registration closed
Online registration closed
---
10K
Closed
Online registration closed
Online registration closed
---
HALF MARATHON
Closed
Online registration closed
Online registration closed
---
COVID PROTOCOLS for race day
In conjunction with guidance from the city of Starkville and the race directors, below will be race guidelines for the 2021 edition of the Frostbite Race. Please keep in mind that none of these guidelines are in place to make anyone uncomfortable or inconvenienced, but to help create an overall great race environment and successful race day!
1. Social Distancing
We ask that you please keep an appropriate distance of 6 feet from each other to adhere to social distancing guidelines. The race site is held in an area of downtown Starkville that should provide plenty of room for participants and observers to spread out accordingly. Members of the same household can keep distances closer than 6 feet.
2. Mask Policy
In order to try and keep this race as normal as possible under the circumstances, we will ask registrants and observers joining you to wear a mask while in the race area.
All registrants will be able to remove their masks as they cross the start line, but will need to put them back on as soon as they cross the finish line.
3. Starting Times
The race will start in waves depending on which race you are participating in:
-Half Marathon will start at 9am
-10K will start at 9:10am
-5K will start at 9:20am
Although being clumped together with everyone at a starting line makes for some fun energy and excitement, staggering the times like this will allow any pre-race congestion to stay at a minimum.
**Remember, all races are chip timed so your time won't start until you cross the starting line. You do not have to be in the front of the pack to get a good time!
4. Water Stations
After consulting with the city, we all feel that to be as safe as possible in minimizing contact along the course, that we need to encourage you to bring your own hydration to use along the course.
However, there will be a total of three water stations along the course. Based on the half marathon route, they will be located at approximately mile 4, mile 6, and mile 11. What this means for each race is the following:
- 5K registrants will not have access to a water station along the course
-10K registrants will have access to two stations
-Half Marathon registrants will have access to five stations (the first two stations listed above going out and then coming back, and then the final one at mile 11)
5. Awards Ceremony
Again, unlike most years and to avoid any post-race congestion, we'll be doing our awards a little differently.
For those that are new to the race that might have an opportunity to win an award, we usually have a 12 noon awards ceremony with everyone gathered around to help celebrate.
This year, and hopefully the only year, we'll be handing out awards as each race is completed and when we can determine accurate placement in your age group or overall. This will take place next to the chip timing tent as you cross the finish line.
6. Post Race Food
While we encourage you to bring your own post-race nutrition, we will have unpeeled fruit (bananas and oranges) and bottles of water available for 5k and 10k registrants as they cross the finish line. Gloved and masked volunteers will handle these.
For half marathon finishers only, we will also have Chick-Fil-A sandwiches individually wrapped as well as the fruit and water bottles. You will also get a food voucher for designated menu items for the different food trucks at the race.
7. Volunteers
All race volunteers will be expected to wear masks in the race area or if they are manning a water station. Those handling any food or drink items will also be wearing gloves.
Race Highlights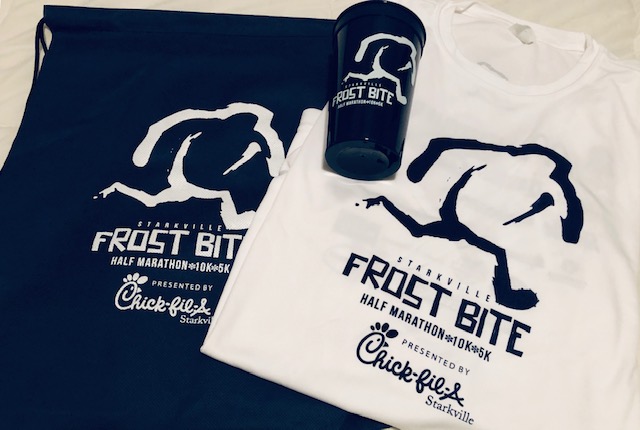 Course Maps

F.A.Q.
Due to the nature of ordering "swag", the number of items have to be estimated several weeks ahead of time for ordering and shipping purposes. We'll do our best to accomodate everyone and make it right if we run out of items, but please try to understand and be patient.
What's the plan with social distancing?
-After discussing with city officials and sponsors whether to do the 2021 race virtually or live, we've decided we can safely and responsibly put this race on live as it stands today. We hope that makes many of our racers happy to have something relatively normal to look forward to.
Again, as it stands right now and to give some general guidelines which we'll clarify with more detail closer to race time, masks will need to be worn as people congregate around the start/finish line areas and can be removed as you cross the start line. We'll also plan to start each race off in waves versus all at once to help participants spread out. As far as water stations, we'll continue to monitor what the industry norm is, but there could be a possibility that you may need to bring your own hydration for whatever race you're participating in. These decisions will be made in plenty of time to pass on to everyone.
Please keep in mind that this could all change over the next several months leading up to race date, but in order for this race to take place as normally as possible, we'll all need to do our best to follow these guidelines.
Are there any options if I sign up and the race is cancelled due to Covid-related restrictions placed on the city or state?
-We will be communicating frequently with the city over the next few months leading up to race day. Restrictions seem to ease up/tighten almost daily nowadays, BUT if it's determined that we are not able to host a race in person due to city and/or state restrictions on events such as this, then we will allow registered participants to transfer their registration to the following year's race.
What's the address of the start/finish area?
-106 E Main St, Starkville 39759, will get you to where you need to be.
Will it be cold?
-Most likely, but based on how the weather has been recently down South, who knows. Prepare for anything and check the forecasts leading up to race day.
Will there be an early packet pickup location?
-Yes. It will be at Chick-Fil-A Starkville from 5:30-7:30pm on January 29.
You will be able to pick up your packets race day at the race site starting at 7:30am.
The half will start at 9am sharp with the 5k/10k starting about five minutes after that.
What do I bring to pick up my packet?
-Bring yourself and a photo ID so we know it's you.
Can I sign up the day of the race?
-Please make arrangements to sign up before the deadline.
Where are some recommended places to stay?
-The LaQuinta is this year's hotel sponsor so please mention THE FROSTBITE when you are making reservations for a special discount while rooms last. Please click on the LaQuinta logo on the registration website which will direct you to a hotel page that contains the special event pricing. This hotel is only about 1.5 miles from the start/finish area and easy to get to.
Where can I park?
-Since the race has been moved to Main Street Starkville, you should have no problem finding a parking spot in and around the area. You may have to walk a few blocks but not much more than that.
Will there be a post party?
-Assuming it is safe to do so through social distancing, yes there will be!
Are strollers allowed?
-Yes, but this course does have some small hills so if you don't think you can control it, please don't try it.
Will there be a relay team sign up for the half?
-Since there's a 5k and 10k option, we won't be offering a relay team sign up for the half.
Will this race be chip timed?
-Yes, by Stearn's Race Timing.
What's the time limit for the half?
-The limit is 3 hours. After that time, the volunteers on the course will start to head home.
What kind of swag will there be?
-Moisture wicking shirts, race souvenir cups, and custom swag bags will be given to all participants. Additional custom swag and medals will also be given out.
Event schedule
January 30 9:00 AM CST - Event Start
January 30 12:00 PM CST - Post Party/Award Ceremony
Contact information
Event contact

Brad