This is the COMEBACK! We've missed live in-person races as much as you have.
Join us in-person or virtually (you choose!) on Saturday, September 18th for the
10th Annual She.is.beautiful Santa Barbara.
ALL LEVELS WELCOME!
Grab your girlfriends, mom, sister, aunt, co-workers, daughters, or partner and come move with us. Run, walk, jog, or stroller push.
Swag Included with Race Registration:
5k and 10k participants will receive a women's cut custom She.is.beautiful Race Shirt, Custom She.is.beautiful Goody Bag, local giveaways, and free race photos.
SIB Challenge participants will receive everything the 5k and 10k participants receive as well as a SIB running hat shown below.
When do I get my Race Swag? All swag will be picked up at the in-person event. If you plan to sign up for our virtual event and plan to participate virtually, your swag will be shipped to you.
Can I get my bib shipped to me ahead of time if I'm participating in-person but can't make the September 17th bib pick up in Santa Barbara? Yes, for those participants that plan to come in-person to the event but can't make the bib pick up, if you would like your bib shipped ahead of time please purchase the $10 bib shipping in registration and your bib will be shipped ahead of time.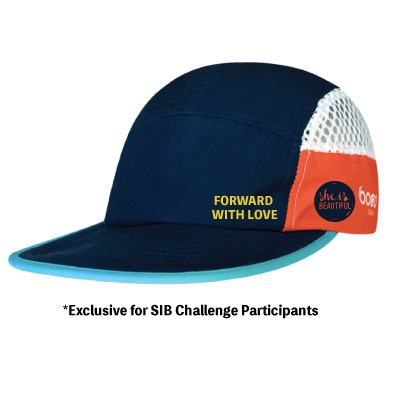 Be sure to follow us on Facebook or Instagram leading up to race day!
Fundraising Partner:
We are proud to support Girls Inc. of the Greater Santa Barbara Area.
At Girls Inc. they work each day to inspire all girls to be STRONG, SMART, and BOLD!
Girls Inc. programs are specifically designed to meet the needs of girls today. They are hands-on, minds-on, interesting, and they inspire wonder. More than just another academic-type class outside of schools, the Girls Inc. programs – games, cooking sessions, art projects, STEMinist classes – expose girls to new experiences and ideas and allow them to learn about the world around them.
Two ways you can support this organization through your participation in She.is.beautiful is:
1. Joining Team Girls Inc. in your registration and fundraising
OR
2. Creating a Corporate Team with your work team members and fundraising together
YOU can invest in HER future today by supporting the Girls Inc. Experience.
$10,000 = 560 hours of the Girls Inc. Experience
$5,000 = 280 hours of the Girls Inc. Experience
$2,500 = 140 hours of the Girls Inc. Experience
$1,000 = 56 hours of the Girls Inc. Experience
$500 = 28 hours of the Girls Inc. Experience
$250 = 14 hours of the Girls Inc. Experience
$100 = 7 hours of the Girls Inc. Experience
$50 = 3.5 hours of the Girls Inc. Experience
Other Program Numbers:
$115 = 1 Week of After School program for 1 girl
$60 = 1 Week of Teen Program for 1 teen
$35 = Registration Fee for 1 girl to attend
Free Community Meet-Up!
Join us on Saturday, June 12th at 8:00am in front of Santa Barbara Running Company.
ALL LEVELS WELCOME!
We'll meet at the store, do a few announcements and raffle, and then run/walk/jog YOUR PACE out towards the ocean.
You can go as far or as short as you'd like.
We'll meet back at the store for coffee and chit chat.
Just show up!
Contact information
Event contact

She.is.beautiful

Website