The Publix Half Marathon & 5K
@ Wellen Park
Saturday, October 23, 2021
North Port, Florida
Start Time is 7:00 AM
You are registering for one of the nicest, most high-end Half Marathon experiences you may have ever run! We know that is a big claim but we are going to pull out every stop to make sure it's true. This would have been our 7th annual Half Marathon. Our inaugural half in 2015 lined up 688. It was a race that everyone loved. In 2016 we had 988 runners, in 2017 runners numbered 1,007, and then in 2018, we brought in 1,222 runners from 38 states and 4 foreign countries. People loved this race. It's was a race for runners of all levels. Fredison Costa set a course record of 1:10:17. The race was not without its challenges. One such challenge was the fact that we only had 148 parking spaces. So our parking was 8 miles away and we had 7 shuttle buses running back and forth all day! This year's parking is not an issue in any way! After the race, we received numerous emails and messages. Here are just 3.
Check out this awesome medal!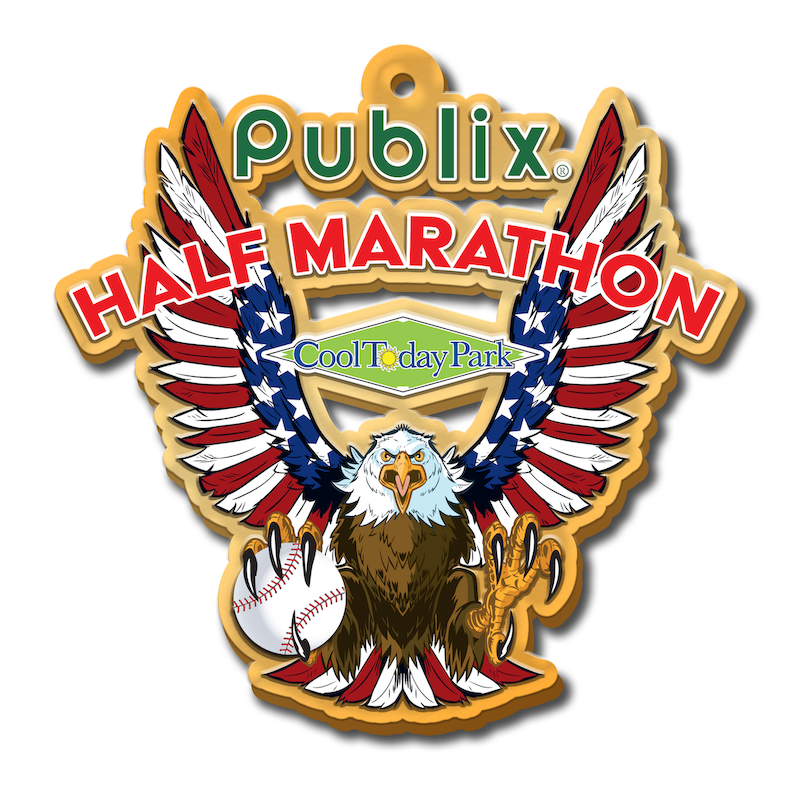 Purchase extra food and drink tickets for friends. Pick up 50/50 raffle tickets, raffle tickets for an awesome Outlaw 11.5 Perception Kayak, and get raffle tickets for our grand prize.
Win this awesome Kayak!
FINE PRINT
Selling your bib is not allowed, and will be strictly enforced. (Insurance Resons) If you are registered and then decide you can not attend you do have options. You may transfer your bib to another runner for a $25.00 transfer fee. You can defer your registration to next year for a $10.00 deferral fee. You must complete the transfer through Race Roster before October 10, 2021. You must contact the RD before 10/10/2021 to defer. After that date your only option will be to run Virtually. Your shirt and medal will be mailed to you. You are responsible for the postage to mail them. Postage is $8.00
Finish inside CoolToday Park!
What makes this such an amazing event for the entire family!
An

accurately measured course with mile markers, split timing mats, and timing clocks along the course.
At least 8 hydration stations along the course each with

port-potties

available at every stop. Also energy gel stations along the course. More will be added if the weather indicates it is prudent.
There will be 4 packet pickup locations including on Race Day.
All runners will have a choice between a T-Shirt or a Tank Shirt. Every runner will also receive a beautiful Custom Finisher Medal that is unique to your race. You must be registered by September 19, 2021 to be guaranteed a Race Shirt.
All Half Marathon Runners will receive a Personalized Race Bib. You must be registered by September 19, 2021 to get a Personalized Bib.
The Friday night before the race (10/22/2021) at Packet Pickup at CoolToday Park you will be able to enjoy pasta dinner with a cash bar after picking up your packet. The pasta is on us!
Also on Friday night there will be a Corn Hole Tournament that anyone can enter! It will be a way for the entire family to get involved in the race weekend.
After your race you will be treated to a full hot breakfast buffet. There will be eggs, bacon, pancakes, sausage gravy and biscuits, OJ, coffee and of course Ice Cold Beer!
There will also a concert by MFRE official band, R Anthony & 813 Live. You heard him on "The Voice" and at our races at Myakka.
Our overall awards will go 3 deep in both the Half and the 5K and include new running shoes (up to $200 value), Fit2Run Gift Cards, Publix Gift Cards, and trophies.
Age Group awards will also go 3 deep in both races.
All Masters awards will be awarded in both races.
Both Races will start out in front of the CoolToday Park. You will finish inside the stadium by entering through the chute in right field. You will then follow the warning track around around the field and finishing by third base. As you finish your race you will see yourself on the huge stadium Jumbotron. It will be a great photo op for your friends and family.
You will also be able to purchase extra food and Drink Wrist Bands for your friends and family that are attending with you but not running. This will give them access to to the breakfast Buffet so they can eat with you! These are available in our Race Store on our Race Roster Site.
There will a raffle and the winner will receive a beautiful Kayak. There will also be a 50/50 raffle. Tickets for both raffles are also available in our store.
These are also the last races in the 2021 Publix Racing Series.
Plenty of Free parking close to all the action at the stadium.
There will be inflatables for the kids.
Registration insurance is available when you complete your registration form.
Packet Pickup
Packet Pickup will be the week before the race at 4 different convenient locations from Sarasota FL to Punta Gorda FL and on race morning. Exact times and locations TBA as we get closer to race day.
REFUNDS
This race has a no refund policy. By registering for this event you are agreeing to this no refund policy. Registration Insurance is available when you are registering.
You and your family are going to have a great time!
The earlier you register the less you will pay!
Your Registration also includes a copy Run - Tri - Bike
Run•Tri•Bike was started to help the beginner athlete understand the nuances of endurance sports, whether that is running on the road or trail, swimming in a pool or lake, riding a bike on the road, gravel or mountain. To do that we want to provide you with tips and tricks, and to motivate you we want to provide you with stories of athletes, who are like you.
R Anthony and 813 Live will be in concert at The Publix Half!
If all of the above was not enough we will have a special performance by R Anthony and 813 Live. R Anthony turned 2 chairs on the hit TV show, "The Voice". These guys are amazing. You do not want to miss it!
Publix Racing Series
THE PUBLIX DISTANCE RACING SERIES
THE PUBLIX 5K RACING SERIES
You train hard, you run hard, you race hard. Join PRS and be part of the Publix Racing Series. There are 2 ways to compete. The distance series or the 5K series. All the membership fees go directly to the prize pool. We are going to do the unthinkable and go 8 runners deep, both male and female and in the 5K Youth Series
Awards include, Asics Shoes, Publix Gift Cards, Fit2Run Gift cards, trophies, and plaques! There is even a race shirt option.
All of the races in our racing series are also in the Zoomers Race Series. The scoring is explained under the scoring tab on the Publix Racing Series entry page!
Top donors
| No. | Name | Amount |
| --- | --- | --- |
| 1 | Stephanie Duval | $54.10 |
| 2 | BETTYE SMITH | $27.48 |
| 3 | Anonymous | $25.00 |
Contact information
Event contact

My Favorite Race Events, Race Director, Tracy Hussey

Phone

941-504-0906

Website