Join us for the 4th Annual Crystal Lake Aquathon
Sunday, August 1, 2021
We are happy to bring back the Crystal Lake Aquathon for the 4th year! This annual event will be returning to the ideal confines of Three Oaks Recreational Center in Crystal Lake, IL. As the only aquathon in the state of Illinois, this race will offer 3 timed options:
- Sprint Distance (500m swim, 5k run)
- Olympic Distance (1 mile swim, 10k run)
The swim portion takes place in a modified quarry (swim around 3 islands!) while the run is on a combination of trail, sand, and pavement.
We hope to be able to offer the kids race and adaptive race if permitted due to state restrictions.
The Kids' Race is perfect for anyone ages 7-12 that would like to try the Aquathon but needs a shorter distance. It includes a 250m swim and a 1 mile run. Swag is included, along with a swim cap thanks to Dolphin Swim Club. All participants will receive a finisher's medal however there are no awards. Lifeguards and swim angels will be in the water with the swimmers for safety and encouragement. There is a relay option so if your child wants to partner with a friend, it's a great way for them to compete together!
The adaptive race will be a one mile swim only. Swimmers will be allowed physical support from their own family/friends only for protection of the racers and volunteers.
Due to the uncertainly of possible COVID restrictions, we are currently registering racers with a SAVE YOUR SPOT option only. This will allow you to reserve your spot in the race without the commitment of paying for the race. Once we have the full approval of the state and can maintain state mandates for event size, then we will open payment to officially register (hopefully 30-60 days prior to the event). Only 200 spots are available for this race (except the kids' race).
If we are allowed a festival-style event, we hope to be able to celebrate after the race with an after-party overlooking Three Oaks. Food and beer will be provided. Awards will hopefully be a possibility, depending on state restrictions for group size. If given, awards will be given to 1st, 2nd, and 3rd place finishers in each age group for female and male for the Sprint, Olympic, and 2-Mile Swim options only. Also available if allowed by the state restrictions: All participants will be given a free raffle ticket to win great items. There will be much to celebrate at this event. Stay after to enjoy all that Three Oaks has to offer: swimming, sailboat and paddle board rentals, scuba diving, children's playground/splash park, volleyball, fishing, and fun in the sun! All proceeds from the race benefit Girls on the Run of Northwest Illinois.
Registration fees
Save your spot now and pay later (when we have been cleared by the city/state to host the race due to possible COVID restrictions).
Register
---
See the swim course . . . .
(2 mile course will swim the purple route 2 times)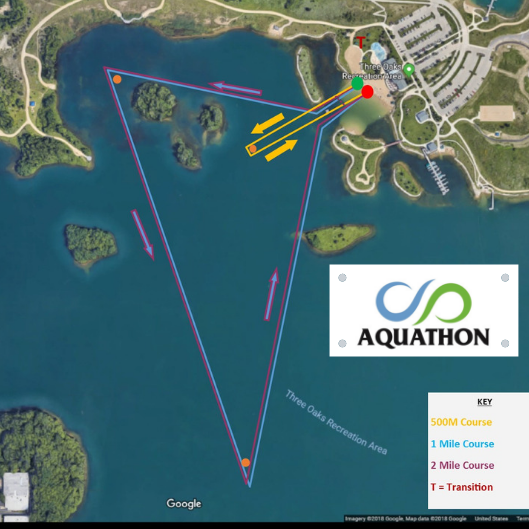 And the run course . . . .
(the 10k course will run the red route 2 times after making the first turn at the blue arrow)
Here is the Kids Race - Swim (4 laps for 250 meters). There will be lifeguards and Swim Angels from Dolphin Swim Club to assist and encourage!
The Kids Race Run portion is one mile:

Benefiting Girls on the Run
We are proud to partner with Girls on the Run. This amazing organization empowers girls by integrating running and an experienced-based curriculum to be joyful, healthy, and confident. For more information, please visit: https://www.gotrnwil.org/
Event schedule
August 1 7:30 AM CDT - Olympic Distance Aquathon Start
August 1 7:45 AM CDT - Sprint Distance Aquathon Start
August 1 8:00 AM CDT - Iron Distance Swim Only Start
August 1 9:45 AM CDT - Award Ceremony
Contact information
Event contact

Race Director

Phone

+1 815-893-9075

Website