Batavia United Way
Bat Race 5K & 10K
Live Event:
Saturday, October 30, 2021
Virtual Event:
October 28 through October 30, 2021
Goody bags & event shirts guaranteed when registered by October 11th at 5pm
ONLINE REGISTRATION IS NOW CLOSED.
Results can be found here (scroll down):
http://www.racetime.info/results/2021-results/2021-10-results/
Batavia United Way is pleased to announce the 8th annual Bat Race 5k/10k on October 30, 2021 beginning at River and State Street in downtown Batavia. This chip-timed event along the beautiful Fox River Bike Path has drawn runners and walkers to our beautiful town from 30 surrounding zip codes for 7 years. This event has something for all ability levels, whether you are a walker or a runner: 5K, 10K, and Kids Fun Run.
Walk-in packet pick up will be available October 27 & 28 from 5 - 8 p.m at Bar Evolution (27 N. River St. Batavia). Show your bib from October 27 - 30 to get 10% off your bill at Pal Joey's or Bar Evolution!
The virtual run will take place between October 28 and October 30. Feel free to do your own route or use our certified route map on our website.
Race day brings all sorts of fun! Please join us for our fabulous Bloody Mary bar at Bar Evolution and Abbey Farm apple cinnamon donuts as well as breakfast burritos available for purchase. Race awards will be given in various age categories for both male and female runners.
What's a Halloween-themed race without costumes?! We encourage (but not require) you to wear costumes. We will be awarding prizes for those who paricipate in the costume contest.
Without supporters like you, we would not be able to provide assistance to over 17 local agencies or run the in-house programs such as our Success-by-Six scholarships. Thank you and enjoy the festivities!
With gratitude,
The Batavia United Way Race Committee
Registration fees
5K Student (18 & under)
Closed
---
10K Student (18 & under)
Closed
---
Youth .25 Mile Fun Run (10 & under)
Closed
---
Pre order 1 Dozen Abbey Farms Cinnamon Donuts
Closed
---
5K Adult (19 & over)
Closed
Online registration closed
$25.00

Early bird pricing
---
10K Adult (19 & over)
Closed
Online registration closed
$35.00

Early bird pricing
---
Virtual 5K Run/Walk
Closed
---
Virtual 10K Run/Walk
Closed
---
Additional Information
5K & 10K Age Groups and Award Categories:
Top 3 in each category will earn a medal
Overall Male and Overall Female
14 & under; 15-19; 20-24; 25-29; 30-34; 35-39; 40-44; 45-49; 50-54; 55-59; 60-64; 65-69; 70 & over
PRE RACE DAY PACKET PICK UP:
Bar Evolution 27 N. River Street Batavia, IL
Wed. October 27th from 5-8pm
Thurs. October 28th from 5-8 pm
Many thanks to our official race photographer:
*This event will abide by any regulations imposed by the CDC or the IDPH in effect at the time of the race.
Costume Contest
Back this year! Costume contest!
Prizes for each category
CATEGORY
Best adult (18+) costume (Male and Female)

Best child (under 17) costume (Male and Female)

Best adult couple (18+)

Best group costume
Post Race Refreshments
We will not leave you hungry and thirsty!
You will find our Bloody Mary Bar at Bar Evolution (same place as packet pick up) from 9am – noon during and after our 5K/10K along with breakfast burritos for purchase.
Also available for purchase will be Abbey Farms famous apple cinnamon donuts.
5K and 10K Courses
5K Certified Course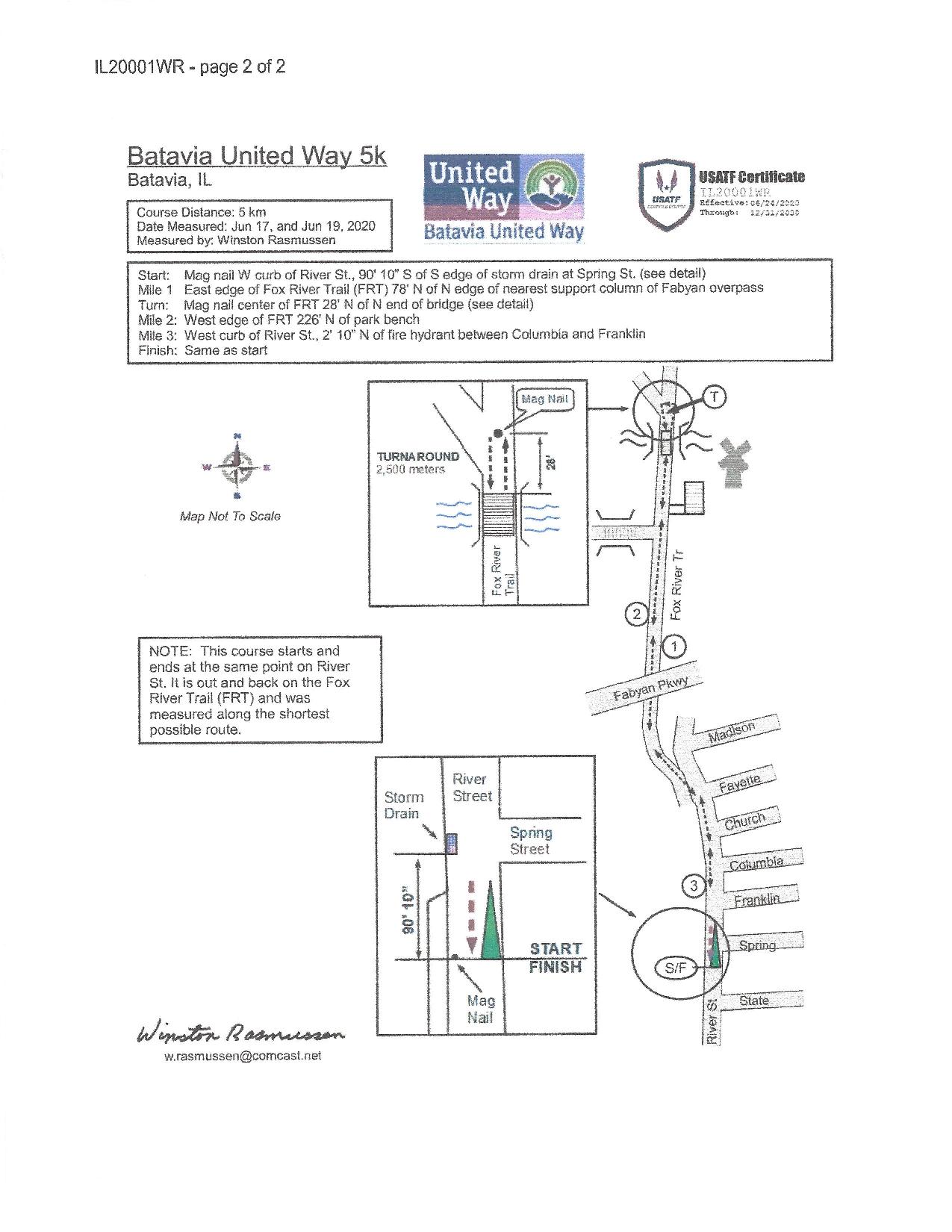 10K Certified Course
All About Participating Virtually
Below are details on running our race virtually!
Run anytime between October 28 and October 30, 2021.

Choose your own course or use our certified course shown on this page!

Most importantly….have fun and enjoy the time outside!
All participants will receive goody bags and event shirt if registered by October 11 and/or registration has not hit the max of 300 participants! Virtual participants are not eligible for age group awards.
Follow these easy steps to prepare for your tracking:
TRACKING STEPS
1. Download the ASICS Runkeeper™ app to your phone and create an account or scroll down to log into an existing account
2. Follow this link and click "Start Virtual Run" button to add the Batavia United Way Bat Race to your in-app virtual events
3. To record your run between October 28 and October 30, simply click the flag icon in your app, select the Batavia United Way Bat Race and follow prompts to start recording
Once you have completed your distance in the app, save your workout and it will automatically post to Race Roster results.
(This step must be followed from your mobile device)
VIEWING AND POSTING MANUAL RESULTS
If you plan to record using another software or tracking device or post manually from what is recorded on your watch, simply head here and "Submit Virtual Result" between October 28 and October 30, 2020.
FAQS:
- To record with tracking on the ASICS Runkeeper™ app, you will need to run or walk with your phone or with a connected wearable (see instructions below)
- You do not have to track with these technologies, it is optional!
- More detailed end-to-end instructions (with images) for using the ASICS Runkeeper™ app to track your virtual event are linked here
- Instructions to link a recent activity recorded on a FitBit, Garmin, or Apple Watch linked here
- Steps to connect your FitBit, Garmin, or Apple Watch to the Runkeeper™ app are linked here
- Steps to manually post your results on Race Roster (not using the app) are linked here
If you have any technical questions, please reply to this email and the Race Roster team will support you. Take pictures out there! get creative with your finish line - share your images and stories with us in the Facebook group and tag us on social!
We look forward to seeing your name on the results board. Remember that you can run, walk, roll, or skip your distance!!
Event schedule
October 27 5:00 PM CDT - Packet Pick Up (5P-8P) @ Bar Evolution
October 28 12:00 AM CDT - 5K/10K Virtual Race Starts
October 28 5:00 PM CDT - Packet Pick Up (5P-8P) @ Bar Evolution
October 30 8:30 AM CDT - 5K/10K In Person Race Start
October 30 9:30 AM CDT - Kids Fun Run
October 30 11:59 PM CDT - 5K/10K Virtual Race Ends
Contact information
Event contact

Kathy Evangelista or Christina Marotta

Phone

630-877-2780

Website