Beau's Great Escape
Virtual Race and Fundraiser
March 15th, 2021 - June 30th, 2021
A race in honour of 'Pawsitive Ground Search'
Help us support the organization that helped reunite Beau and countless other lost dogs with their owners. Run or walk virtually from wherever you are anytime between March 15th and June 30th. Choose from four different distance options, 2K, 5K, 10K and 30K. All participants will receive a finisher medal, a bandana, and a goodie bag. This race is part of the very popular VRPro series of virtual races.
This race is not just for humans, invite your dog to participate with you! The finisher medal has a charm in the centre that you can take off and add to your dog's collar as a special medal they can wear to celebrate your accomplishments.The bandana can also be worn by you or your dog.
This race is priced at just $30 and includes shipping and handling. We will ship your bib, medal and all of your swag anywhere in Canada at no extra charge.
A mandatory donation of $5 to Pawsitive Ground Search will be added to each race entry
---
Beau's Story
On Sunday February 14th, 2021 Jessica of VR PRO Inc.'s dog Beau went missing. Jessica was snowshoeing with Beau and her family in the Simcoe County Forest trails located in Midhurst, ON. Around 3:30pm they were walking under a train bridge when a train went by. The train frightened Beau and he took off running as fast as he could. Jessica went running after Beau, but he was going too fast and she quickly lost sight of him.
Jessica got in touch with a local Facebook group called 'Pawsitive Ground Search' (PGS) who helps owners find their missing dogs. PGS helped Jessica and Beau tremendously by helping to immediately get word out that Beau was missing. Within a couple of hours of Jessica posting a photo and description of what happened in the PGS Facebook group her post got hundreds of shares. Administrators from the group began reaching out and giving Jessica tips on how to find Beau. A couple of volunteers from PGS supplied Jessica with materials to make posters and recommended that she start putting up posters right away. Due to the posters and the Facebook shares, lot's of people who used the trail system were aware of Beau's missing status.
The posters ended up being what reunited Jessica and Beau. A family who lived in the area saw the posters and found Beau. If it wasn't for the posters, the family may not have found him. At the time Beau was missing stores were closed and Jessica could not have gone to purchase these essential posters. Thanks to the generous volunteers at PGS Jessica received the crucial supplies and help that she needed and Beau was brought home. The power of community continues to amaze us and we at VR PRO Inc. want to help the organization that helped bring Beau and countless other dogs home.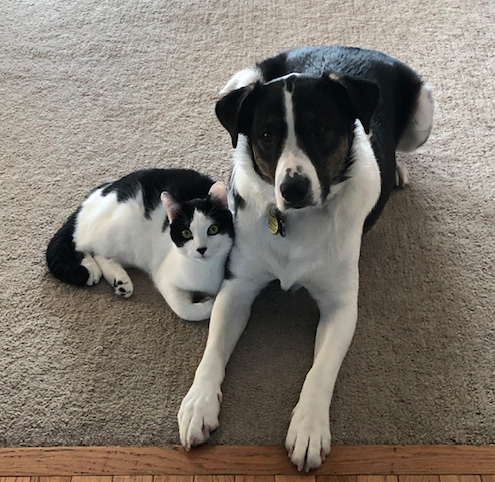 Beau was gone for a total of 30 hours and is now happy to be home and reunited with his family and his cat, Spike.
---
About Pawsitive Ground Search
Pawsitive Ground Search is a non-profit entirely volunteer based service that helps people find their missing dogs. When a pet goes missing, the first 24 hours are crucial. Sharing your information as quickly as possible increases the chances of your pet being recovered quickly. Pawsitive Ground Search is a volunteer group who have come together to actively help search for lost dogs in the Barrie, Innisfil and surrounding areas.
Pawsitive Ground Search is a group of dog loving volunteers who assist families of lost dogs. They offer guidance and on the ground support when possible. Fundraising efforts go towards helping with the purchase and upkeep of traps, cameras and their monthly subscriptions. Monies raised also goes to purchase Bristol board and supplies to get families started with making posters.
Pawsitive Ground Search is not a registered charity, but rather a non-profit volunteer led group. As such, we will not be issuing receipts for donations that are made to them. If you have any questions or concerns about this, please contact kelly@vrpro.ca
---
Earn a special medal that you can share with your dog
The one of a kind finisher medal has a key ring charm that you can take out of the centre and give to your dog to wear on their collar. The charm is a locket with a space on the back where you can add your dog's photo.
Each race kit will also come with a bandana that can be worn by you or your dog.
---
How to record your results
You can record your run or walk through an app, GPS watch, or other timing device. Once you have completed and recorded your run/walk you will want to save the results so that you can submit them (see section below on how to submit results).
---
I finished my run/walk, now what?
Please submit the results of your virtual race to speedrivertiming@gmail.com. Results will be posted within a few days on SpeedRiverTiming.com along with a link to your finisher's certificate. Include in the email, which race you completed, the method you used to time and measure your run/walk and of course, your time.
Top donors
| No. | Name | Amount |
| --- | --- | --- |
| 1 | Pandora's foster mom | CA$269.32 |
| 2 | Sandra Dalton | CA$108.31 |
| 3 | From Wendy, Candie, Allison, Cindy, Bonnie, Sharon | CA$108.31 |
Contact information
Event contact

Kelly Arnott

Email

Phone

905-512-2488