Wiregrass Turkey Trot
Thanksgiving Day | November 25, 2021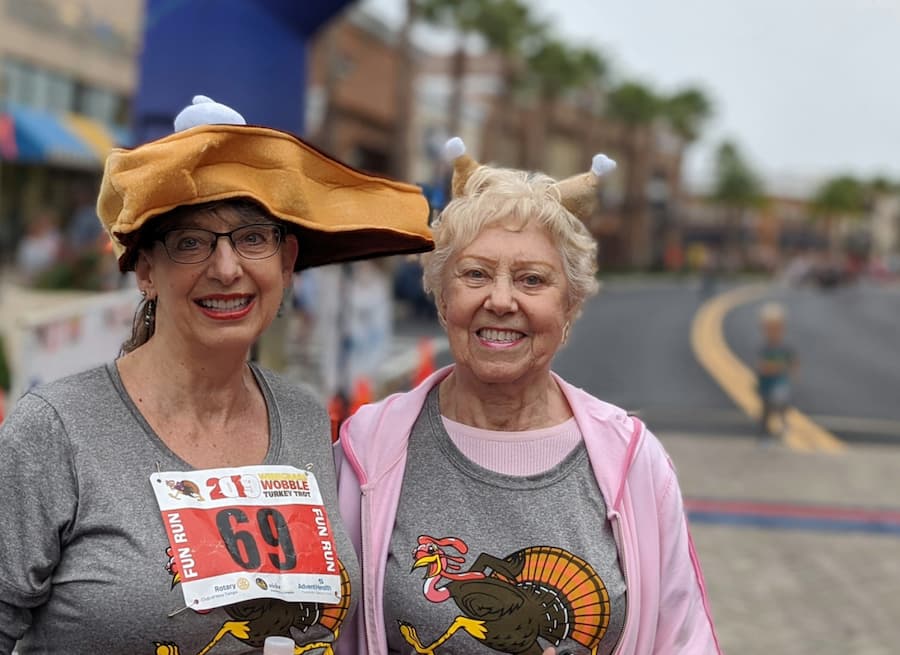 We're Back LIVE, Nov. 25!
New logo, Wobble-free name? Wait. What?

Last year the Wiregrass Turkey Trot went virtual. At the same time, one of our previous hosts moved out of the Shops at Wiregrass. We decided to keep our run at Wiregrass after getting a lot of support from long-time sponsors and other partners. Staying at Wiregrass meant we had to change the name of this North Tampa Bay family-focused Thanksgiving Day tradition.
Our team competition for highest number of registered Turkey Trotters is back again, too. Be sure to set up or pick your team when you register. Corporate, school and family divisions.
The starting line forms at 28139 Paseo Drive, Wesley Chapel, FL 33543. The gun goes off at 8 a.m. for the 5K. Check WiregrassTurkeyTrot.com (link https://WiregrassTurkeyTrot.com) for our Wiregrass Warbler stories from the road, packet pick up dates and times and event parking information.
Event History
The Wiregrass Turkey Trot started with the leadership of three local organizations collaborating with the idea of a family event to benefit local charities in the New Tampa and Wesley Chapel areas. The Rotary Club of New Tampa, the New Tampa YMCA, and FITniche began work on the event late 2012. Thanksgiving morning (November 28) 2013 over 1,400 participants ran in the inaugural 5k and 1-mile fun run events and raised over $20,000.
The positive feedback was overwhelming. The same team built upon the initial success and Thanksgiving morning 2014 over 1,650 participants ran in the 5k and 1-mile fun run. The event raised over $25,000.
The third annual event in 2015 had 2,000 participants and raised $30,000 for charity.
For 2016, we added AdventHealth Wesley Chapel Foundation as an organizing partner. The fourth running had 2,200 participants and raised $35,000 for charity. In 2017, we had 2,212 joining us in the rain for some sloppy fun and we raised over $32,000. In 2018 and 2019, more than 2,200 runners, walkers and wonderful sponsors each year helped us raise more than $104,500 for the community. For 2020 the Wiregrass Turkey Trot went virtual bringing our eight-year charitable total to more than $262,500.
All proceeds from the Wiregrass Turkey Trot events go to local charities.
Local Charities Include:
AdventHealth Wesley Chapel Foundation
Rotary Club of New Tampa
The Big Bill Foundation

Registration fees
5K RUN/WALK
Price changes in 1 month 29 days
---
---
---
Cancellation Policy
We value runner safety. In the event of severe weather conditions or other public safety concerns, the director(s) reserve the right to cancel the race for the safety of its participants. Registrations cancelled due to inclement weather will not be refunded, but instead used to cover event costs, with the balance being treated as a charitable donation to the event beneficiary. In the event the live race cannot be held participants will be transferred to the virtual event.
Conditions that may result in event cancellation include (but are not limited to): lightning, high winds, flooding, fires, public safety concerns, and other acts of God.
Race Course
Top donors
| No. | Name | Amount |
| --- | --- | --- |
| 1 | Lesley Zajac | $27.48 |
| 2 | Maria Ferrer | $11.50 |
Event schedule
November 22 11:00 AM EST - Packet Pickup at Fit2Run at The Shops at Wiregrass 11AM-2PM
November 23 4:00 PM EST - Packet Pickup at Fit2Run at The Shops at Wiregrass 4PM-8PM
November 24 3:00 PM EST - Packet Pickup at Fit2Run at The Shops at Wiregrass 3PM-7PM
November 25 7:00 AM EST - Race Start
Contact information
Event contact

Fit2Time

Email