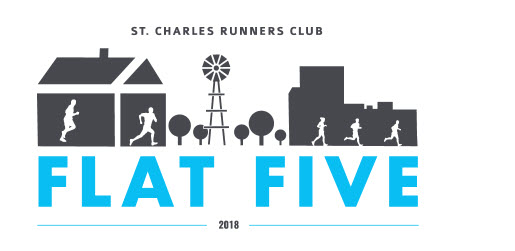 The St. Charles Runners Club is proud to present the 40th running of the FLAT FIVE. This year's FLAT FIVE event will feature LIVE and VIRTUAL 5 Miles runs and a LIVE 1 Mile Fun Run/Walk.
Due to the recent changes to CDC and local guidelines, Flat Five will be returning to a single start time. The event will still be chip timed, so participants can still practice social distancing and space out at the start.
Registration fees
5 Mile
Closed
Online registration closed
---
Virtual 5 Mile
Closed
Online registration closed
Virtual Version of the 5 Mile Race. Participants will choose to participate in the event virtually and still get your choice of swag. Swag will be mailed directly to virtual participants at no extra charge, and you'll receive your swag in the mail by August 1st. Results can be submitted between July 31st and August 2nd.
---
1 Mile
Closed
Online registration closed
Untimed 1 mile fun run/walk.
---
Race Procedures
Please read this entire section carefully to make sure you know what to expect on race day.
Virtual Race Option
In order to accommodate those who are not comfortable with an in-person event, we are offering a Virtual option for the 5 Mile this year. Registrants will receive their choice of swag and be able to submit a virtual 5 mile race result between July 31-August 3rd. You can either pick up your swag at packet pickup held at Fleet Feet St. Charles, or choose to have your packet mailed to you.
Rolling Start & Start Time Windows
In order to allow social distancing and appropriate spacing along the course, we will be chip timing the event. While there are no assigned start times, the start line system will remain open for 20 minutes after the start to allow people to have space as needed. The 1 mile will feature the same process, but from 8am-8:10am.
Course & Start/Finish Area
This year's course will be an out and back on the Katy Trail.
Results
Fleet Feet St. Louis will be providing live race results on-site via text messaging and staffed kiosks with printouts. A Fleet Feet staffer will enter your bib and you can pick up your results printout, to eliminate any contact. Awards will be available onsite this year, with an awards ceremony around 8:30am. For those who can't stay for the awards ceremony, awards will be available for pickup at Fleet Feet St. Charles beginning Wednesday, August 4th. Only in-person 5 Mile participants are eligible for awards. Virtual 5 Mile participants will still be able to submit times, but will be scored separately and there are no awards.
Registration & Packet Pickup
Participants are highly encouraged to pick their packets up at Fleet Feet St. Charles on July 31st. Details and hours below. There will be race day pickup as well as race day registration available on race morning beginning at 6:30am.
Water Stations
Bringing your own water is highly encouraged. However, August can be quite hot, so there will be a water station on the Katy Trail, just north of DuSable Park. The water station will be passive, and volunteers will not be handing out water. Coolers will be filled with bottled water and participants can take what they need. We will have trash cans in the area, and participants are encouraged to hold onto their bottles until they can dispose of them properly.
Post-Race Food
There will be a limited selection of post-race food if allowed by local guidelines at the time of the race. It will be self-serve and pre-packaged. We will have bottled water available post-race, but it will be self-serve.
Hand Sanitizer
Hand sanitizer will be made available at points where multiple people can encounter hard surfaces: bathrooms, results kiosk, water stations, and race information table.
Contingency Plan
The Saint Charles Runners Club's goal is to run a physical race, but if the Covid-19 situation worsens and we are advised by the City of St. Charles and/or the Missouri Department of Natural Resources that we are unable to hold a physical race on August 1st, 2021, the race will become a virtual event for all participants. Swag will be mailed to all participants and the entire event will be scored virtually, with instructions sent to all participants the week of the race.
Swag
5 Mile & Virtual 5 Mile registrants can choose between a Soft Style short sleeve shirt or a neck gaiter/facemask. 1 Mile participants can purchase a swag item for an additional $10. Swag is only guaranteed for those who register before 7/20.
Awards
5 Mile Awards will be given to the top 3 male and female overall finishers, as well as the top 3 male and female finishers in the following age groups:
19 & Under, 20-29, 30-39, 40-49, 50-59, 60-69, 70 & Over
Packet Pickup
All participants are highly encouraged to pick their packets up prior to race morning.
Packet pickup is available at Fleet Feet St. Charles on the following days and times:
Saturday, July 31st - 10am-4pm
Sunday, August 1st - 6am-7am @ Frontier Park
Join the Club
The St. Charles Runners Club is a social club that promotes and encourages running. We host races, group runs, social get-togethers, and the occasional business meeting. We also assist local running-oriented charitable causes. The St. Charles Runners Club is a nonprofit sanctioned by the Road Runners Club of America (RRCA) and governed by an elected Board of Directors.
Contact information
Event contact

Chris Heupel

Email