Remember when events were basic?
Running events haven't always included oodles of swag such as shirts, medals, masks, and stickers. Before chip timing technology, they used a popsicle stick method which, for those who are unfamiliar, was a manual form of timing runners whereby each finisher was handed a popsicle stick as they finished. The numbered popsicle stick indicated the finishing place and finishing times were recorded manually. Each stick had to then be matched up with the corresponding finishing time for that placement. Race Directors had it rough!
Getting back to the basics of running for fitness, sprinkled with a little swag. As an homage to more simple times, and a flashback to our roots, the team at Blue Nose Marathon brings you "The Popsicle Run".
Registration includes:
Chip-timed race
Finisher medal and shirt designed by Tara Andrews
A chillin' good time!
The following COVID-19 safety protocols will be in place:
COVID-19 Safety Protocols
Masks will be required at the start and finish line.
Physical distancing of 2m/6ft must be maintained at the start/finish line and on course. There will be markers there to assist with this.
Hand sanitizer will be available at high touch areas (portable washrooms, medal collection, etc.)
Stations will be self-serve with volunteers on-hand to replenish supplies only.
Additional safety protocols in place:
strollers, baby joggers, baby backpacks/carriers and pets are not permitted on the course.
IMPORTANT: Official course closure times for each wave will be 1 hour after the start. If your finish time is over 1 hour you will not receive an official time and may not have access to the finish line, as preparations for the next wave will be underway. If you anticipate a finish time over 1 hour you can participate in the 10:00AM wave.
Registration fees
---
---
---
Virtual 5KM- Race Kit Pick Up
Closed
This option is for participants who would like to complete a Virtual 5KM and are able to pick up their race kit. Kit Pick Up dates and times TBD.
---
Virtual 5KM- Race Kit Mailed
Closed
This option is for participants who would like to complete a Virtual 5KM but are unable to pick up their race kit. This price includes shipping costs. Please ensure you include your full mailing address during registration.
---
Refund Policy
Once paid, registration fees for The Popsicle Run are NON-REFUNDABLE. If you wish to transfer your registration to another individual you can do so. The transfer deadline is Monday, August 9th at 5PM ADT. To complete a transfer please email admin@bluenosemarathon.com or call (902)496-1889. All transfers are subject to a $1.95 transfer fee.
COVID-19 Protocols
Face Masks
Face masks must be worn at all times leading up to and following the race. Masks may be taken off once the race begins and 2m/6ft of physical distance can be maintained. Masks must be put back on upon entering the finish area.
Physical Distancing
Participants must maintain physical distance of 2m/6ft at all times. Markers will be in place at the start line to assist with this.
Hydration
Bottled water will be available at the finish line and will be self-serve.
Spectators
Spectators are not permitted.
Sanitization
Hand sanitizer will be available at all high-touch areas (portable washrooms, medals, hydration)
Shirt
Medal
Route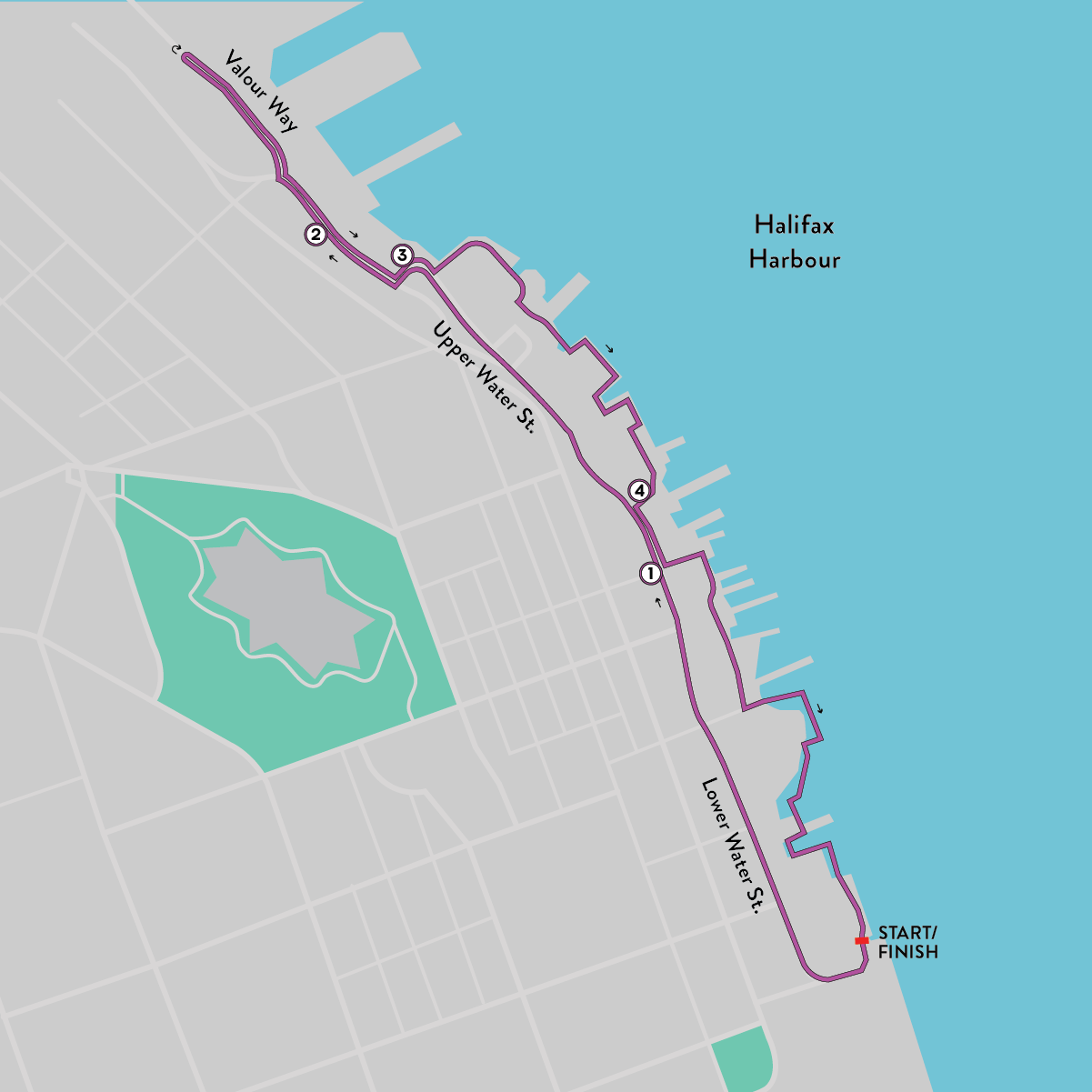 Event schedule
August 19 12:00 PM ADT - Kit Pick Up - Aerobics First, 6166 Quinpool Road, Halifax (12:00PM-6:00PM)
August 20 12:00 PM ADT - Kit Pick Up - Aerobics First, 6166 Quinpool Road, Halifax (12:00PM-6:00PM)
August 21 12:00 PM ADT - Kit Pick Up - Blue Nose Marathon Office, 192 Wyse Rd, Suite 4, Dartmouth (12:00PM-3:00PM)
August 22 7:30 AM ADT - The Popsicle Run- Start #1
August 22 8:45 AM ADT - The Popsicle Run- Start #2
August 22 10:00 AM ADT - The Popsicle Run- Start #3
Contact information
Event contact

Event Organizer

Phone

9024961889