Boardwalk's Walk for Wellspring
#walkforwellspring | September 1- 30, 2021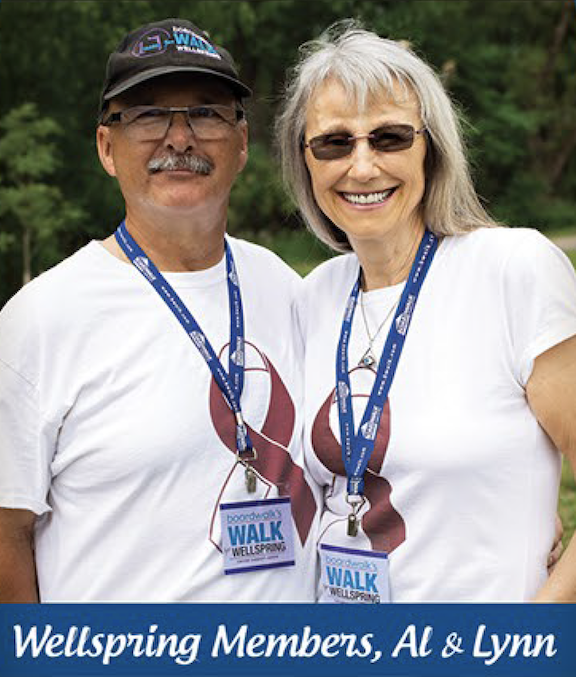 WALK FOR THE ONE YOU LOVE!
Thank you to everyone who participated in our 17th Annual Walk for Wellspring! Although technically the event has concluded, if you're still interested in participating or making a donation, the site will remain open for 2 more weeks.
As of today, Friday October 1st, $33,174.61 has been raised! We know that a few teams are yet to Walk, so this is not yet the final total!
If you are still planning on making a donation please note *FINCH AUTO GROUP ARE MATCHING SELECTED DONATIONS - see below!
Yes, there will be prizes!
AND WE HAVE THE OUR WINNERS ... On Monday, October 4th, we will be announcing our 3 top fundraisers on our Facebook page. Please visit WellspringLdn and help us congratulate the winners!
Why is our Walk so important?
Read Wellspring Member (and top Walk fundraiser) Lynn's story about her personal cancer journey and the role Wellspring has played in helping her cope.
While we're seeing light at the end of the tunnel, we'd truly appreciate your support once again this year. Our fundraising efforts continue to be heavily impacted. We're counting on each of you to help us reach our goal of raising $52,000 to support our online NO-COST Cancer Support Programs and services.
Thank you for your support!
*FINCH AUTO GROUP MATCH IS BACK!
Each month from now until the end of the year, Finch Auto Group will match as many donations as they can to a maximum of up to $100,000 per month with the goal of raising at least $800,000 combined for local causes.

How does it work? After making your donation to Wellspring London, visit www.finchmatchmydonation.com and fill out the simple form in order to let them know about your personal donation. If your donation is selected, THEY WILL DOUBLE IT!
Yes, WALK FOR WELLSPRING donations are eligible!
The form asks for the charity's website. Please Use: www.wellspringlondon.ca
You will be asked to upload your receipt. Once you make your donation to the Walk, you will receive an email receipt. You can use this as proof of your donation. Save it to your desktop and then upload it as required.
Please write a few words about why you support Wellspring London! This is important and may help your donation to be selected for the matching program.
Huge thanks to Finch Auto Group for running this amazing program again!
Registration fees
Boardwalk's Walk for Wellspring
Closed
---
Top teams
1

The Tumornators

Raised:

CA$5,715.28

View page
2

Marija's Marvels

View page
3

Bunty's Bunch

Raised:

CA$2,612.33

View page
Contact information
Event contact

Joanna Meilleur

Phone

5194387379

Website
Sponsors
Boardwalk
McCormick Care Group