We are excited to be partnering with Merrell.
We share common values and a belief that everyone deserves to enjoy the outdoors!
We are also proud to announce that this event is sanctioned by Athletics Ontario.
PLEASE NOTE: THIS IS FOR THE 2022 Event!
Our friends at Fenix have provided us with a 15% off discount code on headlamps. Use the code "HappyTrails15" when shopping. These are excellent headlamps! www.everythingfenix.com
THIS YEAR THE COURSE WILL BE RUN IN A COUNTER-CLOCKWISE DIRECTION. We switch directions every year. That means that we will be running downhill on the rail trail this year. Personally, I find this direction more challenging but I seem to be in the minority.
Come and join us at the Dundas Valley Conservation Area for Tally in the Valley, a race unlike any other in the area.
This race is in support of 'The Hospital for Sick Children' (SickKids). Do you want to race for free? Raise $200 or more for 'SickKids' and we will refund your entry fee for the 7k, 6hr, or 12hr events. Raise $300 or more and we will refund your entry fee into any event, including the 24hr and the Gong Show. The participant who raises the most money will also receive free entry into any Happy Trails Racing event.
Race Information:
Participants will run a 7km loop through the unique Carolinian forest in the Dundas Valley Conservation Area. The loop is primarily made up of groomed double track trails with rolling hills and approximately 130m of elevation gain per loop. Although there aren't any major climbs on this course, the constant rolling hills will wear you down in the later stages of the race.
Choose between running a single loop (7k), 3 loops (21k) or for 6/12/24 hours or even 100 miles and see how many loops you can complete in the time provided. Runners who complete 23 loops (100 miles/161km) will earn themselves a custom belt buckle while all other participants will also be recognized for their hard work with a custom finishers medal.
Looking for something a little different? Try "The Gong Show"! This is an elimination style event, inspired by the Big's Backyard Ultra, that we are super stoked about. Participants will be given 1 hr to complete the 7km loop. Runners who successfully complete the loop within 1 hr (which may seem easy at first but will eventually become very challenging), will wait at the start line until the gong is hit, marking the time cut-off for the loop AND the start of the next loop. Please note: regardless of how fast participants complete their loop, they can't start their next loop until the gong is struck, which will be every hour on the hour. Participants remain in the event until they can no longer finish a loop within 1 hour OR until the race reaches 24 hours. If there is more than 1 runner to start the final loop after 23 hours, the first runner to complete the final loop will be the winner. However, ALL runners that make it to the 23 hour mark will receive a custom belt buckle since they will have run 100 miles. Last year's event saw 9 runners (out of 35 starters) reach 100 miles, but only 2 went on to complete the 24th loop- 1 male and 1 female! This race is awesome to watch as there is quite a bit of strategy involved. Ideally, runners will want to run a comfortable pace and conserve energy but will also want to leave themselves some time to fuel-up at the aid station and have a short break before heading out for another loop.
In the 6/12/24 hour races there are no DNF's (Did Not Finish). Each runner that starts the race will be recognized for the distance that they complete, regardless of when they stop. In the last 30 minutes before the completion of each timed event, we will have race volunteers stationed at different points on the course to mark how many kms into the loop the participants are when the time is up.
Course Description:
To view a course map, click here, but I wouldn't trust the elevation gain listed. Our watches consistently show 130-140m of gain per loop, not 59m as indicated on the map. Either way, it's runnable!
The first 2km are completely runnable and very scenic. This section has plenty of gentle rolling hills followed by a steeper climb at the 2km mark. The next 2km are basically flat (an ever so slight incline) and take place on an old railway line- don't worry, the tracks have all been removed and this is the easiest section of the course (although it is the easiest section physically, most runners claim that this is the most challenging section mentally). Even though this section is technically the easiest, it is also the section that has the least amount of tree cover, which can be a factor on a hot July afternoon. This leads runners to the trail centre where they can fill up their bottles with cold water without even stepping off the course at the conveniently located "drinking water tap" around the 4km mark. The remainder of the course is considered the most challenging part of the loop as the final 3km are the hilliest section. Again, no major climbs, but for the remainder of the loop, runners will find themselves climbing or descending with hardly any flat sections at all.
Aid Stations:
There will be one aid station on the course, which will be located at the start/finish area. Stock up in between loops. There will be water, an electrolyte drink (Skratch Labs), and all of your typical ultra running fare including sweet and salty snacks, pb and j sandwiches, potatoes, and chips. The menu will change as the day goes on. Last year there was grilled cheese, quesadillas, McDonalds fries, and Mr. Noodles. There will also be portable toilets located at the aid station.
For those of you interested in running in the "Gong Show" elimination event, you can hang out at the aid station (start/finish area) after finishing the loop until the gong is hit, at which point you need to get moving if you want to make the next cut-off! The faster you finish your loop, the more time you have to rest and fuel-up.
Pacers:
Gong Show: No pacers in the Gong Show elimination event.
6 Hour: No pacers in the 6 hour.
12 Hour: Pacers are strongly discouraged in the 12 hour day race, but allowed in the 12hr night race. Since the course is 7km, there will be a lot of participants out on the course. However, we don't ever want our participants to be in any danger so if you feel like you need one for safety reasons, by all means, go for it but only in the last 4 hours of the 12hr day event. If you feel like you will need a pacer for safety reasons before this, please message the race director before registering. Participants over the age 65 are welcome to have a pacer at any time. Pacers must sign a waiver.
24 Hour and 100 miles: Pacers will be permitted, if necessary, at 9pm. Pacers must sign a waiver and can only join their runner at the start/finish area. Pacers cannot mule (carry anything for their runner).
Race Swag:
All participants will receive a really cool and buttery-soft t-shirt that you can wear around town to show everybody that you're a bad-ass. (Please note: t-shirt design is subject to change depending on supplier availability).
For 2020, one of the improvements that we are working towards at Happy Trails Racing is offering gender specific shirt sizing (when possible). For events that offer shirts, such as this race, we are trying to offer our participants the best fit possible.
Runners will now have the option to choose either a Unisex Shirt or a Women's Cut Shirt during the registration process. The title "Women's Cut" is the actual name of the cut. Any person is welcome to choose whichever option they wish.
The race shirt cut-off date is July 1. If you register after July 1, you will NOT receive a t-shirt.
Participants in the 7k, 21k, 6hr, 12hr, and 24hr events will all receive a rad race medal, unless you run 100 miles, in which case, you will earn yourself a SWEET belt buckle! Participant in the Gong Show get NUTHIN' unless they run 100 miles or win the event. That's part of the fun!
Couch to Tally 7km Run Clinic:
We are excited to announce the inaugural Happy Trails Racing "Couch to Tally Run Clinic"! This clinic is designed to get you off the couch and running 7km in time for the Tally in the Valley 7km race on July 31, 2022. The 12-week program will be led by our experienced run crew; Kathryn, Nadia, and Tina.
What we will provide:
- A 12-week training plan that includes 3 runs per week (1 group run + 2 self-directed runs) plus optional cross-training suggestions;
-One in person group run each week, scheduled for Thursday's at 6:30pm, where we will explore trails in the greater Hamilton/Burlington area;
-Entry into the 7km race at Tally in the Valley on July 31, 2022; and
-A safe and supportive environment with like-minded individuals to keep you motivated and moving towards your goals!
What you need to be successful:
-The ability to walk for at least 1 hour before the clinic starts;
-Commit the time to the training plan;
-Have a positive attitude; and
-Have a good pair of running shoes (trail specific shoes are not required for this clinic).
The details:
The clinic will run for 12 weeks from May 2 to July 24, 2022. We anticipate that you will need to commit approximately 4 hours per week to training to get the most out of this program, however, this will vary based on your goals, starting point, and ability. We will start with walk/run intervals and will increase the running portion of the interval over the course of the 12-week program.
The Tally in the Valley 7km race will be held on Sunday, July 31, 2022 at 10:00am in the Dundas Valley Conservation Area. The run clinic fee includes your entry to the 7km race.
In person group runs will be on Thursday's at 6:30pm. The locations will vary as we explore different trails in the Hamilton/Burlington area. Each weekly group session will last approximately 1- 1.5 hours (including warm-up and cool-down) depending on the distance of the run, speed of the group, and trail conditions. No one will ever be left behind on a group run, there will always be a run lead and a run sweep. We will notify you each week of the location for the run and we will always choose a location with free parking.
If you would like more information or to discuss if this clinic is the right fit for you, please email Tina at tina@happytrailsracing.com.
Post Race Food:
We understand that people have different dietary restrictions, needs, and preferences. Because of this, rather than include the cost of a post-race meal that you may or may not enjoy/ be able to eat, we do not include meals in our race registration fees. However, we do our best to provide a food vendor at our races that will offer various selections so that you can choose to purchase food if you wish. If you choose to do so, you will purchase the food directly from them and Happy Trails Racing will not benefit monetarily in any way. We do this to give you the biggest bang for your buck and to try to enhance your experience the best that we can.
Refund Policy:
Happy Trails Racing has a new policy regarding race refunds/transfers: register with confidence knowing that you can take advantage of our early bird pricing and, if you need to back out, you can do so up to 30 days before the race with a 100% race credit that can go towards any future Happy Trails event. It doesn't expire. From 30 days out to 15 days out, you can back out with a 50% race credit. Participants are also welcome to transfer their bib without any penalty up to 15 days before the race. Please keep in mind that everything we need to order to have you at our race is done so at least 30 days out.
Registration fees
7 km One Loop (Sunday 10:00am)
Closed
Online registration closed
---
6hr Trail Race (Sunday 9:00am)
Closed
Online registration closed
---
12hr Day (Saturday 9:00am)
Closed
Online registration closed
---
12hr Night Race (Saturday 9:00pm)
Closed
Online registration closed
---
24hr Trail Race (Saturday 9:00am)
Closed
Online registration closed
---
Gong Show Elimination Event (Saturday 9:00am)
Closed
Online registration closed
Waitlist for the Gong Show Elimination Event.
---
21k Three Loops (Sunday @ 10:00am)
Closed
Online registration closed
3 loops of the race course with a 5hr cutoff.
---
100 miler (Saturday @ 9:00am)
Closed
Online registration closed
30 hours, 100 miles. Yikes!
---
Waitlist
Closed
Online registration closed
Once the event you want to register for is full, you can register for the waitlist.
---
Couch to Tally Run Clinic + 7k entry
Closed
Online registration closed
We are excited to announce the inaugural Happy Trails Racing "Couch to Tally Run Clinic"! This clinic is designed to get you off the couch and running 7km in time for the Tally in the Valley 7km race on July 31, 2022. The 12-week program will be led by our experienced run crew; Kathryn, Nadia, and Tina. What we will provide: - A 12-week training plan that includes 3 runs per week (1 group run + 2 self-directed runs) plus optional cross-training suggestions; -One in person group run each week, scheduled for Thursday's at 6:30pm, where we will explore trails in the greater Hamilton/Burlington area; -Entry into the 7km race at Tally in the Valley on July 31, 2022; and -A safe and supportive environment with like-minded individuals to keep you motivated and moving towards your goals! What you need to be successful: -The ability to walk for at least 1 hour before the clinic starts; -Commit the time to the training plan; -Have a positive attitude; and -Have a good pair of running shoes
---
Race Day Photos (Sue Sitki Photography)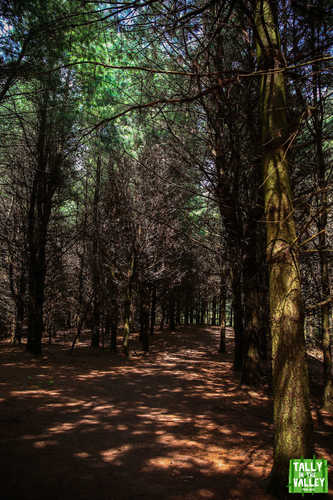 Top donors
| No. | Name | Amount |
| --- | --- | --- |
| 1 | Anonymous | CA$323.00 |
| 2 | Rebecca Kruisselbrink | CA$269.32 |
| 3 | Betty | CA$226.39 |
| 4 | Olga Milosevic + Zana Andan | CA$108.31 |
| 5 | Ernie & Jo | CA$108.31 |
Event schedule
Sat, July 30, 2022 9:00 AM - 12 Hour Trail Race - Day Time
Sat, July 30, 2022 9:00 AM - 24 Hour Trail Race
Sat, July 30, 2022 9:00 AM - The Gong Show- Elimination Event
Sat, July 30, 2022 9:00 AM - 100 miler
Sat, July 30, 2022 9:00 PM - 12 Hour Trail Race- Night Time
Sun, July 31, 2022 9:00 AM - 6 Hour Trail Race
Sun, July 31, 2022 10:00 AM - 7k (1 loop)
Sun, July 31, 2022 10:00 AM - 21k (3 loops)
Contact information
Event contact

Jeff Rowthorn, Race Director | Heather Borsellino, Race Coordinator