Armed Forces Day 5K
Run to benefit the Children of Fallen Soldiers Relief Fund
May 21, 2022 at 9:00 am
Merrimack High School
Every participant will receive a shirt and challenge coin!
or, if you can't join us on May 21st....
Run Anywhere between May 21st - July 4th
in the Virtual 5K
Every virtual participant will receive a challenge coin & a patch!
Registration for the In Person Kids Fun Run will take place at the event. The cost is $5.00 to enter. Each participant will win a prize.

CHALLENGE COIN
Military commanders often give pocket-size medallions, called Challenge Coins, to service members as a mark of camaraderie. A commander's unique coin — often copper, bronze or nickel — carries symbols and mottos denoting the unit or office. Coins are usually circular, but also can be pentagons, spades or even dog tags to be worn around the neck.
Throughout their service, military members use the coins to prove their allegiance when challenged. High-ranking officers and retirees often display a collection of coins in their offices alongside uniform patches and ribbons as a symbol of pride.
RUNNING IN MEMORY OF 1st Lt. Travis J. Fuller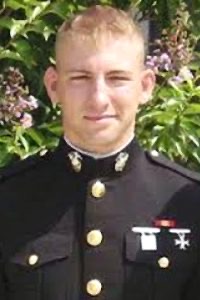 Today we remember 1st Lt. Travis J. Fuller's service and sacrifice.
1st Lt. Travis J. Fuller, 26, died on January 26, 2005 in a CH-53 Helicopter crash in Iraq, during operations in support of Operation Iraqi Freedom.
He was born in Springfield, MA, grew up in Granville, MA and graduated from Southwick-Tolland Regional High School in 1997. Travis was co-captain of the wrestling team and was a member of the cross-country team and Boys State. He graduated from Mass Maritime Academy where he also ran cross-country.
He was commissioned in June of 2001 and was based in Kaneohe Bay in Hawaii. He was also deployed in Cambodia, Thailand, North Korea, the Philippines, and Sri Lanka.
CHILDREN OF FALLEN SOLDIERS RELIEF FUND MISSION STATEMENT

The Children of Fallen Soldiers Relief Fund was founded, October 23, 2003 to help support surviving U.S. Military children who have lost a parent in the Afghanistan or Iraq wars by providing them with College Grants. Our College Grant Program has been expanded to include both U.S. Military children and spouses who have either lost a loved one as a result of the Afghanistan or Iraq wars or have a severely disabled parent or spouse who was injured during a deployment to either war. Our second objective is to help the surviving and severely disabled members of these families with financial assistance. We provide help to U.S. Military families that have children under the age of 18, and who are in need of assistance with housing, repairs, utilities, medical expenses, groceries, clothing, school supplies and other expenses deemed necessary in order to help alleviate their need.

There is no substitute for a parent, but we strive to ease their pain and grief, and will continue to honor the memories of our fallen service members.
CFC #43573

https://www.cfsrf.org/about-us.html

RUNNING IN MEMORY OF SSGT Ronald "RJ" Ouellette
---
A few photos from years past.
Race Timing
Professional Race Timing provided by Second Wind Race Timing
Contact information
Event contact

Jennifer DeFelice

Email