The Red Moon Trail Scramble presented by Athletics Brewing on Friday evening, August 12 brings you a unique night event for all trail lovers! With multiple distances to choose from, the Red Moon Trail Scramble has something for every trail runner in your crew. A great finisher amenity, awesome race shirts that you'll want to wear, and a cool experience of a night run in the woods and along Alum Creek Reservoir!
Distances available:
6K, 1

2K, 18K and 24K

Relay Teams: 12K, 18K & 24K (Team of 2)
Course
This loop course is moderately rolling, wide-track trail that runs alongside and features a gorgeous nighttime view of Alum Creek Reservoir. The course will be marked with small LED lights along the way to assist you in trail navigation. The race is composed of a 3.65-mile trail course with trail runners able to choose 1, 2, 3 or 4 lap options.
Headlamps or a running light is required.
If you are choosing the multiple lap option, each lap you will pass by the Celebration Area to cheers from earlier finishers and spectators.

12K = 2 loops
18k = 3 loops
24k = 4 loops Time limit: 24K = 3:30 hours
* Note- All other distances have at least the time limit listed above.
Official Finisher Amenity
We decided to skip a medal this year and instead all finishers will receive a fresh-looking BOCO Greenswell Trail Running Hat!
Official Trail Run Headlamp

Participants are required to have a head lamp or running light for the night run. The official headlamp for the trail run is the Amphipod Versa-Light Max. With 2 levels of intensity to choose between, the USB-rechargeable Amphipod Versa-Light Max USB safety light clips just about anywhere to help you be better seen in the dark.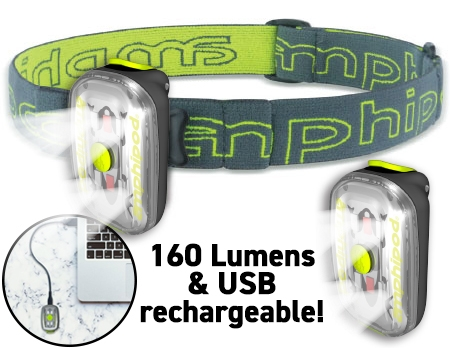 Athletic Brewing BEER, FIT FOR ALL TIMES
Enjoy and try a cold non-alcoholic Athletic Brewing Beer after your race. Whether you're looking to cut out alcohol for life or just for a night, you shouldn't have to sacrifice your ability to be healthy, active and at your best, to enjoy great beer.
AWARD-WINNING - Multiple gold medal wins
GREAT TASTING - 5,000+ five-star reviews
NON-ALCOHOLIC - Less than 0.5% ABV
VEGAN-FRIENDLY - Brew without compromise
Trail Map
Directions
For directions from your location, click Here.
Awards and Recognition
All finishers will receive a commemorative finishers amenity.
Awards
The top male and female finisher for each distance will receive an award to commemorate their finish. Each member on the top team for each distance will receive an award to commemorate their finish.
Contact information
Event contact

Craig Thompson