MBC
COLOR FUN RUN
FOR A CURE

Join us May 22 for an unforgettable event the whole family will enjoy! The festivities will feature a 1-mile color run/walk (no experience necessary). The race will start with a colored-powder toss, and volunteers will spray runners with more powder at three color stations. There will also be a DJ, food, giveaways, and children's activities. We hope to see you at this fun event to raise money to find a cure for metastatic breast cancer.
There are several ways to get involved in this color run:
1. Sign up to join the race
2. Participate in the race virtually

3. Fundraise
a. Register and fundraise by creating a page through this website to share with your family and friends
b. Register, join a fundraising team, and share your page with your family and friends
4. Fundraise AND race in person or join virtually
5. Make a donation


We would love for you to help raise donations on your own, as a family, as a group, or in memory of someone. Every dollar goes toward saving lives, and every little bit helps.
You will register for the race now, choose if you want to join a team and that you will get an email how to set up your fundraising page. Please feel free to create a team. (Examples of possible teams: Girl/Boy Scout troops, friend groups, Ajax, T-ball, fourth-grade baseball, The Kuipers Family, lake group, third-grade families, co-workers, or any other group you can imagine). Please feel free to join Team Tara, Journey of Jenn, Team Ramsey or any other team that pertains to you.
If you just register for the race but can't fundraise, that is wonderful and will help save lives too. Please refer to the fundraising section for more information. We appreciate all of you and your support.
Registration fees
MBC Color Fun Run for a Cure- Adult Entry Fee
Closed
Online registration closed
---
MBC Color Fun Run for a Cure- Children's Entry Fee 5 and up
Closed
Online registration closed
---
MBC Color Fun Run for a Cure- Virtual Adult Entry
Closed
Online registration closed
We will be shipping you three color packets and ask that you walk a mile on May 22nd and post pictures of you completing the walk on our Facebook or Instagram pages with the hashtags #MBCColorForACure and #Stage4NeedsMore
---
MBC Color Fun Run for a Cure- Virtual Children's Entry
Closed
Online registration closed
---
Sponsorship Opportunities
Closed
Online registration closed
---
Rain Date
In the event of rain, the race will rescheduled for June 12th from 8:30-11:00am. The event is non-refundable and if you are unable to make the rain date, please feel free to pass your registration to someone else.
Stories of Local Women with MBC
Tara Kuipers' Story: State Captain of NJ for #LightUpMBC
In April 2020, I had unexplained pain shooting down my arms and neck. The pain alternated around these spots until resolving in August. Then, immediately after my 38th birthday in November 2020, it returned.
The pain became progressively worse, and I saw several physicians. I found out I had tendonitis, bursitis, tears, and a bone spur in my shoulder. We thought this was causing my problems, but I wanted to be sure, so I saw an orthopedic doctor, who insisted that the numbness in my fingers was stemming from my neck. After several MRIs, he suggested I do a breast self-exam, and it was then that I discovered the lump.
I soon found out I had Stage 4 metastatic breast cancer, for which there is no cure. It was in my neck, shoulders, liver, and chest, and I was at risk of becoming paralyzed if I fell or got into an accident. Within a week I had surgery. The tumors had shattered my spine, which is why I was waking up screaming in 10-out-of-10 pain.
By the grace of God and with the help of several friends, I was able to get in to see the best doctors at Memorial Sloan Kettering Cancer Center. I truly consider myself very lucky that I received a diagnosis and was given a chance to fight. I am forever grateful to all the people who helped me along the way to get me to where I am today. After six months of chemotherapy, I am currently stable in lifelong treatment every three weeks as long as my PET scans show no activity. I will continue to get scans every four months and pray that the cancer doesn't reactivate or grow.
I understand the reality of my chances at survival, but as someone who's always tended to be at the head of the class, I plan to shatter those odds. I will fight with everything I have to watch my beautiful children Madison (8) and Mia (6) grow up and help with my grandchildren one day. I plan on growing old with my husband. Therefore, I am doing this fundraiser in hopes that for myself and all my MBC sisters there will one day be a cure for metastatic breast cancer.
Last year with the help and support of my friends and family, I raised over $17,000. This year I have been asked to be the state captain of #LightUpMBC for New Jersey. I am honored to accept this role, and I believe God put me on this path to make a difference and help raise money to find a cure for myself and all of us who are fighting so future generations never have to endure this.
This event is near and dear to my heart because it takes place in my hometown, Midland Park, which has been an amazing community of support. My family is so incredibly blessed to live here, and I am honored to raise my children here. . I hope everyone will come enjoy a fun, unforgettable day.
I believe I am in the hands of God, the great physician, and have total faith he will guide me through. Thank you for your support!
Kristin Kubicki's Story: Marketing Manager
I was first diagnosed with Stage 2 breast cancer in 2011 after finding a lump in my breast when my only child was just a year old. My treatment included surgery, chemotherapy, and radiation. The medication I took to prevent recurrence did not allow for an opportunity to extend my family biologically. Once I recovered from treatment, I excitedly went full force into life: time with my family, back to work, trips, exercising, and teaching my daughter new things. Six years later, I started having neck pain. After months of working with a chiropractor, the pain got worse. An MRI showed my cancer had metastasized to my spine. I was mentally getting ready for another round of chemo and radiation when my oncologist advised me that with Stage 4, less aggressive treatments are used first to offer the best quality of life. That is when the devastation hit home for me, that there is no cure for MBC and this disease will be part of the rest of my life. I volunteer for METAvivor to increase research and have more treatments available when my cancer outsmarts the current regimen. I want my daughter to have her mother with her as many years as possible.
Jenn Revak-Registered Nurse


My diagnosis came at a point I was not expecting. I was just starting my life; working as a nurse, traveling, and planning a life with my fiancé.

In fall 2020, I discovered a lump in my breast. Given my age I was told not to be too concerned as there were many possible benign explanations. However after many scans and biopsies, in Spring 2021 I was diagnosed with stage IV breast cancer at the age of 24.

This was not the way I pictured my life, but I'm determined to share my story to raise awareness and educate others.
While it is easy for people to focus on the negatives of this diagnosis, I have found new ways to take control of my health through diet, excercise, medication/supplement knowledge and spirituality.

I am a fighter, I am a warrior, and I am determined to overcome this diagnosis and help find a way to live a long healthy life that I deserve.
Ashley Rizzuto's Story
In July 2021, right before my 38th birthday, I got the news: "You have cancer." Originally they diagnosed me as stage 2, and we were planning on a lumpectomy, followed by radiation. After several more scans and tests, they discovered it had already metastasized to my liver. The news was surreal - and still is today. The treatment plan immediately changed - no surgery, no radiation, no chemo. I was immediately put on targeted therapy, plus hormone blockers. In just 3 months, the cancer in my breast, lymph nodes, and liver was gone. However, I recently had to change treatments due to a small, new spot of cancer.
The hardest part of having cancer is what goes through your mind - the fear of the unknown and always being worried about what the cancer is doing and what might happen next. Thanks to my faith, my family and friends, and the various lifestyle changes I have made, I have been able to cope fairly well. Cancer changes you - it changes the way you think and how you live your life. I have a 2.5 year old son - all I want now is to be here a long time for him, to make memories together, to laugh together, and love each other.
METAvivor has become so important to me over this past year. The treatments I am on saved my life and have enabled me to live a very normal life. More research is needed to continue developing these amazing treatments - for all of us. I have already met some amazing women with MBC on this journey, who have been such a huge support system for me. The work METAvivor does for stage 4 metastatic breast cancer thrivers is amazing - we need more research, more treatments, and hopefully, someday, a cure.
Angela Rogers' Story
In April 2021 at the start of my third trimester of pregnancy I started to have pain to my lower right ribs. I was sent to ultrasound and results were it was just some pregnancy complications of gallstones.
The pain continued till after delivery. I was sent for multiple scans along with having lab work done, the scan results concluded I had "Metastasis of unknown origin" in my liver and bones. I was sent for a biopsy of my right hip and in November 2021 was given the diagnosis of Stage 4 Breast Cancer.
At the time I couldn't even believe what I was hearing, how did this happen? Without any family history, at the age of 37 , with a newborn, I had just been diagnosed with metastatic breast cancer.
Our lives have become a roller coaster overnight. As overwhelming as the diagnosis is, my family is so blessed to have so many supportive people surround us, and we are forever grateful. My goal is to keep fighting to watch my kids grow up.
METAvivor has become an important cause for me as all funds go to metastatic breast cancer research. This research can lead to more treatments and hopefully eventually a cure.
Fundraising
Fundraising is by no means required, but we wanted to offer as an option for those would like to participate in raising money to find a cure. When you register for the race please pick to fundraise alone or become part of a team and you will receive an email by Tuesday with simple instructions on how to set up your fundraising page. For anyone who raises $200 or more, you will receive a free T-shirt to wear to the event. Most importantly though you will be raising money to help save lives.
Parking
Parking options:
The Midland Park Jr Sr High School. The address is 250 Prospect St, Midland Park, NJ 07432, United States. You can find this location on Google Maps HERE.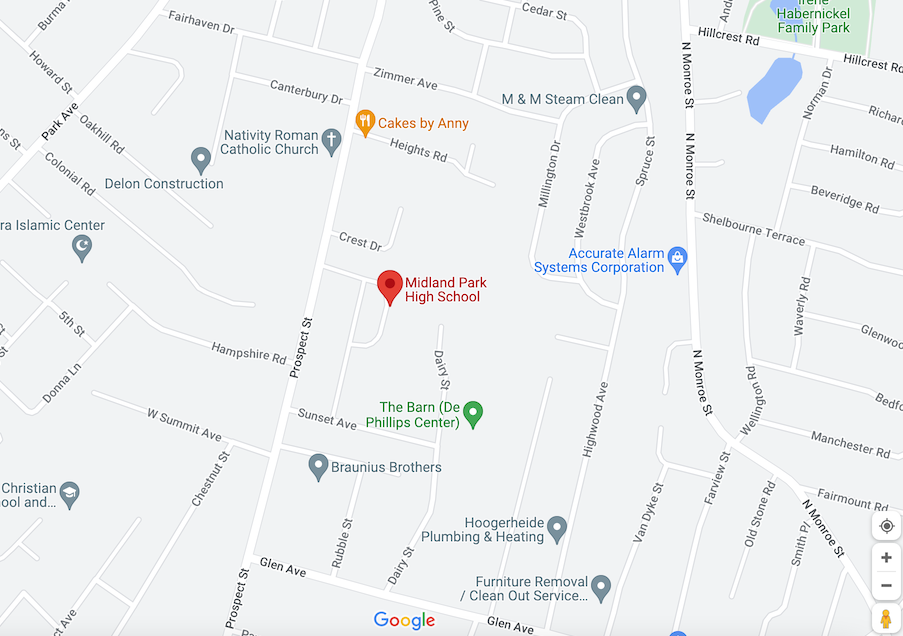 The Church of Nativity. The address is 315 Prospect St, Midland Park, NJ 07432, United States. You. an find this location on Google Maps HERE.
What to wear
You will want to wear a white shirt to the event, so you can proudly display your colors. We have designed the perfect T-shirt for the event and the first 150 participants to sign up will receive it for free. You can also earn an event T-shirt by fundraising and obtaining donations of $200 or more. We are only offering one T-shirt per participant though so we can try and give away as many as we can to different people. After that T-shirts will be $10 to help cover the cost and that way we can get as much money to METAvivor as possible. You also may just wear a plain white T-shirt.
Sunglasses are also a must to protect your eyes. Please feel free to bring your own or we will have some for sale the day of the event in case you forget.
Event schedule
May 22 8:30 AM EDT - Check in, visit vendors, and enjoy coffee, a live DJ, and other treats
May 22 9:15 AM EDT - Warmup person, race kickoff, and color toss
May 22 9:45 AM EDT - Race Begins
May 22 10:15 AM EDT - Visit vendors and enjoy the DJ and other activities
Contact information
Event contact

Tara Kuipers

Phone

201-321-1614