Our Fallen Hero 5K Run/Walk
In Memory of PFC Aaron Toppen
Saturday, September 24, 8:00a.m.
Be a part of the 9th annual Our Fallen Hero 5k run/walk event, honoring the sacrifice made by PFC Aaron Toppen. Come out and enjoy a 5K run/walk on a USATF certified course that will take you through the streets of Mokena. Participants will run part of the course on PFC Aaron Toppen Memorial Drive (Townline Road). After the run, stay around for the awards ceremony, post-race refreshments and entertainment. All pre-registered participants will receive a custom-designed wicking T-shirt, a "goodie-bag" and have post-race refreshments. **Must complete course within 60 minutes**
We are proud to support the USO of Illinois as this year's race beneficiary.
Since 1941, the USO has served as a private civilian 501c(3) non-profit organization that relies on the generosity of the American people. USO of Illinois touches the lives of nearly 350,000 Active Duty, Guard and Reserve military and military families throughout Illinois. Offered year round, USO of Illinois provides over 300 programs and services that enhance the quality of our service members lives which raise morale through unique recreational, educational and cultural opportunities at USO Center facilities at Midway Airport, Great Lakes Naval Station, O'Hare Terminal 2, O'Hare Terminal 3 and Rock Island Arsenal. Together our network of hundreds of volunteers donates nearly 20,000 hours of service annually in honor of our brave men and women.
Registration fees
5K Adult
Closed
Online registration closed
(19 & Over) Non-Refundable
---
5K Child
Closed
Online registration closed
(18 & Under) Non-Refundable
---
Virtual Runner
Closed
Online registration closed
Virtual runners, run your own 3.1 mile course, you will get a shirt and should post your times on our facebook page https://www.facebook.com/ourfallenhero5k/
---
General Information
All pre-registered participants will receive a custom-designed Dri-fit t-shirt, a "goodie-bag", post-race refreshments and raffle tickets for other items will be sold on race day.
Chip Timing
We use a disposable chip timing tag that runners receive at packet pick up on the back of the race bibs. It is covered by foam. DO NOT REMOVE. It is lightweight and remains attached to the race bib.
Runners MUST wear their race bibs on the front of their clothing in order to be timed accurately.

You must wear your bib on the front of your body pinned over your belly.

The bib cannot be covered, holding it in your hand or putting it in your pocket will NOT read the chip. Do not bend the chip. Smart watches such as Garmin and Smart phones can
interfere with the timing chip frequency. Please do not adjust your watch or phone as you cross the finish line and come through the chute. Disputes for times on Smart watches and Smart phones will not be taken into consideration.
Results will be posted within 24 hours after completion of the race on the Registration site under Results and on the Time to Run website.
Packet pick-up
We encourage all registrants to pick-up their packet prior to race day.

Location
The Oaks Fitness & Recreation - Mokena Park District
10847 La Porte Road
Mokena IL, 60448

Thursday, Sept. 22 and Friday, Sept. 23 from 4-7 p.m.
Register during packet pick-up
Shirts are not guaranteed and are first come first serve
Adult - $30/ Child - $20
(Cash or check only)
Pre-race festivities
Come early and get warmed up with a pre-race workout. We will also have the Presentation of our Colors and the singing of our National Anthem.
Raffles
There will be a variety of raffle baskets available to purchase day of race.
Post-race activities and awards
After the race, race participants are encouraged to stick around and enjoy post-race refreshments while visiting with friends/family of PFC Aaron Toppen. Awards ceremony will begin at approximately 9:15 a.m. and raffle will start immediately after.
Military challenge coin awards will be given to the top three women and men following the 5K as well as the overall 1st place winner in each age category. Age categories are: under 15, 15-19, 20-29, 30-39, 30-49, 50-59, 60-69, 70+
Parking
FREE parking available in Mokena Elementary school (enter off Wolf Road) and Mokena Intermediate school (enter off 195th Street) lots. Parking lots are located just east of Willowview Park. Street parking along 195th street. NO PARKING ON THE RACE ROUTE.
Safety
For safety reasons, bikes and skates are NOT allowed on the course. Pets and jogging strollers are permitted. We ask that you position yourself behind the runners as to not interfere with the start of the race. Walkers will be encouraged to start behind the runners.
Course Map
The Our Fallen Hero 5k run/walk will start and finish on 115th Street near the NW entrance of the Willowview Park parking lot. This is an out, loop and back course through Mokena's beautiful neighborhoods.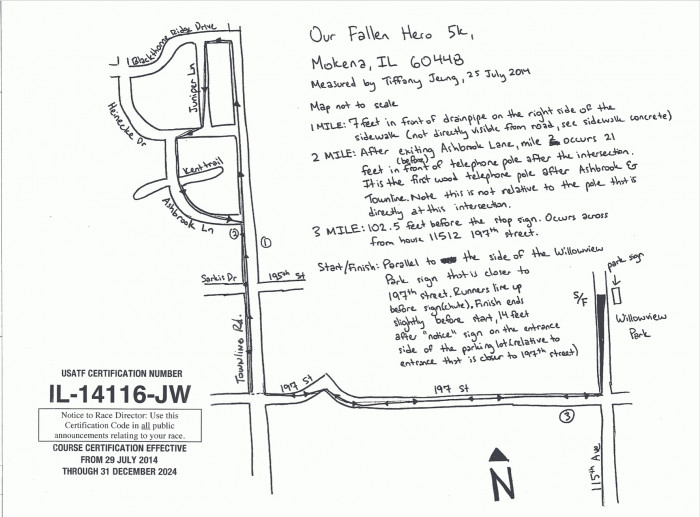 .
Top teams
1

Lynns Team

Raised:

$914.21

View page
2

CozTwins

Raised:

$614.93

View page
3

Kelly/Papadakis

View page
4

FUEL Health + IV Studio

Raised:

$27.48

View page
Event schedule
Wed, September 21, 2022 11:59 PM - Online Registration Closes
Thu, September 22, 2022 4:00 PM - Packet Pickup 4-7pm The Oaks Fitness and Recreation
Fri, September 23, 2022 4:00 PM - Packet Pickup 4-7pm The Oaks Fitness and Recreation
Sat, September 24, 2022 6:30 AM - Race Day Registration 6:30-7:30am
Sat, September 24, 2022 8:00 AM - Race Starts Promptly
Contact information
Event contact

Brittany Oskielunas

Phone

+1 708-845-0020

Website