Join us Thanksgiving morning - Thursday Nov. 24th from 8-10am - for Forma's 30th Anniversary Turkey Trot in Walnut Creek and celebrate our favorite Thanksgiving tradition!! Before you settle in for dinner on Turkey Day, enjoy a little exercise with your community! We look forward to seeing you everyone in person again. Let's celebrate our triumphs together this year!!
COURSE INFORMATION
Both the 5K and 10K go through beautiful downtown Walnut Creek. The 10K also extends out on to the Iron Horse trail. Both the 5K and 10K are paved and flat.
PACKET PICK UP Race packets pick-up will be at Forma Gym on:
Tuesday, 11/22

from 1pm-7pm

Wednesday, 11/23 12pm-6pm.

Packets can be picked up on race day for an additional $5.00 donation to Forma Kids Foundation, per participant, from 5:30am-7am at the vendor village, (located at 1375 Civic Dr in Downtown Walnut Creek). Race day registration and packet pick-up will be set up near the library at Civic Park starting at 6:30am. Your race packet will include your bib number and t-shirt.
Register in person at Forma Gym (1908 Olympic Blvd. Walnut Creek, CA) August 31st through November 27th at 7pm.
PARKING
Civic Park is centrally located in Downtown Walnut Creek, on Civic Drive one block east of North Broadway. Parking is available along the downtown streets adjacent to Civic Park. Parking lots at several nearby businesses (banks, etc) that will be closed on Thanksgiving morning will also provide places to park.
RACE CORRAL DETAILS
To simplify the flow of this year's run we will have wave start times for the 10K, 5K and the Kids Fun Runs. When you arrive at the race, please line up at the corral that correspond with your bib.

10K Run : 8:00am
5K Run : 8:15am
5k Wheel & Walk: 8:15am
Kids Fun Run: 10:00am

* Runners should arrive early to ensure they can find the appropriate corral before their designated start time.
AID STATIONS
Aid stations along the 5K and 10K will be stocked with water and fluid replacement.
CHIP TIMING
The 5K, 10K are chip-timed. The timing chips will be adhered to the back of your race bib and there is nothing to put on your shoe. Simply wear the bib on the front of your body free of race belts, clothing, etc. Pin the bib on the outermost layer of clothing. Please do not fold or alter the race bib.
Timing points will include the start and finish lines.
AWARDS & AGE DIVISIONS
Awards will be presented to the overall male and female finisher in each the 5K, 10K , as well as to the top three finishers per age division.
Age divisions for the 5K and 10K are: 18 and under, 18-24, 25-34, 35-44, 45-54, 55-64, 65-74, 75+.
The kid's fun runs are not timed or scored; each finisher will receive a custom medal.
Awards will not be given out at the race because of the race falling on a holiday, which causes most people to not stay for the award ceremony. Instead Awards will be available for pick up starting Monday, Dec. 3rd at Forma Gym, 1908 Olympic Blvd. Walnut Creek Ca. If you live out of the area you may call Forma Gym or email the race director at

info@formagym.com

to have your medal mailed.
Medal standings will be available for viewing on line after the completion of the event at www.formaturkeytrot.com.
5K AND 10K COURSE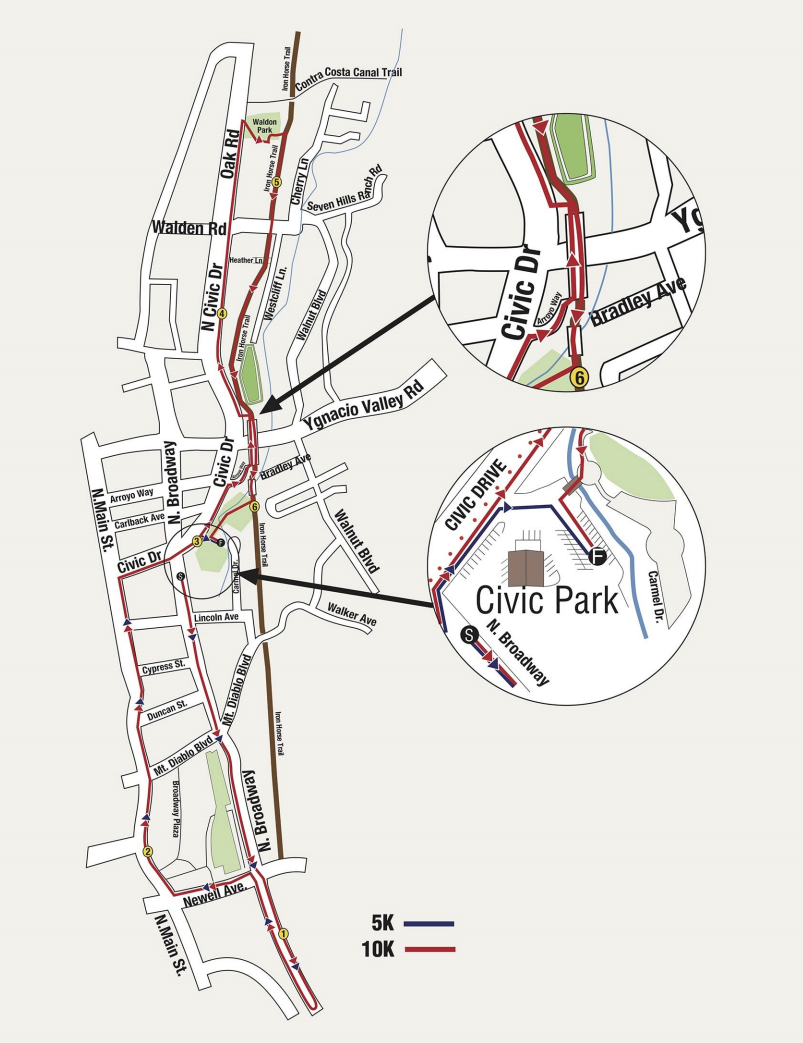 Registration fees
Adult 5K
Closed
Online registration closed
$40.00

Early bird - welcome back to in-person

$60.00

Race pick-up and race day
---
Adult 10K
Closed
Online registration closed
$45.00

Early bird - welcome back to in-person

$65.00

Race pick-up and race day
---
17 and under 5K
Closed
Online registration closed
$20.00

Early bird - welcome back to in-person

$40.00

Race pick-up and race day
---
17 and under 10K
Closed
Online registration closed
$25.00

Early bird - welcome back to in-person

$45.00

Race pick-up and race day
---
Kids Fun Run 1/2 Mile
Closed
Online registration closed
$15.00

Early bird - welcome back to in-person

$25.00

Race pick-up and race day
---
Kids Fun Run 1/4 Mile
Closed
Online registration closed
$15.00

Early bird - welcome back to in-person

$25.00

Race pick-up and race day
---
Kids Fun Run 100yd dash
Closed
Online registration closed
$15.00

Early bird - welcome back to in-person

$25.00

Race pick-up and race day
---
Event schedule
November 24 6:30 AM PST - Race registration opens
November 24 7:30 AM PST - Late registration and packet pick up closes
November 24 8:00 AM PST - 10k Race starts
November 24 8:10 AM PST - 1st 5k Race wave starts
November 24 9:30 AM PST - Costume Contest starts
November 24 10:00 AM PST - Kids Race starts ¼ mile and ½ mile
November 24 10:00 AM PST - Start of kids' 100yd dash
November 24 11:00 AM PST - Festivities conclude
Top teams
Contact information
Event contact

Forma Gym Turkey Trot

Email
Total raised
18 percent of the goal has been raised
Total raised
$4,379.21
Goal: $25,000.00