We are excited to be partnering with Merrell.
We share common values and a belief that everyone deserves to enjoy the outdoors!
We are also proud to announce that this event is sanctioned by Athletics Ontario.
---
We could not be more excited to be offering a race at Bon Echo Provincial Park; one of Ontario's most beautiful Provincial Parks! This unique race has been a dream of ours for quite some time and will have participants run on a wide variety of terrain ranging from wide groomed trails to technical and rocky single track, but let's be honest here, there is a lot more technical single track then there is wide groomed trails!
---
Race Details:
There have been some changes to the race details so please read before registering. Although we were initially planning on including the ferry ride to the Clifftop Trail as part of the race, this is no longer possible. However, participants are strongly encouraged to take the ferry to the Clifftop Trail (included with race registration) and hike to the top of Mazinaw Rock during their visit. It will be a challenge but the view will be worth it!
Please Note- a large section of the 30k and 60k events take place on back-country trails that are very challenging; even for experienced trail runners. These trails are very rocky, have plenty of roots, and have a number of steep descents and ascents. It will be very slippery if wet. Runners will need to be self-reliant through this section and must be prepared to go 15km without aid. We consider this a "graduate" level trail and it is not suitable for runners without trail experience. There will be a "Mandatory Gear" list that runners must have with them at all times, which will include (but is not limited to): a whistle, an emergency blanket, matches/lighter, and a container/bladder that holds at least 1L of water. There will also be a "Recommended Gear" list.
The route will take participants on Bon Echo's most exciting trails: the Abes and Essens Trail, the Shield Trail, and of course the Cliff Top Trail. There are some sections that take place on park roads that connect the different trails. Please be aware that a lot of this race is held on trails that are highly technical, rocky, and challenging. This event is best suited for runners with trail running experience. Rest assured, it will be very well-marked.
We will post the elevation profile and aid station locations soon. There will definitely be a section of this course where the distance between aid stations is further than most Ontario races- possibly up to 15 km. This is because this section of the route takes place on back-country trails with very limited access. Runners are expected to be self-reliant on these sections and should have a hydration pack in which they can carry enough food and water to safely travel through this section. A full race participant guide will be created well in advance of the event to ensure that participants are adequately aware of what they are getting themselves into. This race is not a walk in the park!
The course is 30k. 60k runners will complete the 30k course twice. Please note, these distances are approximate as our GPS watches varied when measuring the course. Expect the 30k loop to be between 29k and 31k.
Runners in the 60k event will do their second loop around the Shield Trail and Abes and Essens in the opposite direction from their first loop.
---
Aid Stations:
Runners can expect the usual ultra staples- water, an electrolyte drink (Skratch labs), pb & j, sweet and salty snacks.
---
Cut-off Time: It's about the journey, right? We're giving you a very generous 12 hrs to complete this sucker because we want you to focus on the unbelievable beauty around you rather than whether or not you are going to make the cut-off.

---
Race Swag:
After the race, you can throw on this SWEET ringer tee (available in Unisex and Women's Cut). It's perfect to throw on before or after a race, around the campfire, or wear it to your co-workers wedding. It's also perfect to wear to the grocery store, while dropping the kids off at school, or to that important job interview (see example of interview below).
Interviewer: What are your qualifications?
You: Basically, I'm not adequately qualified BUT check out this shirt.
Interviewer: You're hired!
*not guaranteed to get you hired but very likely.
---
Wildlife:
Lions, and tigers, and bears. Oh my!
Ok, there aren't actually lions and tigers but there are bears in the area. Bon Echo has a wide variety of wildlife in the park including some very rare species, like Ontario's only lizard, the endangered five-lined skink. Most of the animals in the park are harmless to humans but, keep in mind that all wild animals are unpredictable and should not be approached. Keep your eyes open and you may be fortunate enough to see some of the following:
-moose, black bear, porcupine, skunks, raccoon, coyote, fisher, marten, river otter, peregrine falcon, great horned owl, and white-tailed deer.
---
Registration:
In our first year, we are only allowing 200 participants. Ontario Parks allow camping reservation 5 months in advance (you can book a campsite for the race weekend starting on April 24, 2022). For those that register early, we will send you a reminder email with a link to the Bon Echo camping reservation page 5 months prior to the race so that, if you wish to stay in the park, you are able to do so. Bon Echo offers tent camping, yurts, and roofed accommodations. https://reservations.ontarioparks.com
This is a great event to bring the family to and stay for the weekend. Bon Echo is an absolutely incredible park. We highly recommend bringing or renting a canoe/kayak and exploring the Mazinaw Rock from the water, where you will be able to view some of the 260 pictographs. Skip rocks at the beach, enjoy a campfire and s'mores, and take in the spectacular fall colours.
Your registration fee includes:
- Entrance into the park
- Wicked ringer tee that you can show off to your friends and co-workers
- Race bib with chip timing
- Custom finisher's medal (for those that complete the race)
- Food and drinks at aid stations
- Post race bbq (hamburger, hotdog, or veggie burger) put on by the Friends of Bon Echo. This is the only Happy Trails Racing event that includes a post-race meal. We really want to encourage people to hang around after the event and socialize with a great community of trail runners.
---
Mazinaw Rock:
Rising 100 metres from one of the deepest lakes in Ontario, Mazinaw rock is a truly impressive formation. Check out some drone footage here.
Mazinaw Rock is recognized as a National Historic Site of Canada due to the 260 red ochre painted pictographs, mostly of people and animals, that attest to the significance of the area. The Algonquin people of today rain proud of their ancestral link to this special place.
Mazinaw Pictographs was designated a national historic site of Canada in 1982 because: it is the largest rock art site on the southern Canadian Shield and the only major pictograph site in Southern Ontario; and, it is a very complex site containing many more abstract and geometric symbols than is normally the case.

Archaeological surveys of this site began as early as 1895, and continued periodically through to the present times. For size and complexity, this site has no rivals; no doubt the dramatic setting of a great cliff rising sheer out of the water was a factor in the choice of this location for pictographic arts.

Source: Historic Sites and Monuments Board of Canada, Minutes, April 2006.
---
Have you heard of the MAZINAW MONSTER?
Did you know that for hundreds of years there have been rumours of a lake monster in the waters around Mazinaw Rock?
Read the following excerpt, written by Lorrainne Julien, Frontenac News, November 19, 2009:
Lake Monsters – is there such a thing or are they just figments of our imagination? Do you ever wonder what lies beneath the surface of some of our deeper lakes in the cool, dark depths? We've all heard about the Loch Ness monster, but what about our own bodies of water in Ontario and, more specifically, eastern Ontario and the Land O' Lakes area.
Certainly tales have been told and re-told over hundreds of years of various huge snake-like creatures that lurk in some of our deeper bodies of water. Native people told of both good and bad beings inhabiting the waters they paddled. Before crossing large bodies of water, they would offer tobacco to the spirit before starting out. It was hoped that an offering would appease the spirit so that it wouldn't whip its giant tail and upset their canoes.
Mazinaw - In one instance, native legends say that a water spirit called 'Mishipashoo' inhabits Mazinaw Lake. At least one of the pictographs on Mazinaw Rock shows a dinosaur-like creature with a long, spiked tail. Dinosaur bones had not yet been unearthed when these pictures were drawn so is this picture just an imaginary thing or did something like this actually exist in the lake? Some say the Mazinaw creature looks very eel-like and is over 20 feet in length. There's lots of room in Mazinaw for elusive beings as the lake is the second deepest in Ontario, after Lake Superior, with an average depth of 135 feet and a maximum depth of 475 feet.
The stories go on and on but most seem to have a common theme: the creature is black and about 20-40 feet long, snake or eel-like with ridges along its back and horns or antlers on its head. Some say the head is dog-like such as the Igopogo creature in Lake Simcoe; others say it is alligator-like. They have been spotted by many people during the last century, especially in the south end of Lake Simcoe and, in particular, Kempenfelt Bay.
Some believe the larger lake serpents could be rare, shy descendants of giant, long-necked reptiles called plesiosaurs which lived during the dinosaur era more than 65 million years ago.
With so many sightings over the years, isn't it highly possible that some ancient creatures still lurk in the depths? Are they just giant sturgeons, eels or snakes, or some left-over dinosaur-like creature from another age? There is no hard and fast evidence supporting the existence of lake monsters other than the odd fuzzy photograph, but could all these people be mistaken or were they involved in some kind of hoaxes?
---
Race for Free!
Participants that raise $250 for the Friends of Bon Echo will have their race registration fee refunded to them. They will also be treated like royalty and can have the race director carry them up the stairs on the Cliff Top Trail.
---
Refund Policy:
Happy Trails Racing has a new policy regarding race refunds/transfers: register with confidence knowing that you can take advantage of our early bird pricing and, if you need to back out, you can do so up to 30 days before the race with a 100% race credit that can go towards any future Happy Trails event. It doesn't expire. From 30 days out to 15 days out, you can back out with a 50% race credit. Participants are also welcome to transfer their bib without any penalty up to 15 days before the race. Please keep in mind that everything we need to order to have you at our race is done so at least 30 days out.
---
Course Photos (from October 26, 2019):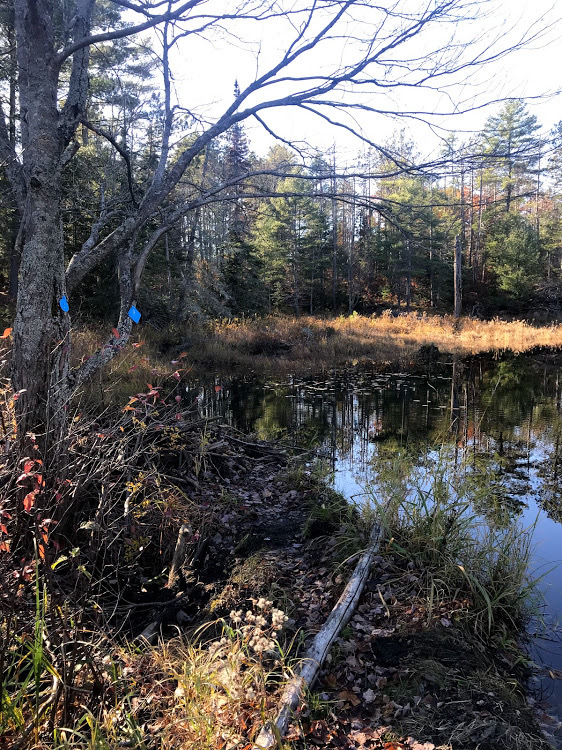 Registration fees
30k on the stunning trails of Bon Echo Provincial Park.
---
---
60k on the stunning trails of Bon Echo Provincial Park.
---
10k of awesome trail running . Honestly, expect the course to be more like 11k.
---
---
---
Event schedule
September 24 9:00 AM EDT - 60k start
September 24 9:30 AM EDT - 10k start
September 24 12:00 PM EDT - 30k start
Contact information
Event contact

Jeff Rowthorn