CLICK HERE FOR RACE DAY DETAILS
RACE DAY REGISTRATION AVAILABLE
What an exciting addition to our Sharkfest Series! You will now have a chance to say "I swam the Golden Gate!" Swimmers will board a ferry in Sausalito. The ferry will transport you to south tower of the bridge and you will swim back past the north tower to finish at East Ft. Baker at Horseshoe Cove in Sausalito. This is a "Golden" opportunity! The event is limited to 300 participants and is sure to sell out so don't wait too long to register!

PLEASE NOTE: This swim is not for novices. This event is for experienced open-water swimmers only. You should be able to swim one mile comfortably in a pool in under 40 minutes.
Registration fees
Adult (18 & Up)
Closed
Online registration closed
Swim

$150.00

Early Bird Pricing
---
Youth (17 & under)
Closed
Online registration closed
Youth 17 and under must be registered by an adult, email us at info@envirosports.com for a special link

$125.00

Early Bird Pricing
---
Course Map
DISTANCE: 1.6 Miles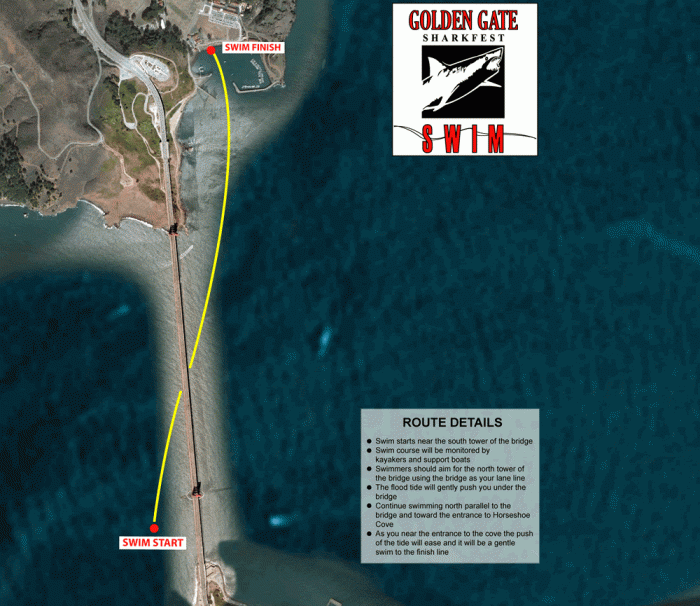 Event Details
WATER TEMP: ~60-62° F
COURSE CUT-OFF TIME: 80 minutes
INCENTIVES: T-Shirts for all participants. Sharkfest Swim Medals for top three finishers in each age group, in each division (wetsuit & non-wetsuit) combined. Personalized award plaques will also be mailed to the first place overall femle and male finishers. (wetsuit & non-wetsuit combined).
AGE GROUP BREAKDOWN: Male and Female: 11-12, 13-14, 15-17, 18-24, 25-29, 30-34, 35-39, 40-44, 45-49, 50-54, 55-59, 60-64, 65-69, 70-74, 75-79, 80-84, 85-89, 90-94, 95-100!
ENTRANT LETTER: An entrant letter with all the race day details will be emailed to all registered participants and posted online here 1-2 weeks prior to event day. Please check back for any updates and the full race day itinerary.
PARKING: The best place for participants to park is Lot 4 ($5/all day) in Sausalito located on Bay St. just off Bridgeway in downtown Sausalito. There will be a shuttle bus from the swim finish back to the Sausalito parking lot after the race. Spectator parking is available and free at East Fort Baker (link to location on Google Maps).
CANCELLATIONS: Registrations are non-refundable, unless you purchased the opt-in refund protection during check-out, in which case you can file a claim online here. If you did not purchase the refund protection and you can no longer participate in this event, you may receive a rollover credit (minus a $40 processing fee) toward a future event as long as you let us know by August 9, 2023..After that date, a doctor's note is required to receive a credit.
Travel & Accommodations
The Lodge at Tiburon 720-354-3396, 1651 Tiburon Boulevard, Tiburon, CA 94920
Holiday Inn Express Mill Valley 415-332-5700, 160 Shoreline Highway, Mill Valley, CA 94941
Cavallo Point (Closest to Swim Finish) 415-339-4700, 601 Murray Circle, Sausalito, CA 94965
An option in San Francisco:
Hotel Caza 650-502-4200, 1300 Columbus Avenue, San Francisco, California 94133
FAQs
What do I need to do on race day morning?
You will check-in on race day morning Gabrielson Park (next to the Sausalito Yacht Club). You will be required to show a photo ID to receive your timing chip & swim cap. You will also get your hands marked with your race number during check-in.
What am I allowed to bring on the ferry?
We strongly recommend that you simplify by wearing your wetsuit (and a pair of flip-flops if you don't want to be barefoot) and carrying your swim cap and goggles on the ferry. If you want to wear shoes or a sweatshirt, please grab a plastic bag at check-in, mark it with your race number and bring it with you on the ferry. You may put your items in this bag during the ferry ride and our volunteer crew will make sure these bags get back to the finish area.
Will there be restrooms or changing facilities on race day morning?
Restrooms are available at the Sausalito ferry dock. There will not be private changing facilities available, so arrive wearing your swimsuit.
Where should I park? Where should spectators park?
The best place for participants to park is Lot 4 ($5/all day) in Sausalito located on Bay St. just off Bridgeway in downtown Sausalito. There will be a shuttle bus from the swim finish back to the Sausalito parking lot after the race. Spectators can park in the dirt lot near the finish line between the Coast Guard Station and the Presidio Yacht Club. They must NOT park in the parking spots along the water's edge, nor in the lot designated for the Discovery Center.
Can I wear a full body swim suit or skin suit?
Yes you can wear a full body swim suit or skin suit.
Can my friends and family ride out on the ferry with me?
No. We charter ferries to accommodate event participants. The ferry for this swim will be going to San Francisco after it drops off the swimmers at the south tower of the bridge and does NOT return to Sausalito. If your friends and family members rode the ferry, they would miss your swim finish.
What do I need to bring for when I finish the swim?
Bring a towel, warm dry clothes, shoes, hat and any other personal items that you may need when you finish. These items will be placed in a bag labeled with your bib number (or you can put them in your own bag and tag that bag with your bib number) and will be transported from the swim start to the finish. These are items you DON'T take on the ferry so that they will be waiting for you when you finish the swim.
I'm worried about the swim.
The Golden Gate swim course may have a notorious reputation, but we can assure you we've safely escorted swimmers along this course many times in years past. The biggest variable is the tides. Luckily, our race director, Dave Horning, has swum the course over a dozen times in past years and knows the San Francisco Bay tides well. We specifically plan the date of the swim in accordance with the tides.

Once the race starts by the South Tower of the Golden Gate Bridge, you will aim for the North Tower of the bridge. The tides will naturally carry you under the bridge as you swim North. There will be a lead boat to follow across the "gate" and to the swim finish. You will be given instructions race day morning on which sights to spot off of during the swim. These instructions are based on a test swim conducted the day before during similar tidal conditions. Mind these instructions.

Use your common sense and practical judgment and you'll be fine!
Any other advice on the swim?
Swim gloves and booties are discouraged on this swim unless you have trained using them and are extremely comfortable swimming in them. They can sometimes fill with water and make it more difficult to swim.

Neoprene swim hoods are allowed. Please wear the swim cap given to you over your swim hood. Another option is to bring an extra swim cap and wear it under your event swim cap which can help keep your head warmer.

Hold on to your goggles as you jump from the ferry as they can sometimes easily pop off as you hit the water.

Swim away from the boat immediately after entering the water to make way for the next participants. The faster everyone disembarks, the sooner the race can start.

The start line will be marked by a row of kayakers. Swim up to the start line, but please don't hang on kayaks or crowd around them. You may swim around to warm up behind the start line, but keep in mind, everything starts rather quickly -- 6 to 8 minutes after we start disembarkation. The race starts at the sound of the ferry's horn.
What if I panic during the swim?
If you find when you start to swim that your heart is beating rapidly and your breathing feels out of control, this is perfectly normal. It's just the adrenaline rush of race day paired with the shock of the cold bay water. Use your own judgment on whether to continue, especially if you have any medical conditions, but most people find that if they continue to swim, they warm up, get their breathing back under control and are able to get back into a groove and finish the swim. You may backstroke, or swim with your head out of the water until your comfortable to swim freestyle again.

If you feel that you cannot complete the swim or you need the assistance of a kayaker, stay put and put one arm straight up in the air. A kayaker will come to you and discuss your options. It is perfectly legal to grab the nose of a kayak and wait out a cramp, get your breathing under control, etc. Don't hesitate to take the measures you need to finish your swim.

A smart athlete will know when it's not their day. You'll always be welcome to come back and try again. There's no shame in taking a rain check on this event.
MORE QUESTIONS?
Email us at info@envirosports.com
Contact information
Event contact

Enviro-Sports

Email

Phone

415-868-1829

Website