Welcome to the second edition of the Springbank Sprint!
We are tremendously excited to welcome you to Springbank Park for a 5 km (New Era Grafix 5k) or 10 km (BackRoads Brews + Shoes 10k) race. In addition, we will be hosting some shorter runs for the kids (Little Vikings Sports Camp Kids' Runs).
We will also be hosting some walking only events.
As with all of our events, $5 from each adult registration will be donated to the Children's Health Foundation in support of children and their families in our community.
The Venue
Springbank Park is the crown jewel of the Thames Valley Parkway. Come and enjoy the fast multi-use paved pathways as you run alongside the Thames River. The route is closed to vehicular traffic. The 5km, 10 km, and 1 km kids' run, are all out and back routes. The 50 metre and 100 metre kids' runs are short point to point runs.
The races will begin and end at the Stone Cottage (1085 Commisioners Road West, London, Ontario). There is ample parking near the start/finish area.
Race Sanctioning, Course Measurement, and Certification
The Springbank Sprint is an Athletics Ontario sanctioned event.
The 5k and 10k courses have been measured by Bernard Conway, Athletics Canada Chief Certifier, and World Athletics and AIMS Grade A Measurer.
The courses are certified by Athletics Canada.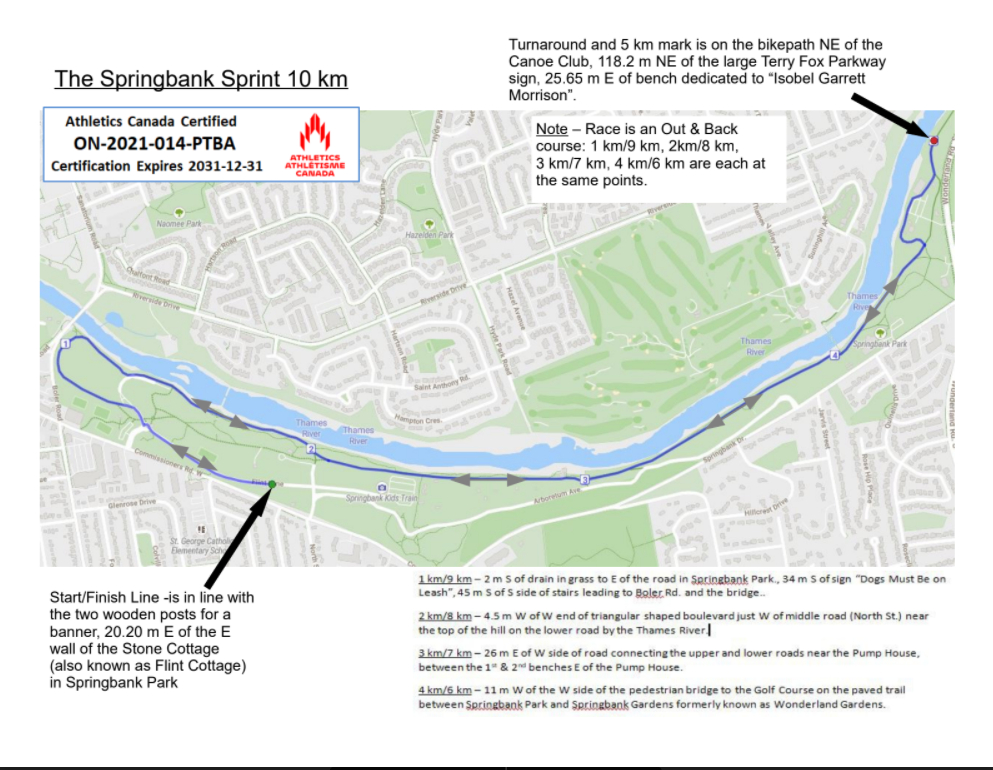 Race Schedule
Packet Pickup
All local runners are encouraged to pick up their race kits prior to race day in order to avoid congestion and line-ups on race morning.
Early pickups:
BackRoads Brews + Shoes
1295 Riverbend Road, London, ON
March 30th, 2023
5:45 p.m. - 7:45 p.m.
March 31st, 2023
10 a.m. - 7 p.m.
On race morning, race kits will be available at the start/finish area beginnning at 8:30 a.m. If you are picking up your race kit on race morning, please give yourself ample time to do so.
April 1st, 2023 Race Day!
9:30 5 km start
9:35 10 km start
11:00 kids' runs (50 metre, 100 metre, 1 km)
50 and 100 metre kids' runs are for ages 0 - 10. 1k is for ages 8-15.
Timing
The 5 and 10 km events will be chip-timed events. The kids' events will not be chip-timed and are fun runs. Chiptiming is being provided by Chiptime Results.
Aid Stations
Aid stations will be serving water and will be located at approximately the 2.5 km mark, and the 5 km and 7.5 km mark for the 10 km runners.
Portable toilets will be available at the start/finish area. Public washrooms are also available near the start/finish area. There is a public washroom on the 10 k course as well.
Shirts, Medals, Prizes, and More!
Each participant in the adult races will receive an awesome event shirt courtesy of New Era Grafix and a race medal. The kids will also receive a finisher's medal and race bib.
There will be some post-race snacks available as well.
Our race photographer will be on hand to capture all of your awkward running facial expressions. Your photos are yours to download, FOR FREE.
Additional prizes will be awarded to the top three finishers in the 5 km and 10 km runs (female, male, and non-binary categories). Results for prizes will be based on gun-time. Prizes will be awarded to the top overall finisher in the walking events.
Refund Policy:
There are no refunds for this event. However, life happens. Work trouble, running injuries, a bad paper cut, we get it. If you have to withdraw from the event prior to March 1st, we will give you a 100% race credit for a future Persistence race (minus CHF donation, taxes, and fees).
If you need to withdraw after March 1st, you will receive a 50% race credit. Sorry, but by then we will have already paid for your stuff, and the resale market for unclaimed race shirts and medals is unfavourable.
Thanks for taking part in the event, we can't wait to cheer you on!
Course Records
5k Run
Jacob Lasci 17:04 (2022)
Jenna Schulz 17:50 (2022)
10k Run
Matt King 35:03 (2022)
Jaclyn Doyle 44:10 (2022)
5k Walk
Janice Strickland 36:55 (2022)
10k Walk
Christine Knight-Smith 1:35:45 (2022)
National Records
Joanne Miklos den Iseger 5 mile Canadian Masters W75 (2022)
Canio Polosa 5 mile, 8k, 10 k Canadian Master M90 (2022)
Registration fees
New Era Grafix 5k
Closed
Online registration closed
CA$60.00

middle of the pack

CA$65.00

procrastination pricing
---
BackRoads Brews + Shoes 10k
Closed
Online registration closed
CA$60.00

middle of the pack

CA$65.00

procrastination pricing
---
5 km walk
Closed
Online registration closed
This sub-event is for walkers only, competitive or recreational. Running is not allowed in this event.

CA$60.00

middle of the pack

CA$65.00

procrastination pricing
---
10 km walk
Closed
Online registration closed
This sub-event is for walkers only, competitive or recreational. Running is not allowed in this event.

CA$60.00

middle of the pack

CA$65.00

procrastination pricing
---
Little Vikings Kids' 50 metres
Closed
---
Little Vikings Kids' 100 metre
Closed
---
Little Vikings Kids' 1 kilometre
Closed
---
Contact information
Event contact

Neil McKay

Website