Ohio University Sports Administration hosts the 11th Annual Race For A Reason. Over the past 10 years, the Race For A Reason has raised upwards of $600,000 for charities, non-profits, and student organizations. The Ohio Race for a Reason is the only event of this kind: combining the competition of racing with the compassion of the Athens and Southeastern Ohio community.
College of Health Sciences and Professions Triathlon & Duathlon
Youth Splash-n-Dash presented by the Ohio University Patton College of Education
QuidelOrtho 5K Run Presented by OUCU Financial
OU ROTC Mud Run Presented by Power 105
Memorial Health System 3K Walk
Virtual Race presented by the Heritage College of Osteopathic Medicine
Race Packet Pick-up
Location: Grover Center, 53 Richland Ave, Athens, OH 45701
Dates:
Friday, April 28 5:00 pm - 8:00 pm

Saturday, April 29 6:00 am - 9:15 am
Awards & Swag
Triathlon/Duathlon - Top 3 in each age division

5K Run & Mud Run - Medals for Top 3 in age division

Splash & Dash - no awards; all finishers receive a medal
All participants will receive an official event shirt if registered by April 10.
Event Schedule:
Friday, April 28th, 2023:
- 5:30-7:00pm - Race packet pick-up (Grover Center Atrium)
- 7:00-7:15pm - Warm-up Youth Splash & Dash
-7:15-8:00pm Youth Splash & Dash (Ohio University Aquatics Center)
Saturday, April 29, 2023
- 6:00-7:15am - Triathlon Transition Area Open (Peden Stadium) / Triathlon Late Packet Pick-up (Grover Center Atrium)
-7:00-7:15am - Triathlon Warm-up (Aquatics Center)
-7:15am - Pre-Race Meeting
-7:15-9:45am - Late Registration and Packet Pick-up 3k Walk, 5k Run, Mud Run (Grover Center Atrium)
-7:30am - Triathlon Start (Aquatic Center) / Duathlon Start (Peden Stadium)
-9:30am - Mud Run Start (Tailgreat Park)
-9:45am - 5K Start (Peden Stadium)
-10:00am - 3k Walk Start (Peden Stadium - Parking Lot)
-11:00am - Awards Presentation (Grover Center Atrium)
Registration fees
Triathlon (Non-Student)
Closed
Online registration closed
500M swim+10.65 mile bike+3.2 mile run

Online registration closed
---
Triathlon (Student)
Closed
Online registration closed
500M pool swim+10.65 mile bike+3.2 mile run

Online registration closed
---
Duathlon (Non-Student)
Closed
Online registration closed
3.2 mile run+10.65 mile bike+3.2 mile run

Online registration closed
---
Duathlon (Student)
Closed
Online registration closed
3.2 mile run+10.65 mile Bike+3.2 mile run

Online registration closed
---
Triathlon-RELAY (Non-Student)
Closed
Online registration closed
Relay teams can consist of 2-3 members, 1 member will complete swim, 1 member will bike, and 1 member run.

Online registration closed
---
Triathlon - RELAY (Student)
Closed
Online registration closed
Relay teams can consist of 2-3 members, 1 member will complete swim, 1 member will bike, and 1 member run. All members must be Students.

Online registration closed
---
Duathlon-RELAY (Non-Student)
Closed
Online registration closed
Relay teams can consist of 2-3 members, 1 member will complete 1st run, 1 member will bike, and 1 member run.

Online registration closed
---
Duathlon-RELAY (Student)
Closed
Online registration closed
Relay teams can consist of 2-3 members, 1 member will complete 1st run, 1 member will bike, and 1 member run. All members must be Students.

Online registration closed
---
Aquabike
Closed
Online registration closed
500M swim+10.65 Mile Bike

Online registration closed
---
Youth Splash and Dash Age 7-10
Closed
Online registration closed
Individual Registration

Online registration closed
---
Youth Splash and Dash Age 11-15
Closed
Online registration closed
Individual Registration

Online registration closed
---
Quidel 5K Run
Closed
Online registration closed
3.1 mile run or walk. Participants will be chip timed. Presented by OUCU Financial

Online registration closed
---
OU ROTC Mud Run
Closed
Online registration closed
All participants chip-timed. Presented by Power 105

Online registration closed
---
OU ROTC Mud Run - Team Event
Closed
Online registration closed
5 person Team event. Team captain pays for Team and then add members. Cost is $100 entire team. Presented by Power 105

Online registration closed
---
3K Walk
Closed
Online registration closed
The 3K Walk is untimed.

Online registration closed
---
Virtual Race
Closed
Online registration closed
Run anywhere and anytime! Presented by the Heritage College of Osteopathic Medicine

Online registration closed
---
Course Maps
Triathlon & Duathlon Bike and Run Course Maps

5K Course Map

Mud Run Course
3K Course Map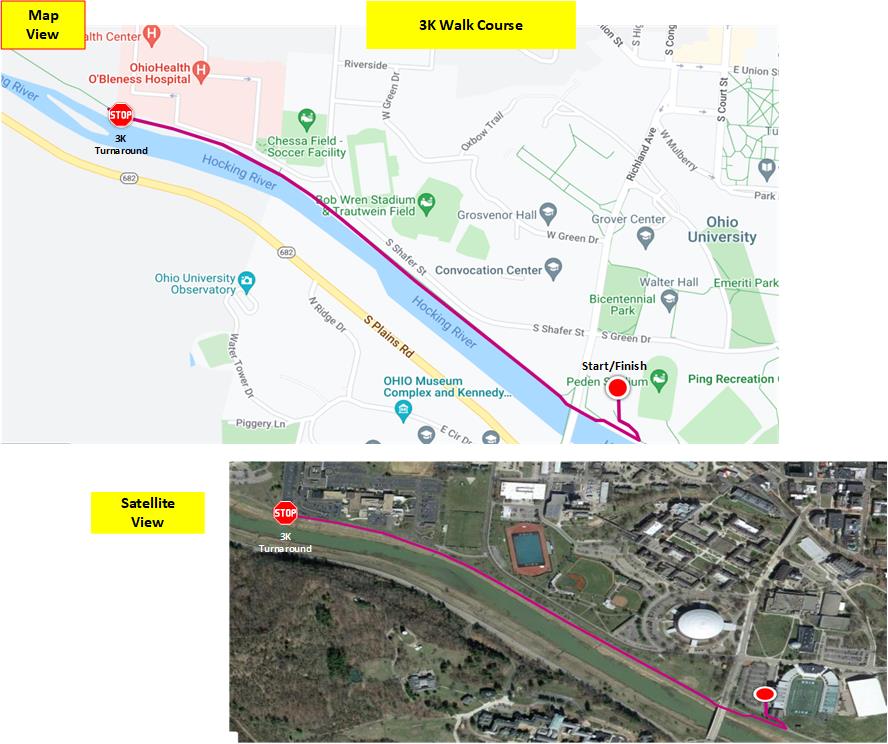 SPLASH-N-DASH Course Map-Under 11
SPLASH-N-DASH Course Map-11-15
Contact information
Event contact

William Hauschild

Phone

740-274-1396