The Stone House Trail Runs are 10 mile, 25k and 50K trail runs run along the Salt Fork State Park Creek trail system. The trail course includes the famous Stone House Loop Trail, listed as the one of the "Amazing Ohio Trails You'll Absolutely Love" for its trail aesthetics and its great view of the historic Kennedy Stone House.
The Stone House trail runs begins at 8:00 a.m. on Saturday morning, October 28 during a beautiful Ohio sunrise and features the moderately challenging Shade Bush trail, the rolling Salt Fork trail, and the scenic Stone House trail loop. Don't miss this unique and incredible running experience.
| | |
| --- | --- |
| | |
Event Description
The course features a 10 mile trail loop and a 25K (~15.6 miles) trail loop that starts and finishes at the Salt Fork Park Lodge. 50K (~31 miles) trail runners will complete 2 laps of the 25K course. Each 25K lap in the 50K will be timed. Course Link (Course map below)
The trails consist of the exterior track, gravel, and grass and includes the Shade Bush, Salt Fork and Stone House Trails. The course is runnable, technical and can be challenging with its elevation changes and depending on weather conditions can be muddy in low-lying spots.
Race Fields
Individual (Solo). Solo runners will run their select distance continuously throughout the event. 50K runners may take a short break between laps to replenish their supplies and even change shoes and clothing as desired. All athletes are timed and will continued to be timed until they cross the finish timing mat. Any athlete that withdraws will be recorded as a DNF.
Duo Running.

Ideal for those who don't want to run alone and want to take on the race with a friend. Each athlete receives a time but must start and finish their selected race distance together.
Drop Bag Area
Runners will have a designated area at the Start/Finish for a drop bag, tent, chairs, cooler with food/fluids, additional gear, etc. There will be gender-based changing tents available.
Crew Support
Runners may receive crew support only from the Start/Finish area. Runners receiving crew support from any other area may be subject to disqualification.
Pacers
Pacers are not allowed in the solo divisions.
Leave No Trace
To minimize trash on the trails, the Stone House Trail Runs are a CUP-FREE RACE. This means that paper cups will not be provided for water and will only be used for Gatorade and soda. All runners will be responsible for carrying their own refillable hand-held bottle or hydration system. Runners will be required to throw their paper cups away before leaving the aid station. Any runner found intentionally leaving cups, gel wrappers, or other trash on the trail will be disqualified.
What you Get
Each participant receives a custom long-sleeve unisex tri-blend race tee, Greenswell cotton gloves, and a custom finishers amenity or medal.
Awards will be awarded for the following:
Solo (Men's and women's top 3 finishers)
Age Group Awards (Men's and women's 1st place finish in age division only):

0-19, 20-29,30-39,40-49,50-49,60-69,70+

Top Duo - 10 Miler
Timing
All participants are timed. Each lap is timed and time is accumulated for solo runners and as a team. We utilize the MyLaps timing system for timing and scoring.
Transfers, Refunds, and Injury Deferral
There are no refunds or transfers permitted. Injury deferral request will be honored until August 28 or 60 days prior to event. Injury deferral request must be made via email prior to 11:59 pm on August 28. Injury deferrals after this date will not be accepted. The event does provide RegistrationShield registration insurance as an optional purchase during the registration to cover injuries and other health matters preventing participation.
Event Schedule
Packet-pickup/Check-in:
Friday, Oct 27 6:00 pm - 8:00 pm (at Salt Fork Lodge)

Saturday, Oct 28 6:30 am - 8:15 am (at Start/Finish Area)
Race Start/Finish Area: Salt Fork Lodge Area at Helipad area (lower parking area)
Start Times:
25K & 50K: 8:00 am

10 miler: 8:30 am
Course Cut-off:
Salt Fork Lodge offers great rooms at reasonable prices. Enjoy a meal in the restaurant, relax in the indoor/outdoor pool, and have some fun in the game room and outdoors. To get the special discounted rate, you must call the reservation line at 740-435-9000 to reserve your room under the Stonehouse Trail block (Use code 'STONE'). A deposit is due at the time the reservation is made, and the deposit is fully refundable up to 72 hours prior to arrival.
Directions. For directions from your location, Click Here or visit SaltForklodge.com
Registration fees
10 Mile Trail
Closed
Online registration closed
Online registration closed
---
25K Trail
Closed
Online registration closed
Online registration closed
---
50K Trail
Closed
Online registration closed
Online registration closed
---
Duo Running - 10 Miler
Closed
Online registration closed
Run Together, Start/Finish Together, Separate times & Awards (1 Entry Fee)

Online registration closed
---
Trail Map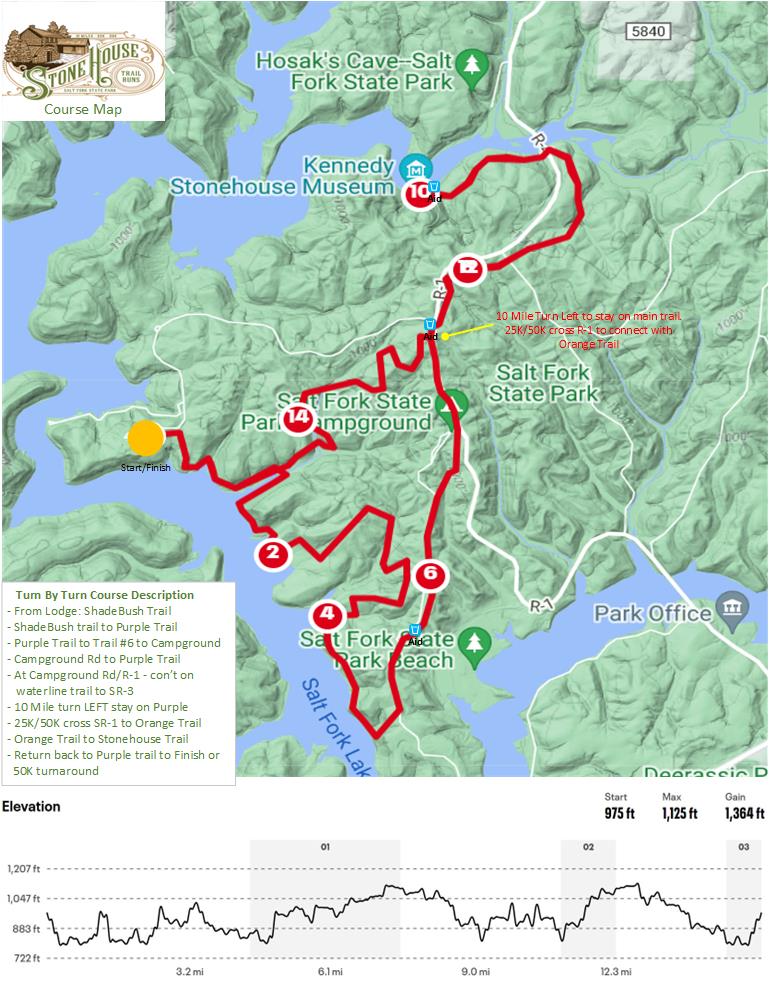 Runner Safety
All runners should follow general safety precautions as one would take while training on trails in remote areas.
Course Terrain
98% of the course is ran on dirt trail. Expect roots and rocks, loose natural materials and uneven surfaces. This terrain can be of further challenge if conditions are wet.
Weather
All runners are expected to be prepared for any weather condition and the race will continue on rain or shine, except in the event of hazardous weather condition such as lightning. Runners in the vicinity of either the Start/Finish area are will not be allowed to progress further until it has been determined safe to resume. Runners on course should take necessary precautions.
If on the course and not near shelter, immediately descend to a low dry point. Do not shelter under a tree. Remove metal objects and packs and separate from other runners. Crouch down with both feet together, breath, and patiently wait out the storm.
Wildlife
Runners are required to respect the wildlife by not approaching, feeding, or harming wildlife. Race participants observed violating this are subject to race disqualification.
Medical Needs
EMS and medical support will be on call for the event. The medical tent is located at the Start/Finish area, and aid stations will have basic first-aid supplies. Runners experiencing a medical emergency on course will need to go to the nearest aid station, timing checkpoint, or report the emergency to a passing runner. Medical evacuations will only be reserved for serious or critical medical needs such that the injured party can not physically move under their own ability.
Contact information
Event contact

Craig Thompson