42nd Annual Virtual Walkathon
Dear Friends of the Hellenic Home,
We would like to invite your support and participation to the Hellenic Home's 42nd Annual Walkathon.
The proceeds from this year's Walkathon will go towards a very important endeavour. We have undertaken to construct a second building at our existing Scarborough (Kennedy) location to accommodate an additional 128 beds and to also expand the Toronto (Winona) facility with an additional 33 beds. There is a great demand for senior's care and accommodations at the moment and this project will go a long way in meeting the needs of our community.
We currently have over 700 people on our waiting lists. Our Board of Directors is working diligently with the Ministry of Long Term Care to secure financing, get City site plans and zoning approvals as well as perfect the Architectural drawings so as to secure the Ministry approvals to construct both projects in the months to come.
This year, due to the COVID-19 pandemic, the Hellenic Home will be celebrating its 42nd Annual Walkathon virtually! This means, you can walk or run your 5K anytime between June 1 to June 10. Join us virtually and take steps toward making a difference in our seniors lives. Our virtual Walkathon provides an opportunity to raise much needed funds for our new projects while getting together in a safe and healthy way.
Your donation will enable the Home to continue to be at the forefront of our seniors changing needs. Help support our seniors through these unprecedented times by making every step count!
To participate in the virtual walkathon, simply complete the pledge form enclosed. Show your support by reaching out to your friends, family and coworkers for sponsorship or donation. You may share pictures, videos and comments on social media using the hashtag #HHWalkathon2023.
Registration fee for each walker is $25. Together we can go the distance.
For more information, please contact Patty Agrapidis, Special Events and Annual Giving Coordinator at (416) 654-7718 ext. 2228 or at pagrapidis@hellenichome.org or visit our website at www.hellenichome.org.
Best wishes,
John C. Fanaras
President & Chair of the Board of Directors
Registration fees
---
Sponsorship Opportunities
Proceeds will go towards enhancing the care and services we provide to our seniors
Register

for Sponsorship Opportunities

$5,000.00 – Platinum Sponsor

Company name and logo, or individual family name will appear and/or be mentioned in the following: In all promotional event material including event brochure.
---
Sponsorship Opportunities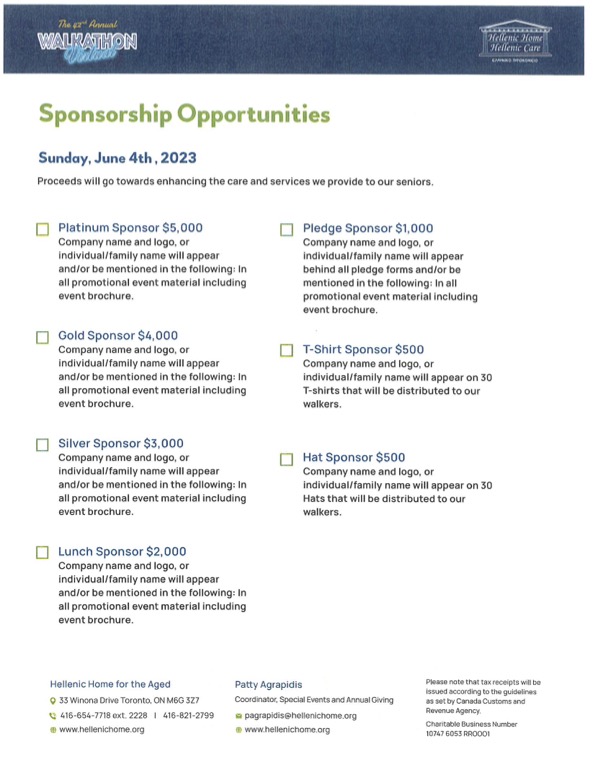 Top donors
| No. | Name | Amount |
| --- | --- | --- |
| 1 | Anonymous | $1,074.41 |
| 2 | Rose Konstas Walsh | $108.31 |
| 3 | Cretan's Association of Toronto, "Knossos" | $100.00 |
Contact information
Event contact

Patty Agrapidis

Phone

416-821-2799

Website