Series details
The Tri County Tri Series is in it's 2nd year. This series offers three progressive triathlon distances in the tri county area – McHenry, Cook, and Lake Counties in Illinois.
The Tri County Series offers a limited number of triathletes the opportunity to register and compete in three events over a 8 week period in the summer— for a total of 66.9 miles that includes 2.1 miles in the water, 51.5 miles on the bike and 13.3 miles on the run.
The Series Schedule:
Sunday, June 2, 2019 with the Fox Lake Triathlon, .5 Mile swim, 12.5 bike, and 3.1 mile run. Race Website
June 23 is the Twin Lakes Triathlon in Palatine with a 700 yard swim, 14 bike, and 4.5 mile run. Register here for Non Series events: Individual / Relay Registration
July 21 the Wauconda triathlon with a .9 mile swim, 24 mile bike and 6.2 mile run. (Olympic distance only offered in the series). Register here for Non Series events: Individual/Relay/Kids/Sprint Registration
SAVINGS of 10% with all three events!
ADDITIONAL SWAG for the tri-series

Tri-County Tri Series Finishers Medals

OVERALL Male & Female and First Place in Age Groups Tri County Tri Series Winner crowned at Wauconda Triathlon.
RULES and what you need to know!
The Tri County Tri Series will be limited to 100 participants.

Participants who attempt to register for all three races separately WILL NOT be eligible for the Tri County Tri Series.

The entry fee for participating in the Tri County Tri Series is non-refundable.

Each Tri County Tri Series participant will receive:

A Fox Lake Triathlon, Twin Lakes, and Wauconda Triathlon race shirt, swim cap, race bib number, helmet number, bike number, timing envelope/chip/strap and swag from the race.

Those who officially start and finish all three events will earn commemorative 2019 "Tri County Series" medal.

Cumulative time is tabulated from all three events, with top female and males earning Tri County Tri Series OVERALL winner at the end of the Wauconda Triathlon. Age Group awards will be given out to the First Male and Female in 10 year age group divisions.



Tri County Tri Series participants will be eligible for age group awards at the Fox Lake, Twin Lakes, and Wauconda triathlons.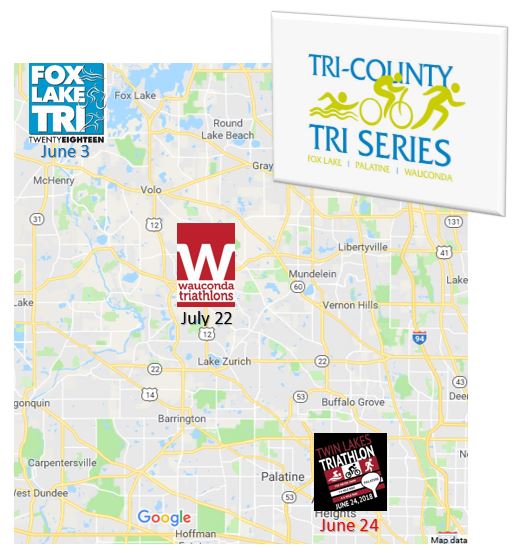 Events
Fox Lake Tri Series Individual
Closed
Event date: Sun, June 2, 2019
Tri-Series Individual

$54.00
Twin Lakes Triathlon
Closed
Event date: Sun, June 23, 2019
Tri Series Individual

$59.00
Wauconda Triathlon
Closed
Event date: Sun, July 21, 2019
Tri Series Individual Registration

$68.00
Contact information
Event contact

Trudy Wakeman

Email

Phone

+1 224-629-6197