This fundraising organization is not currently accepting donations on Race Roster.
Raise money for impossible2Possible
ad•ven•ture: n. A challenging journey that pushes us beyond ourselves in a positive direction and allows us to engage the world directly, defy personal limitations, expand our understanding, and inspire others.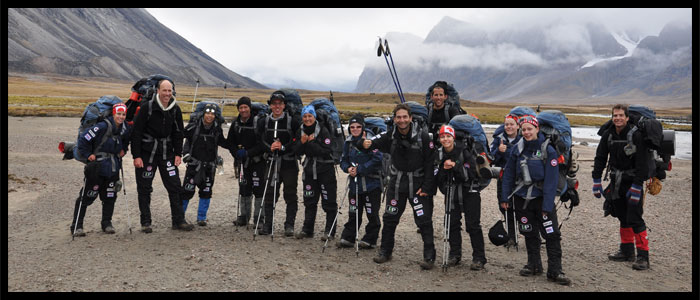 The mission of impossible2Possible(i2P) is to encourage youth to reach beyond their perceived limits, and to use adventure as a medium to educate, inspire and empower our global community to make positive change in the world. i2P aims to equip today's youth with the understanding and belief that they have the power to change the world. We envision a world of achievers that believe in their hearts that nothing is out of the realm of possibility!
The vision of impossible2Possible (i2P) is to use adventure to cultivate a generation of leaders, whose direct experiences and education will prepare them to lead social and environmental action all across the world. To achieve this, i2P utilizes a combination of world-class expeditions, youth expeditions, leadership training and fully interactive web based educational resource material. As with founder, Ray Zahab's, run across theSahara Desert, all i2P expeditions will make use of live satellite communications, television, film, and the Internet to broadcast these messages about human and environmental sustainability and to raise awareness for our youth programs.
All Expedition expenses are covered for Youth Ambassadors participating and all i2P Experiential Learning Programs are delivered free of charge to schools and students around the world.
i2P Goals
Educational Resources
To utilize the concepts of experiential and challenge based learning to create programs that will engage students and teachers alike. i2P also incorporates technology, speaking engagements, interactive media, educational resource modules, seminars, workshops, and training to educate leaders of tomorrow. The focus of these efforts is on social and environmental issues around the world.
Youth Inspiration
To use adventure, youth expeditions, leadership training camps, and interactivity to inspire agents of change to reach beyond their perceived limitations.
Extraordinary Acts
i2P provides the platform, resources, and spirit to empower youth to launch social and environmental action, to raise awareness and/or funds for initiatives/organizations that are making a difference and be capable of "Extraordinary Acts".
What We Are
impossible2Possible is a US 501c3 organization dedicated to educating, inspiring, and empowering our global community to make a positive impact around the world. To this end, i2P creates and hosts adventurous youth based expeditions coupled with i2P Experiential Learning Programs that motivate and prepare young people to protect the earth and its people. These Experiential Learning Programs and expeditions along with leadership training, and the i2P Extraordinary Acts Program generate an atmosphere that prepares young people to lead initiatives for positive change.
* Registered: US 501(c)(3).
i2P History
In 2007, Adventure Runner and i2P founder, Ray Zahab and and two other runners made history by running 4300 miles across the entire Sahara Desert, and in the process of raising the bar of what we think possible, also raised awareness for clean-water initiatives in Africa. This feat consisted of 111 consecutive 40 mile days of running in extreme desert conditions through six countries. Ray conceived of this adventure after a 333km foot race in Niger, during which he became very attached to the Sahara and its people, the Tuareg. During this run, Ray met a young Tuareg girl who asked him for his water bottle so that she could drink the remaining drops. Ray later came to understand this interaction as symbolic of the profound clean-water crisis devastating the region.
Moved by his Sahara experiences, the team conceptualized running across the entire Sahara Desert - from the Atlantic Ocean to the Red Sea. Ray along with good friends and fellow runners Kevin Lin of Taiwan and Charlie Engle of the U.S. would start this epic journey in November 2006. The run was documented in the film Running the Sahara which was directed by Academy Award winner James Moll and produced and narrated by Matt Damon.
As the runners made their way across the Sahara,and experienced the water issues first hand and its effects on the Tuareg, Ray decided to dedicate his future running expeditions, adventures and life to helping and inspiring children worldwide.
The success of the Sahara run inspired Ray to found i2P, an organization dedicated to using adventure to inspire and equip a generation of young leaders. The strength of i2P's mission, along with Ray's passion and dedication to causes he believes in, has attracted a world-class team of business people, film and entertainment professionals, athletes, and educators who are committed to launching and running this amazing project.
What We Do
We believe that adventure* is an ideal way to push us beyond ourselves and engage the world, its people, and our better selves. To this end we use an adventure-learning approach to inspire and educate young people regarding critical world issues. I2P uses adventure to raise up future leaders through:
Experience

: We provide adventures* for youth that push them beyond themselves to learn directly about the environment's effect on people and people's effect on others. In addition, these adventures will have educational and cultural components connected to the people of the regions in which they take place. This kind of direct experience fosters in our young leaders the passion and credibility they will need to lead sustainability initiatives in their schools and communities.

Resources

: Our web-based educational resource will be a fun, inspiring, and informative place for youth and educators. It will feature live video conferencing, articles, educational modules and blogs from both elite expeditions and youth adventures; social networking opportunities for youth interested in world issues; and teaching, news, and informational resources regarding human and environmental topics.

Inspiration

: i2P hosts world-class adventures* that inspire and educate. Our expeditions fit the i2P adventure definition and criteria (below), and are filmed for broadcast online, on television, and in film to inspire and educate. In addition to raising awareness of global issues, these expeditions provide fundraising opportunities for our youth adventure initiatives.

Training

: Through seminars, workshops, and local mentoring, i2P provides training for future leaders. Our leadership training shares with young people the tools to effectively lead school and community initiatives promoting various causes.
i2P Expeditions:
Are challenging: physically, emotionally, relationally, and spiritually
Push the limits of what seems possible to the adventurer
Provide young people with a two way street of communication through a live website
Young people are active team members whether through web communication and learning or active participation in an adventure
Include a service component relevant to the adventure setting
Challenge and improve the adventurer's knowledge, understanding, and ability
Increase awareness of the environment's impact on humans, and humans' impact on the environment
Expand the adventurer's personal definition of what is possible
Involve risk (not to be confused with danger) including a risk of failure
Require extensive intellectual, physical, and logistical preparation
Require assistance from others
Push the adventurer beyond herself physically, geographically, socially, culturally

* i2P elite expeditions are funded in whole by our founders and our generous corporate sponsors.
Recent donors
Recent donors
Date
Name
Amount

Aug

24

Nancy Kenmir

$50.00

Aug

23

Anonymous

$20.00

Aug

22

Richard Coburn

$20.00

Aug

22

Louise Connely

$20.00

Aug

22

Anonymous

$150.00

Aug

22

Anonymous

$20.00

Aug

21

Anonymous

$10.00

Aug

21

Andrew Roberts

$30.00

Aug

20

Doug Newman

$10.00

Aug

20

Michelle Clarke

$10.00