Click here to register for the 2018 Run!

Sharin' O' the Green 2017
Saturday, March 11 in Fort Collins, CO
all proceeds benefit Partners Mentoring Youth
Join us for a 5K race to celebrate St. Patrick's Day in downtown Fort Collins!
The course is fast, flat, USTAF certified, and is chip timed; it is also a BolderBOULDER qualifying course. You can use your finishing time to qualify for the 2017 BolderBOULDER 10K!
Wear your finest and most fun green apparel to show off your Irish pride and support a great cause!
After the race, stay downtown to enjoy the DBA's St. Patrick's Day Parade and to enjoy beer (21+ only) generously donated by Odell Brewing Company.
Adult registration includes a timed bib, a free cotton shirt, and an Odell beer.
Youth 17 and under are free to run the 5K; please register to receive a timed bib. Youth registration does not include a free cotton shirt.
Youth 12 and under can participant for free and without registration, in the Shamrock Scurry.
Your registration, merchandise purchases, and donations go directly to helping us serve local youth through the power of mentoring.
Thank you for BEING THE DIFFERENCE in the lives of local youth!
***Day-Of Registration starts at 7:00 AM and closes at 8:15 AM.
***Day-Of Registration Prices increase $5***
We will not refund any registration costs.
Registration fees
Youth 17 and Under
Closed
Free, Please complete registration, Youth 3 and over receive a bib
---
Team Registration
Closed
Online registration closed
Team of 4+ individuals, Includes cotton t-shirt
---
Individual Registration
Closed
Online registration closed
Adult Individual, Includes cotton t-shirt
---
Our Mission
The mission of Partners Mentoring Youth is to create and support one-to-one mentoring relationships between positive adult role models and youth facing challenges in their personal, academic or social lives. All funds raised through this event will go to directly support these mentoring programs.
Please consider being a fundraiser for this event or making a donation to the event.
If you want to become a mentor or would like to learn more about our program check out our website.
How can you support Partners beyond your registration and merchandise purchases?
1. Become a Sharin' O' the Green Fundraiser: Promote your participation in the race and ask friends and family to support you and local youth mentoring!
2. Become a Partners Mentoring Youth donor: Consider giving a financial gift to Partners Mentoring Youth and be the difference in the lives of local youth!
3. Become a Mentor: We have over 100 youth waiting for a mentor like you. Want to learn more?
FAQ
Q: Will there be day-of registration?
A:We encourage everyone to register online by midnight Wednesday, March 8th to ensure a spot. Day of Registration will run from 7:00am-8:00am on Saturday, March 11th, or until we reach capacity. Day of Registration will increase to $40/person and $35/team member.
Q: What if it snows, will the race be canceled?
A: Rain or sun, we still run! Please decide on your participation based on your own circumstances and remember that all participants run at their own risk. Please remember in the event of catastrophic conditions, we will not issue refunds.
Q: What can I purchase at the race?
A: Cotton shirts are $5.00 and Technical shirts are $20.00. It is first-come-first-serve, so we may be running low on certain sizes.
Q: Do I have to register my child for the race?
A: We do not give bibs out to children under 5 (but they can still participate). Youth ages 5-17 receive a bib; please register using the Free Youth category. We do not provide a free shirt for youth. Feel free to purchase one at during registration or at the race for $5.
Q: Do I have to register my kid for the Shamrock Scurry?
A: No registration necessary, just have your youth 12 and under line-up
for the race, it will run on Matthews Street.
Q: How do I get to the Parade?
A: Please go west on Oak street to College to get to the parade. We will provide further details concerning where of-age participants can redeem their beer.
Q: When does the course need to be clear?
A: By 10:00am. If there are still participants on the course, we can not ensure that safety measures taken during the race time will be available.
Q: How do I get my free Odell Beer?
A: You can redeem your bib for a beer (21+) at Odell brewing Company from 3/11-3/17. Please remember to bring your ID. The name on the ID must match the name on the bib.
A: Yes! We love furry friends; however, we do ask that you line up towards the back of the group. Leashes can pose a tripping hazard to runners.
Q: Can I push a stroller?
A: Yes! This is a family friendly event and we believe in starting Sharin' O' the Green racers young! Please line up towards the back.
Q: Where can I see race results?
Packet Pick-Up
DIRECTIONS TO ODELL BREWING COMPANY
*You can also pick up your packet on race day at the "Packet Pick-Up" tent from
7:00am-8:15am
Shirts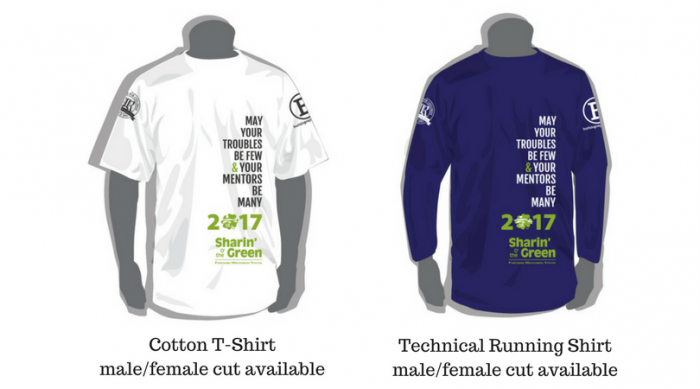 Teams
Participating as a team is a great way to save money on registration and have tons of fun! Teams must have 4 or more participants. You can give your team a creative name, wear coordinating costumes, and have a blast cheering one another on to the finish line.
Route Map
Awards
Top runners in the following categories will receive awards and cash prizes:
Top overall male

2nd overall male

3rd overall male
Top overall female


2nd overall female

3rd overall female
Top Masters Male

2nd Masters Male

3rd Masters Male
Top Masters Female

2nd Masters Female

3rd Masters Female
The first and second male and female finishers in the following age groups will receive awards and prizes:
14 and younger

15-19

20-29

30-39

40-49

50-59

60-69

70-79

80+
Additional Award categories:
Top Fundraising Team

Largest Team

Fastest Team

Fastest Stroller

Fastest Dog
Thank You Sponsors!
Event schedule
March 8 4:00 PM MST - Packet Pick-Up @ Odell Brewing
March 9 4:00 PM MST - Packet Pick-Up @ Odell Brewing
March 11 7:00 AM MST - Day of Registration/Bib Pick-Up
March 11 8:15 AM MST - Shamrock Scurry (Kids Fun Run)
March 11 8:15 AM MST - Day of Registration Closes
March 11 8:30 AM MST - Sharin' O' the Green 5K
March 11 9:30 AM MST - Awards Ceremony
Contact information
Event contact

Brittany Hoblit

Phone

+1 970-484-7123

Website