Thank you to all who participated in the event and to our dedicated volunteers and our sponsors.
Timing information click here.
MATTY'S MEMORIAL 5K RUN/WALK
AND FAMILY FUN DAY
FOR EPILEPSY
Saturday, May 27, 2017
Quonset Point - North Kingstown,RI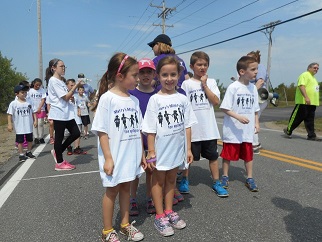 9:00-11:00 Pre race Family Fun Zone & Matty's Mighty Dash for kids
All dashers will receive a t-shirt & prize!
Thank you to our sponsors:
Electric Boat Employees Community Services Association
Registration fees
Pre School - third graders
---
5K Runner
Closed
Online registration closed
---
5K Walker
Closed
Online registration closed
---
Race Map
About Matthew Siravo
Matthew Siravo was born on February 18, 1998, the son of Debra and Richard Siravo of Wakefield, Rhode Island. Matthew was a healthy newborn child with no diagnosed medical conditions during most of his first year of life. Ten days before his first birthday, Matty suffered a gran mal seizure during the early morning of February 8, 1999.
Doctors at Hasbro Childrens Hospital performed a comprehensive evaluation and confirmed that Matty suffered an extensive seizure. There was no family history of seizures. Two weeks later, he suffered a second seizure and was taken to a hospital for treatment. The community hospital was unable to control the seizure and mistakenly caused an infiltration of medicine on the backside of his righthand, which required immediate plastic surgery and intensive care treatment at Hasbro Childrens Hospital. A skin graph from his groin was taken to cover the affected area.
Matty continued to have seizures that were eventually controlled by medicine. As he grew in age, intervention services helped him make significant progress in his speech and other skills. He was one of the happiest children at the pre-school always smiling, listening to music and saying "hi" to everyone.
In May 2003, Matthew underwent brain surgery at Boston Children's Hospital. The surgery reportedly went well however, Matthew suffered a prolonged seizure while in recovery, which caused cardiac arrest and massive brain damage. Matthew died peacefully on May 11, 2003, Mother's Day, surrounded by his family and while his favorite church music played by his bedside.
About EFNE The Matty Project
Founded in 1983, EFNE is a nonprofit organization that seeks to provide Help for today and Hope for tomorrow. We aim to improve the lives of individuals and families impacted by epilepsy and seizures, by providing:
Access to needed services and education;
Outreach to connect people with epilepsy to the Foundation in a manner that meets their needs;
Advocacy with local and state governments to improve legislation and funding for governmental services;
Support for the implementation and advancement of best practices and efficacy to have greater impact and better outcomes; and
Funds to find a cure through funding of research and delivery of new therapies in partnership with Epilepsy Foundation of America.
The Matty Fund has become The Matty Project as an initiative under EFNE. The evolution of the organization will enable the expansion of support and services to Rhode Island adults living with epilepsy, including job skills training, financial support, in-person and digital community platforms, and access to on-staff experts. In addition, the success of The Matty Fund in Rhode Island will be utilized as model for EFNE to develop programming and expand upon its grassroots community building efforts across the New England states.
The Matty Fund's signature events and programming will continue under EFNE through The Matty Project, including the Camp Matty therapeutic horseback riding program, Matty's Memorial 5k Run/Walk, the Matty Fund annual golf tournament, and the "My Friend Matty" epilepsy awareness book and corresponding Matty Hatty elementary and pre-school program.
Event schedule
May 27 8:00 AM EDT - Race day volunteer check-in
May 27 9:00 AM EDT - Race day registration and check-in
May 27 10:30 AM EDT - Matty's Mighty Dash races begin
May 27 11:00 AM EDT - Start of 5k run/walk.
May 27 12:00 PM EDT - Post Race Lunch
Contact information
Event contact

Kate Spinella

Phone

+1 617-506-6041 ext. 106

Website