Sole Sisters Women's Race Weekend: 
Saturday, June 1 & Sunday, June 2, 2019
Run or Walk with us on a single day or over two days. 
City of Lakes,  Dartmouth, Nova Scotia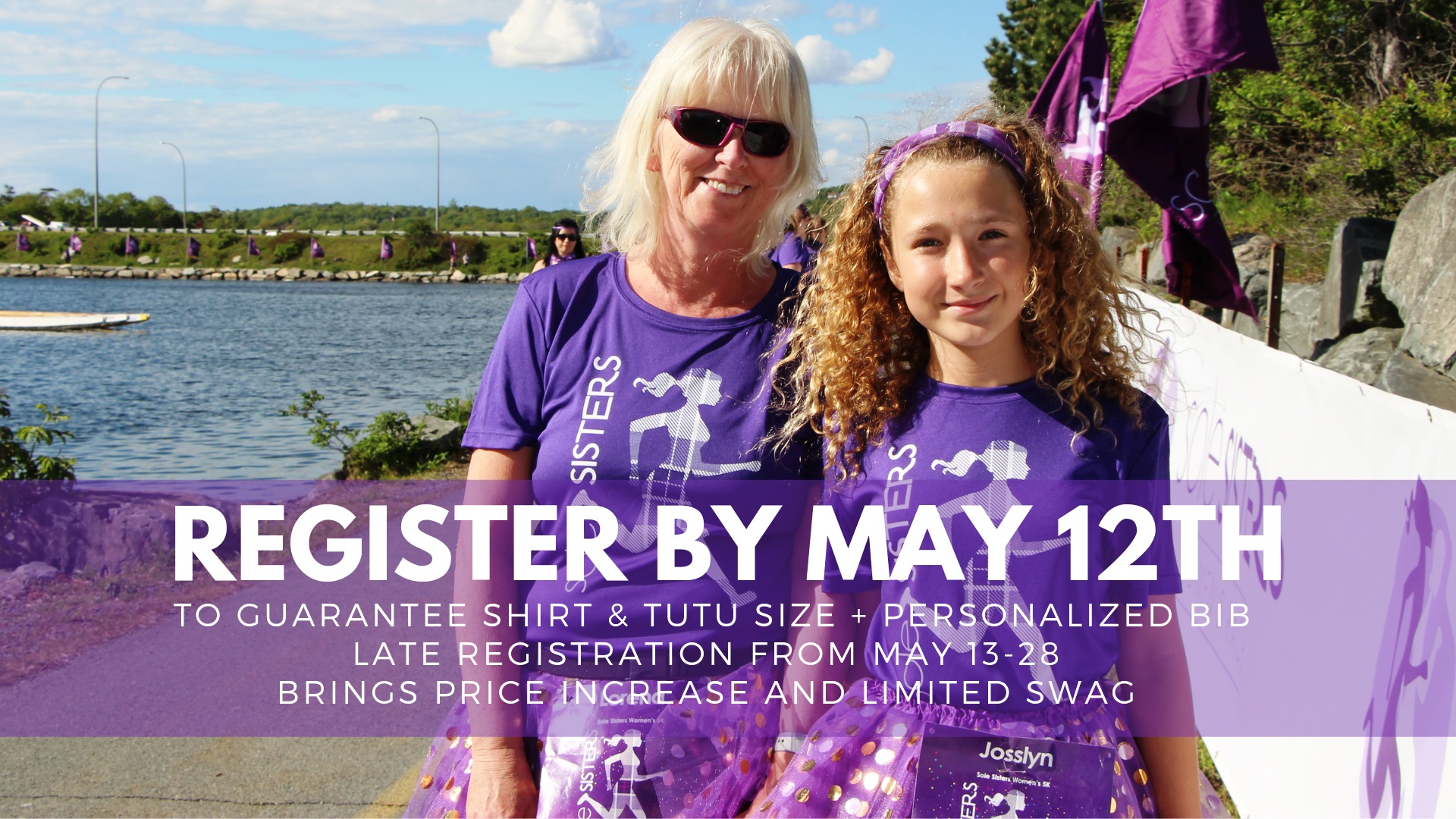 Our 8th Annual Sole Sisters Women's 5K Walk/Run on Saturday night (June 1, 2019) has not changed!  
There are no changes to our usual  June Sole Sisters 5K.  The Saturday, June 1, 2019 5K will continue to happen at 6pm on Saturday night and it remains un-timed! We welcome newbies and veterans alike with a HUG station, chocolate station, cheer/water stops, music on course and fire fighters waiting with the prettiest finisher's medal you'll ever get. 
What's new is that our longer distance races are moving to the next morning on Sunday, June 2, 2019.  You can choose between a 5K, Quarter Marathon (10.5K) or Half Marathon (21K). Those races will be timed unless you tell us not to time them. Finish Lines Not Finish Times right?!
And for the frequent raceHER and bling enthusiasts, you can enter The Tutu Challenge in which you race on Saturday night and any of the Sunday morning races for additional bling. This category includes 3 medals, 2 swag items and a tutu.
After you decide how many races you want to do (one or two), then you pick your swag (choose from 4 possible shirts, toque, tutu or now swag).  How fun is that?
THESE RACES CAN ALSO BE DONE VIRTUALLY BUT YOU HAVE TO FOLLOW THIS LINK TO REGISTER.
**If you are purchasing a gift registration contact us at info@solesistersrace.com and we will provide you with a graphic you can print and give as the actual gift. We have several designs you can choose from. Don't forget to give the registration code provided by Race Roster as that is used to finalize registration. Your gift recipient needs to register still.**
If there is anything we haven't covered above then go to our  website www.solesistersrace.com and if you have ever wondered why our race has tutus then read this.
Where does the money go? Our not-for-profit uses the revenue generated by Sole Sisters race after race expenses to support Girls Gone Gazelle Run Club (an empowering and free program for girls 9-13) that trains throughout the year (spring, summer and fall) in Halifax and Dartmouth.  The confidence club is always free to it's participants.  That's right Sole Sisters pays for everything, the team uniforms, race fees,  coaches shirts, track fees, and everything in between.  We'd love to invite your Gazelle to join us by simply signing up here: www.girlsgonegazelle.com.  
Girls Gone Gazelle Run Club is the not-for-profit that Sole Sisters supports, but the race also donates to other amazing not-for-profits that operate a water/cheer/chocolate stops. If you have a group that is interested in learning more about how to get a donation for your volunteer's time, email stacy@solesistersrace.com. And finally, since we get the question all the time. You do not need to do any additional fundraising beyond participating in the event.
If you would like to volunteer at our Race Weekend then please follow this link: https://raceroster.com/events/2019/23041/sole-sisters-2019-volunteer