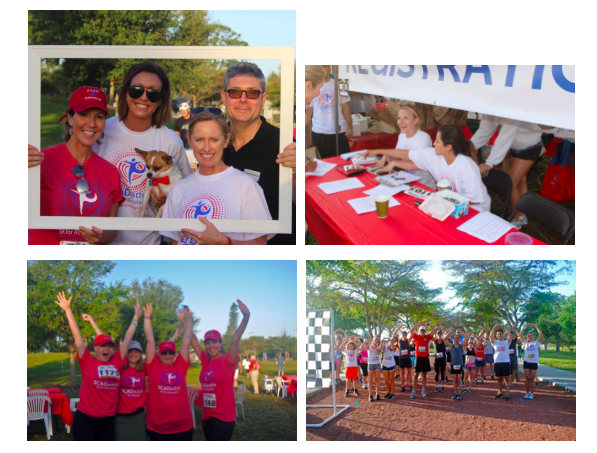 2nd Annual SW Florida 5K Sunset SCADaddle for Research 
Friday, March 29, 2019 6:30 PM
Thank you for your interest in attending our Sunset SCADaddle on March 29 at Payne Park. While online registration is now closed, walk in registration is welcome! Register in person at: 
Early Packet Pick-Up for Runners AND Walkers: 
Wednesday March 27 11:00 am - 1:00 pm  NEW BALANCE 1872 Stickney Point Rd, Sarasota  941.921.3696
Thursday March 28  5:00  - 7:00 pm  FLEET FEET SPORTS 711 S Osprey, Sarasota  941.894.3338
Race Day Registration: 5:00 pm - 6:15 pm. We cannot guarantee a race shirt for walk-in registration. 
Please scroll down for additional SCADaddle information. We look forward to seeing you on March 29!
Our Cause
Spontaneous Coronary Artery Dissection (SCAD) is a little known and poorly understood type of heart attack. Most patients are younger healthy women who do not have the typical risk factors of heart disease. Although less common, it can affect men too. SCAD can recur and can be fatal. Research is needed to identify the cause(s) and the best treatment options.
SCAD is the #1 cause of heart attacks in women under age 50, pregnant women & new moms.
SCADaddle
The chip timed SCADaddle Sunset Run/Walk will take place at Payne Park in Sarasota, a vacation destination! The two lap course runs through and around the park on a varied terrain of crushed cinder, concrete sidewalk and grass. 
All runners will be timed. Awards will be given to overall winner male and female. Medals/recognition will be given to 2nd and 3rd place male/female overall and to the top three males/females for age groups: 9 and under, 10-14, 15-19, 20-24, 25-29, 30-34, 35-39, 40-44, 45-49, 50-54, 55-59, 60-64, 65-69, 70-74, 75-79 and 80 and older.
Award ceremony will take place at approximately 7:15 pm.

Other activities include a raffle, kids run, a live Island-style band, hula-hoop fun, and massages from Massage Envy will round out a fun Friday night for the entire family!  The Farmhouse food truck will be on site with fresh homemade doughnuts!  Registered participants receive (1) complimentary pasta dinner, doughnut, and beer.  More can be purchased!  
For additional information about the 5K & other activities, please follow us at https://www.facebook.com/events/242461209721192/ or email 5kflorida@scadresearch.org.
Thank you!